Miley Cyrus and Pete Davidson are ringing in the new year together! The two are set to host NBC's year-end special, titled Miley's New Year's Eve Party, with a star-studded lineup of guests and musical performances.
The special will air live from Miami on December 31 from 10 p.m. to 12:30 a.m. ET on NBC and Peacock.
On Thursday, the Wrecking Ball singer and Kim Kardashian's new beau visited The Tonight Show Starring Jimmy Fallon to promote the special, executive-produced by Saturday Night Live creator Lorne Michaels.
Miley Cyrus arriving at The Tonight Show with Jimmy Fallon in Marni color-blocked outfit to promote Miley's New Year's Eve Party on December 9, 2021 (Credit: Mega / WENN)
Arriving at the studio, Miley sported her edgy rock-n-roll style in a color-blocked look from Marni's Spring 2022 collection.
She paired an oversized blue and black jacket with matching bottoms and gave a peek at her midriff by wearing a Re/Done black crop tee.
Adding her signature style to the look, Liam Hemsworth's ex teamed her outfit with vintage black leather gloves and a pair of Prada over-the-knee boots.
These polished leather boots boast a thigh-high silhouette, square toes, and contemporary thick platforms and heels, measuring about 2.7 inches.
Miley Cyrus pairs her blue-and-black look with Prada thigh-high boots (Credit: Mega / WENN)
Prada Thigh-High Platform Boots, $1,590 at Farfetch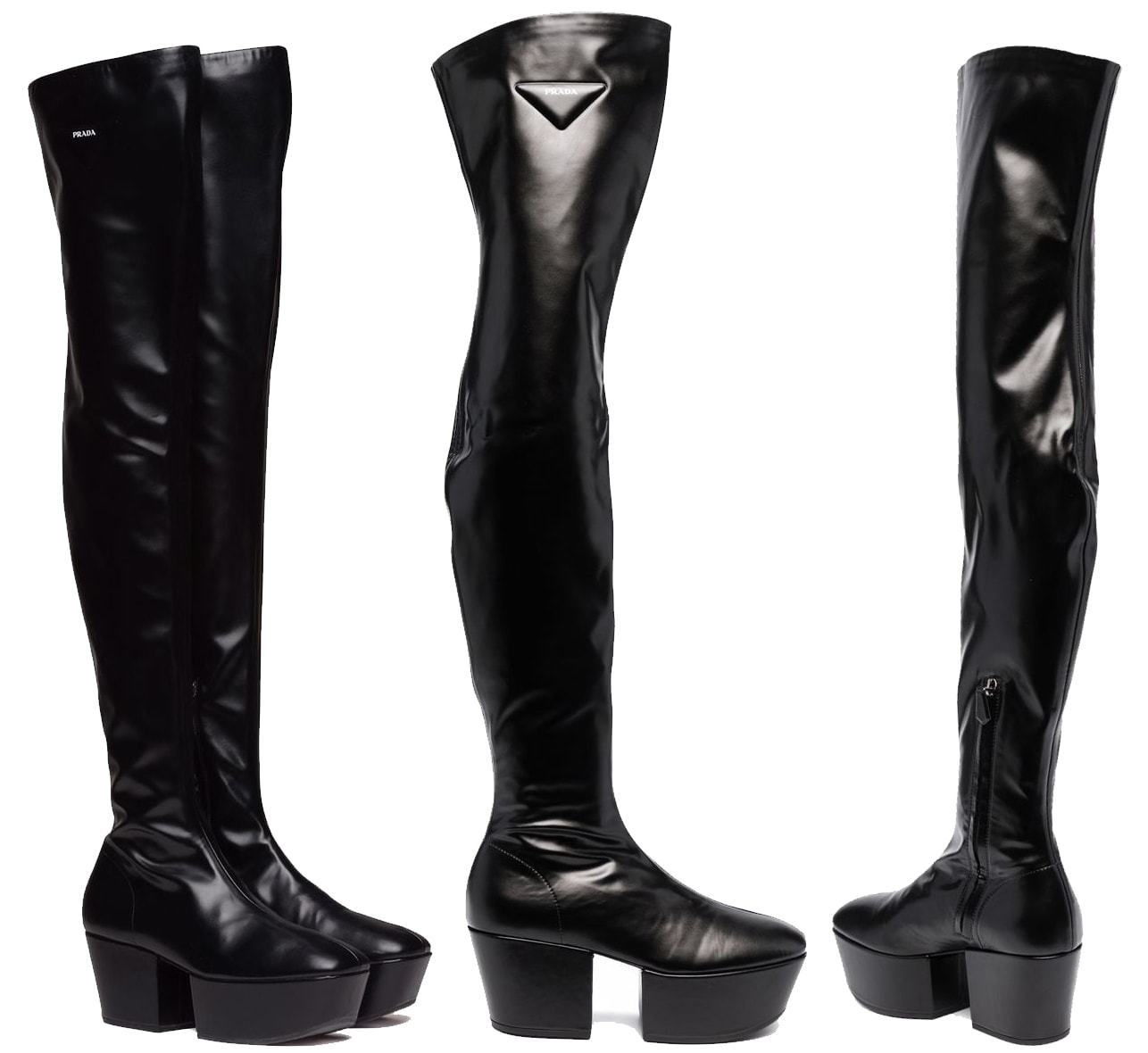 These Prada over-the-knee boots boast contemporary square toes with thick platforms and heels
Brandi Cyrus' younger sister debuted some black streaks in her platinum blonde hair, which she styled straight with face-framing layers.
She then wore minimal makeup with a pop of pink lip color and shielded her eyes behind a pair of Louis Vuitton LV Link sunglasses.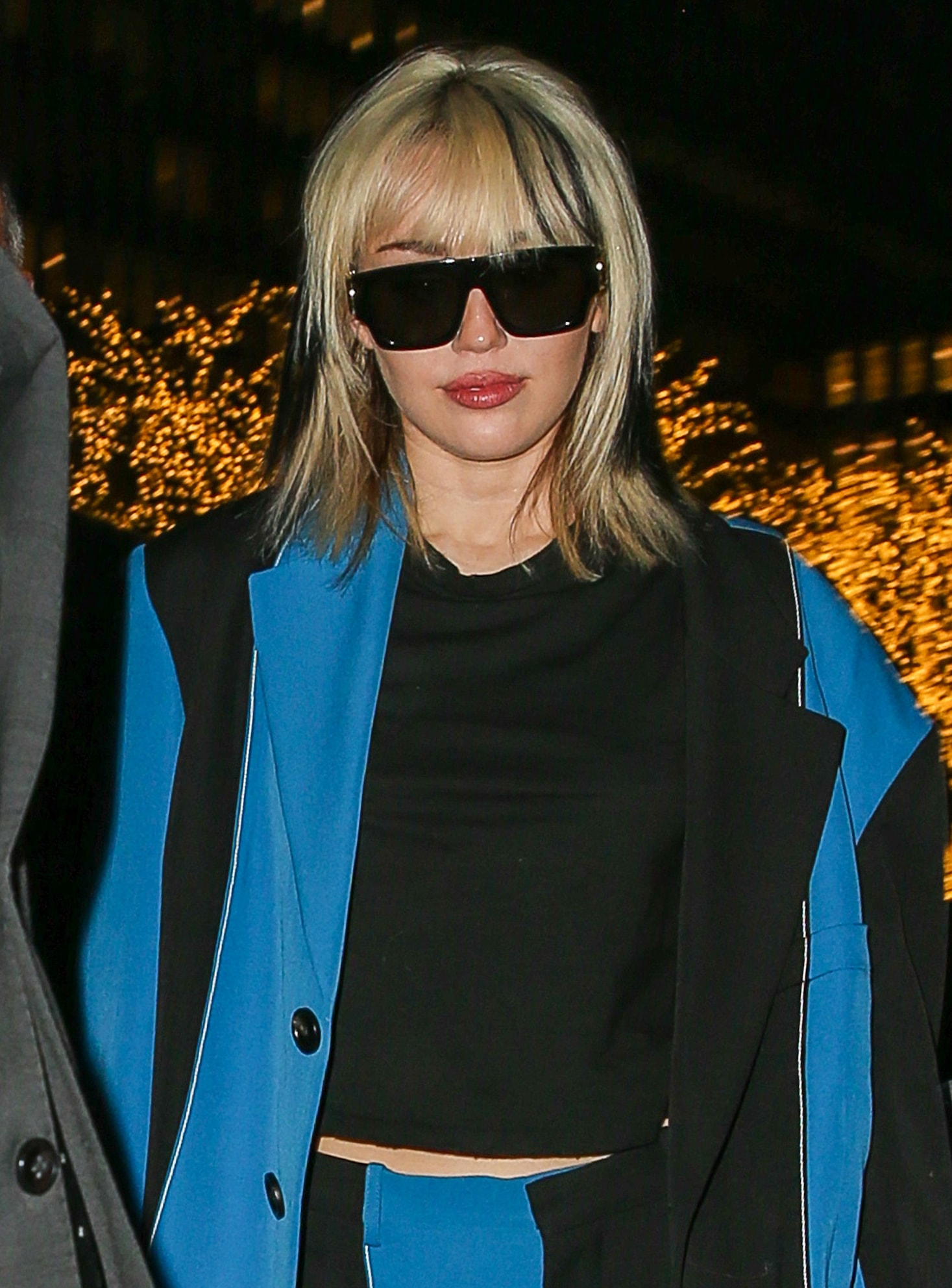 Miley Cyrus debuts some black streaks in her shaggy platinum blonde hair (Credit: Mega / WENN)
Pete, meanwhile, opted for a pink sweatsuit from Machine Gun Kelly's Tickets to My Downfall merch.
On his way to the studio, the 28-year-old actor wore a $120 pink Flyer hoodie, $60 matching sweatpants, and a black leather jacket.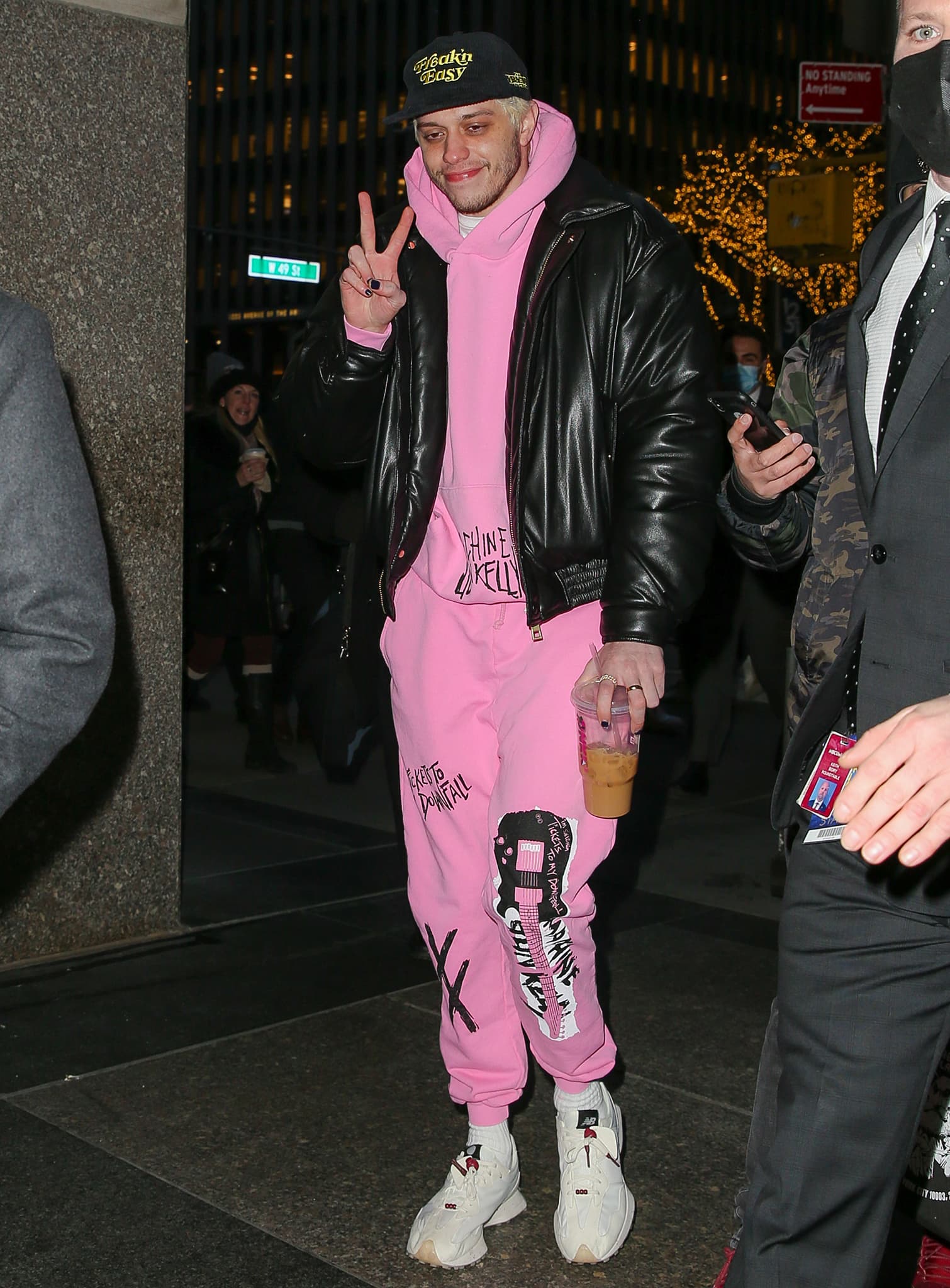 Pete Davidson wears a pink sweatsuit from Machine Gun Kelly's Tickets to My Downfall merch (Credit: Mega / WENN)
Miley Pokes Fun at Pete's Romance with Kim Kardashian
During their appearance on the show, Miley trolled Pete over his budding relationship with Kim Kardashian in a cover of Yvonne Fair's It Should Have Been Me.
"Pete Davidson, this song is for you," Miley said before starting the song. "When I saw those photos, this is what I played."
She called out Pete's name multiple times while singing the song. And in the middle of her performance, she added her improvised lyrics, "You know, Pete, how could you do this to me on the week of promoting our special?"
She later sat on Jimmy Fallon's desk and placed one of her legs on Pete's lap as she sang the song directly to him. "It should have been me in that Lamborghini leaving that nice-ass restaurant," she added in the lyrics. "I'm going to watch a movie in freaking Staten Island."
Pete cringed but seemed to have enjoyed Miley's song cover. 
For her performance, the 29-year-old singer removed her Alaia Vintage White Mongolian jacket to reveal her slender frame in a Saint Laurent Spring 2022 spandex jumpsuit.
She accessorized the look with gold jewelry from Beladora, Carlo Weingrill, and Tiffany & Co. and slipped into a pair of Saint Laurent Spring 2022 blue PVC stiletto heels.
Miley Cyrus Allegedly Seen Visiting Pete Davidson's Condo
After taping an episode for The Tonight Show Starring Jimmy Fallon, Miley Cyrus and Pete Davidson reportedly spent some time together at the SNL comedian's Staten Island apartment.
An insider told Page Six that Miley's SUV was seen entering the garage of Pete's condominium. "They left NBC around 8:30 and arrived at Pete's place around 9:40 p.m.," the source said.
However, the source added that there were no photos taken as both stars' SUVs pulled into the garage.
Miley Cyrus and Pete Davidson Got Matching Tattoos
During their interview, Miley and Pete opened up about their friendship, which began in 2017 when they both appeared as "trap babies" on "The Baby Step" SNL sketch.
"It was a very dark time in our lives," Pete joked, while Miley added, "We were dressed as babies, everything seemed fun and fine."
Miley Cyrus shows off her We Babies foot tattoo, which she got with Pete Davidson in 2017 (Credit: The Tonight Show Starring Jimmy Fallon's YouTube)
Miley recalled that Larry David, who also joined them in the sketch, asked what was going on, and they both replied, "We babies."
"And for some reason, we looked at each other and were like, 'That's a great tattoo.'"
Miley still has her "WE BABIES" foot tattoo, but Pete already had his lasered off.