The movie stars continue to dazzle us on the red carpet with breathtaking ensembles that influence talks left, right, and center.
Tessa Thompson is never late for this concert. She can turn heads and generate headlines with her looks. Her choice of high heels, on the other hand, is the most conspicuous aspect of her ensemble.
Tessa's height without heels is 5 feet and 4 inches (162 cm), making her somewhat short by Hollywood standards. But, thanks to her incredible style, she knows how to look a few inches taller. So, here is a compilation of her most memorable appearances, in which she did not appear to be short.
1. Black Del Core Dress and Giuseppe Zanotti Heels
Tessa walked the red carpets at the 4th Annual Celebration of Black Cinema and Television in a Del Core sculptural dress that cozily hugged her incredible physique. The original piece was altered somewhat, giving it its own distinct style.
Tessa Thompson wore a black Del Core off-the-shoulder dress and boosted her height in Giuseppe Zanotti high heels (Credit: MEGA / WENN)
But it's the way she matched the Del Core with essential yet elegant strappy Giuseppe Zanotti Harmony open-toe sandals that we adore. You can buy her popular shoes at Farfetch.
Starring as Valkyrie in the Marvel Cinematic Universe superhero films Thor: Ragnarok (2017) and Avengers: Endgame (2019), she talked about her height in an interview with Vanity Fair. She claims to be 5′ 5″ but her actual height is believed to be 5′ 4″.
"My costume design was based on stuff that we see in the comics now—like the traditional sort of Valkyrie armor that I get reunited with in the second half of the film. That appears in the comics and looks very, very similar. But I felt very strongly that we wanted the costume to have some bulk. I'm 5'5"; Chris Hemsworth is, like, 6'5" and I don't even know how many pounds. He's such a large human being."
Chris Hemsworth as Thor and Tessa Thompson as Scrapper 142 / Valkyrie in the 2017 American superhero film Thor: Ragnarok (Credit: Marvel Studios / WENN)
"Since Valkyrie is supposed to be arguably as strong as he is, I just needed help having that sort of stature. I gained about 15 pounds of muscle mass. I just ate a ton. Then on top of that, I just wanted the costume to have its own weight so that I didn't come off as being too small with Chris. We wanted to present, visually, a character that had tougher, more masculine edges. Which I love," she added.
Tessa Thompson wore a sculptural black Daniel Del Cor strapless dress at the 4th Annual Celebration of Black Cinema and Television presented by The Critics Choice Association at Fairmont Century Plaza on December 6, 2021, in Los Angeles, California (Credit: MEGA / WENN)
The decision to wear black heels was simple but intelligent because the color contrast made her appear taller.
2. Bai Mai Spring 2022 Dress and Black Pumps
Tessa's trick to seeming taller appears to be black heels, and it works. She wore stunning black closed heels with a creamy white Bach Mai Spring 2022 gown that flowed freely from the hips down at the 2021 Gotham Awards.
Tessa Thompson in a Bach Mai strapless dress with gloves at the 2021 Gotham Awards on November 29, 2021, in New York City (Credit: MEGA / WENN)
This sort of garment does elongate her physique, making her appear taller and more linear.
3. Christian Sirano Spring 2022 Dress
Can you figure out what color heels she wore to the 2021 InStyle Awards? They were black and gleaming, as you may have expected!
Tessa Thompson in a Christian Siriano dress and Grace Lee jewelry at the 2021 InStyle Awards held on November 15, 2021, at The Getty Center in Los Angeles (Credit: MEGA / WENN)
The Christian Siriano strapless long dress did not match the glimpse of the shoe, but it was shiny, and Tessa appeared to be taller once again.
4. Dior Haute Coutour Fall 2021 Gown
We also noticed something extraordinary about how Tessa wore this beige feather dress at the Academy Museum Of Motion Pictures Opening Gala.
Tessa Thompson in a Christian Dior feather dress at The Academy Museum of Motion Pictures Opening Gala held on September 25, 2021, at the Academy Museum of Motion Pictures in Los Angeles. (Credit: MEGA / WENN)
And yet again, she wore black platform shoes that we could not clearly see, but they did make her look much taller.
5. Westworld Filming in Giorgio Armani
During a Westworld filming session, Tessa wore fantastic block heel boots that surprisingly weren't black. The heels paired well with her Giorgio Armani dress, which features an extended slit that showed off her legs.
Tessa Thompson wears a Giorgio Armani dress while taking a seat on a human chair filming new scenes for the upcoming season of Westworld in New York City on October 6, 2021 (Credit: MEGA / WENN)
The slit in the image where she is sitting in a human chair helps to give the impression that she is taller than she is. Plus, the boots look stunning on her flawless legs.
6. Jimmy Kimmel in All Cream
One thing we can all agree on is that Tessa is a showstopper. The entire monochromatic dress code looked terrific, but the star of the show was her awe-inspiring pair of white low-heeled boots.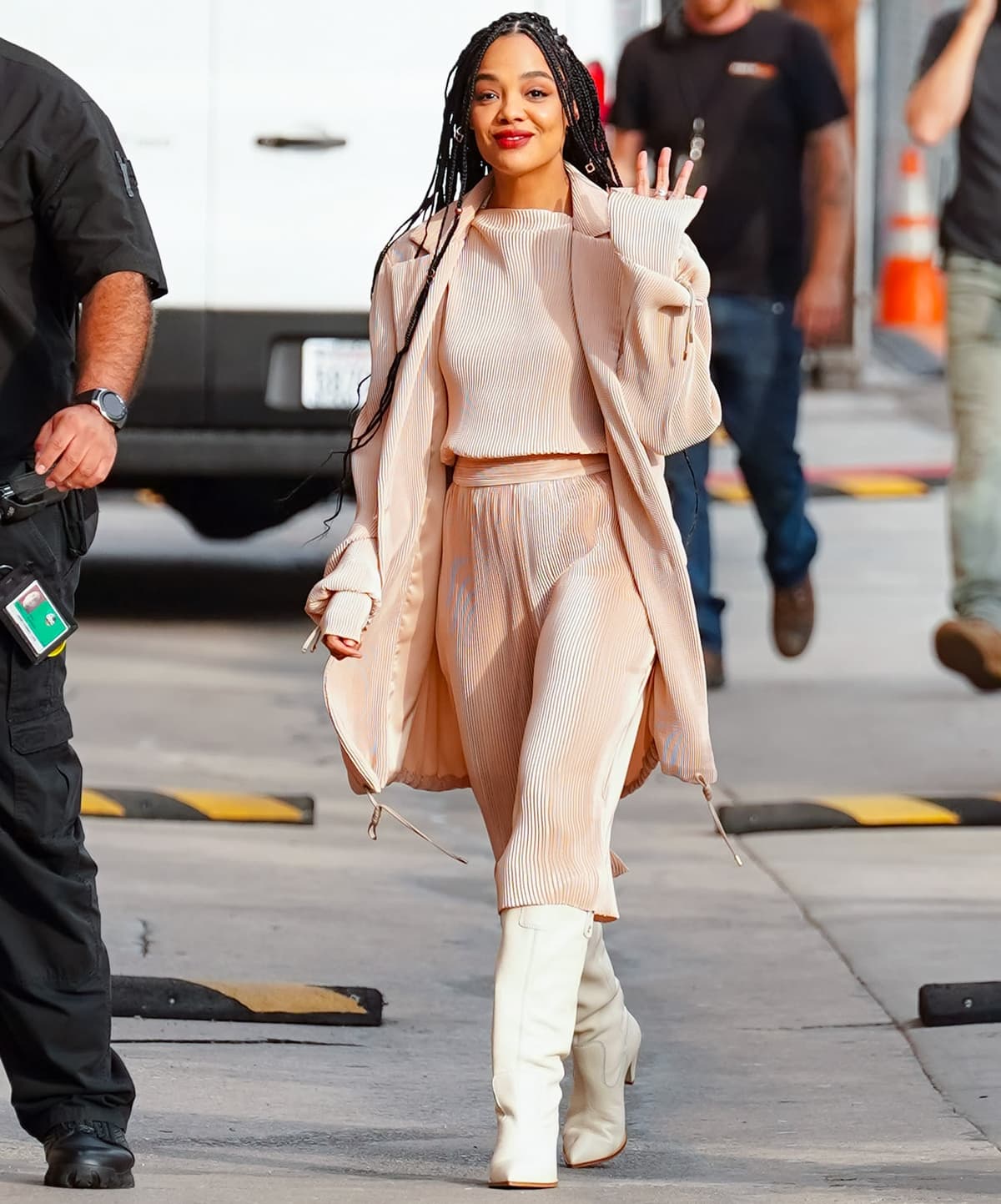 Tessa Thompson wears ivory Larroudé boots with Cong Tri culottes and a blazer while arriving for an appearance on "Jimmy Kimmel Live" on November 1, 2021, in Los Angeles, California (Credit: MEGA / WENN)
The boots are not necessarily high, but she sure looks taller. And the secret to this is the monochromatic style which shows continuity making the subject taller.
It is evident that Tessa Thompson loves her stylish looks, and shoes are a huge part. We love these choices that seamlessly made her appear taller.
Tessa Thompson Facts
| How much is Tessa Thompson's net worth? | She is an American actress with a net worth of $4 million |
| --- | --- |
| Full Name: | Tessa Lynne Thompson |
| Born: | October 3, 1983, in Los Angeles |
| Kids: | None |
| Husband: | She has never been married but has been photographed kissing Taika Waititi and Rita Ora. |
| Feet/Shoe Size: | 7.5 (US) |
| Height: | 5′ 4″ (162 cm) |
| Nationality: | American |
| Source of Wealth: | Film and television |
| Ethnicity/Race: | African-Panamanian, Mexican, and a mix of English, German, Scottish, and Irish |
| Is Tessa Thompson really deaf? | While she played hearing-impaired Bianca Taylor in Creed, Tessa Thompson is not deaf or hearing-impaired in real life. |
You can always count on Tessa Thompson to bring her style A-game to any event. We've seen her rock everything from ultra-feminine to retro-chic, and a masterful juxtaposition of colors and prints.
She's shown her bold sartorial sense on many occasions, often choosing striking accessories and unexpected pieces to punctuate her looks.
Tessa Thompson paired a lilac top with beige culottes and a tan jacket (Credit: WENN / FayesVision)
In December 2017, Tessa once again flaunted her unpredictable style and charming vintage aesthetic during the premiere of "Star Wars: The Last Jedi."
She joined Daisy Ridley and a slew of other celebrities at the star-studded screening in Los Angeles. While everyone wore glamorous shimmering gowns and barely-there heels, she donned a menswear-inspired look with a 1960s vibe.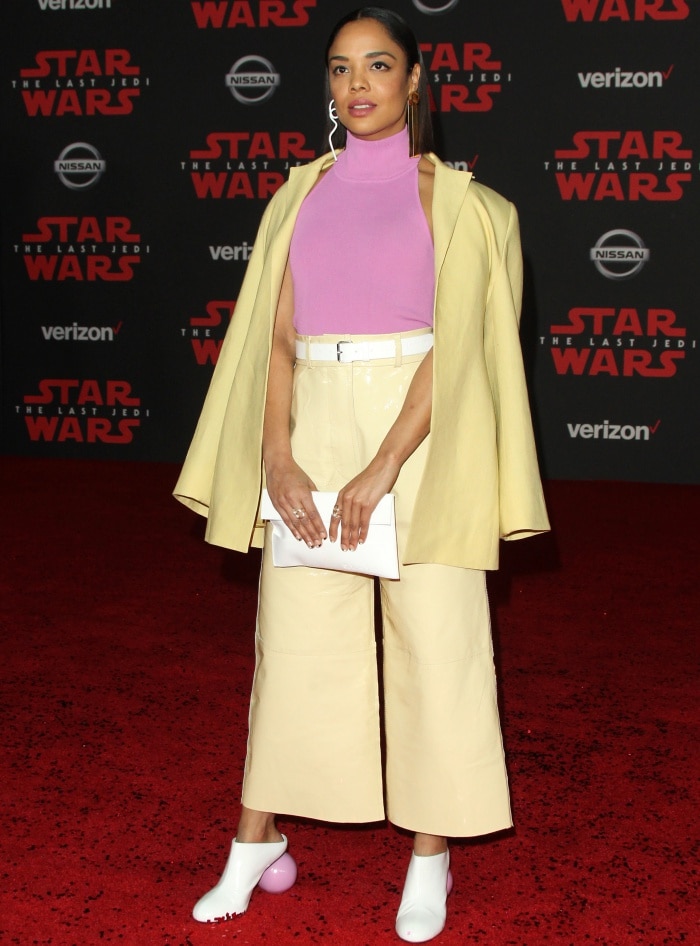 Tessa Thompson styled her yellow suit with a pink turtleneck and a white leather clutch (Credit: WENN / Adriana M. Barraza)
The then 34-year-old actress wore head-to-toe Solace London pieces from the brand's Spring 2018 collection. Tessa opted for the lilac "Adalie" top, which featured a high neck and a sleeveless design.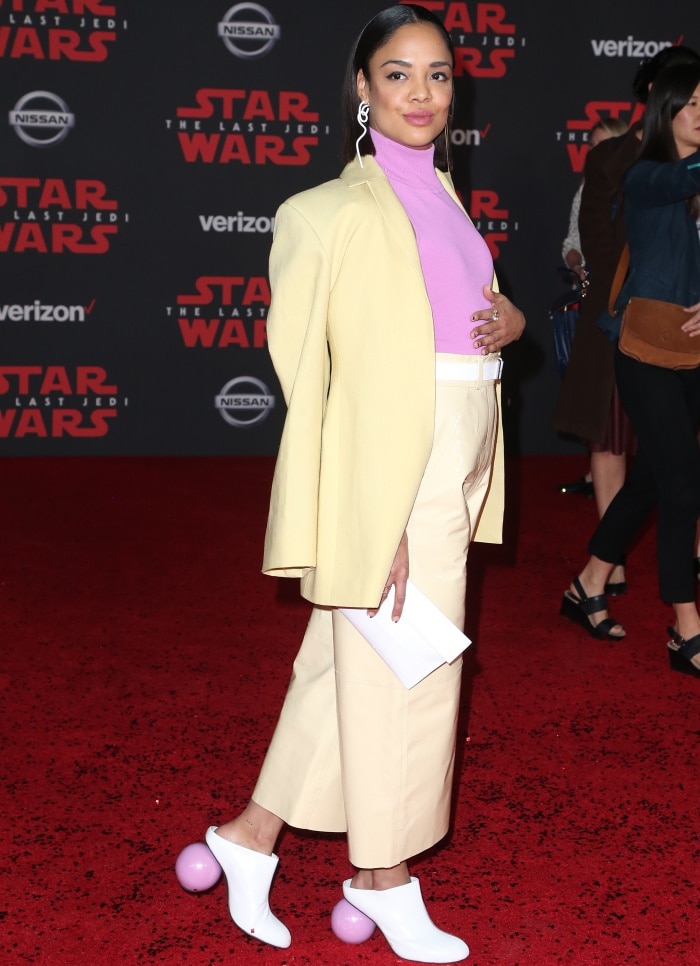 Tessa Thompson in a yellow wide-leg pantsuit at the "Star Wars: The Last Jedi" premiere held at the Shrine Auditorium in Los Angeles, California, on December 9, 2017 (Credit: WENN)
She tucked it into a pair of beige "Finley" culottes, which were cinched at the waist with a white belt.
Tessa stylishly draped a tan jacket over her shoulders for that cool-girl touch. Her outfit was completed with a white clutch and statement earrings from the same brand.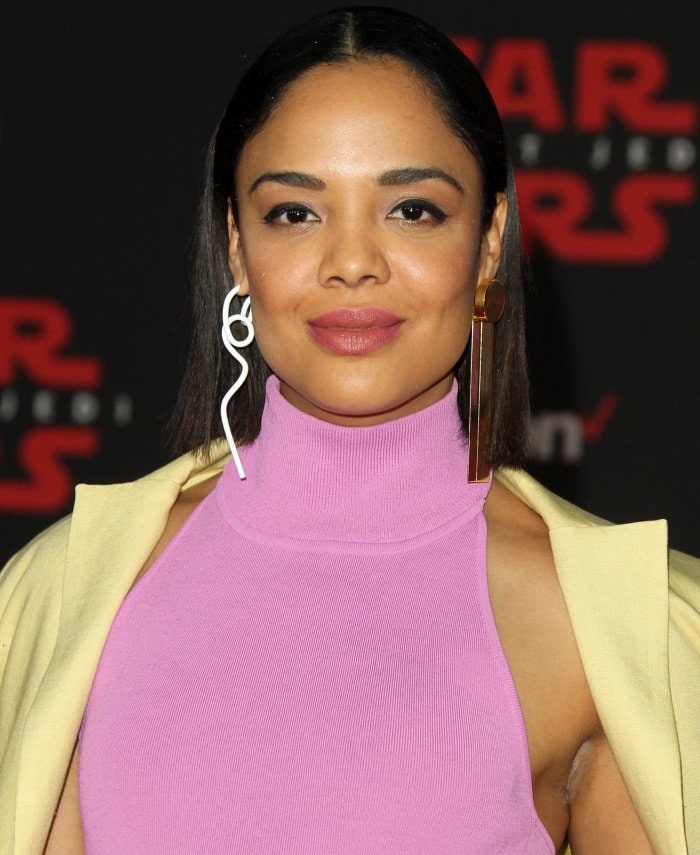 Tessa Thompson with soft pink lips and a sleek center-parted bob (Credit: WENN / Adriana M. Barraza)
As for her shoes, Tessa opted for the "Sawyer" mules. These shoes come in gorgeous white leather and feature contrasting lilac circular heels.
Soft pink lips and a sleek center-parted bob finished off Tessa's bold red carpet look.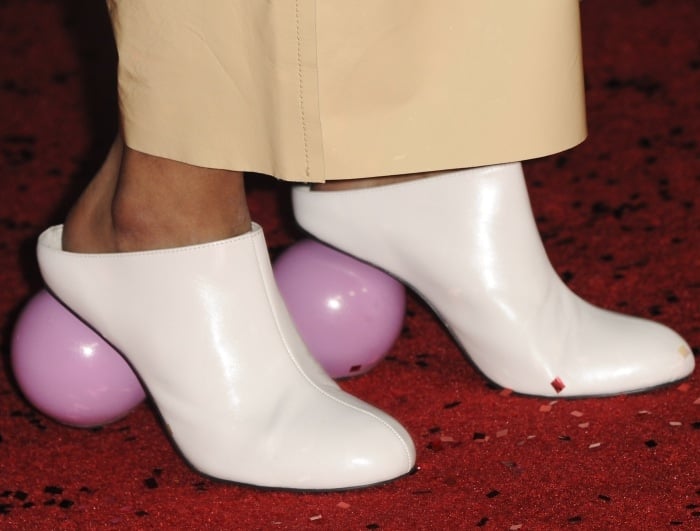 Tessa Thompson wears mules set on sculptural spherical heels (Credit: Apega / WENN)
How do you like these rather bizarre shoes? You can expect them to drop soon at Farfetch.
Tessa Thompson wearing Solace London 'Sawyer' shoes with architectural heels (Credit: WENN / FayesVision)