The rumors around celebrities spread like a wildfire. Especially when you remain close to one of the most influential families like the Kardashians. Anastasia Karanikolaou, or more common Stassie Baby, could speak for herself.
Kylie Jenner's best friend Anastasia "Stassie Baby" Karanikolaou displays her feet as she relaxes in a green bikini on the beach in Miami on December 2, 2021 (Credit: MEGA / WENN)
So who exactly is this influencer? Did the BFF break-up of Kylie Jenner and Jordyn Woods have anything to do with Stassie Baby's rise in popularity?
Life before fame
Before all the social media madness, Anastasia Karanikolaou was an ordinary teen enjoying the Californian sun. In fact, she was born and raised here, and it seems like she's not going anywhere else.
She bought her first Californian dream house in 2020. With what money, you ask? Well, her net worth is now around $2 million, but she really had to work for that. If we consider posting on social media as a real job.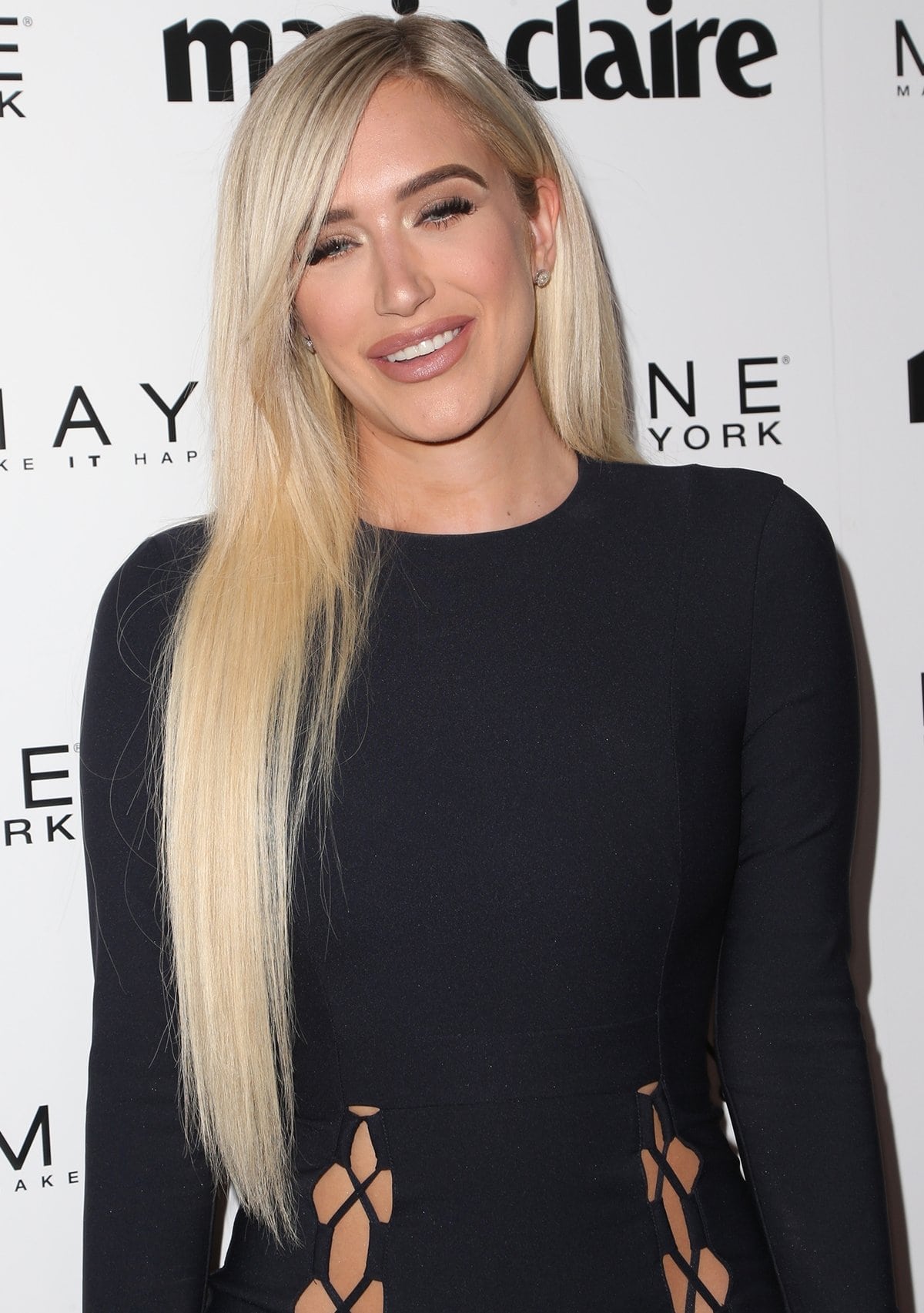 Anastasia Karanikolaou, a.k.a. Stassiebaby, launched her popular YouTube channel in 2017 (Credit: FayesVision / WENN)
The 24-year posted her first youtube video in November 2017, and since then, more and more people have become interested in Stassie's everyday life.
She landed her first photoshoot for Nation A-list Magazine in 2014 has been collaborating with different brands on social media ever since.
With 9.5 million Instagram followers, Stassie Karanikolaou is considered to be one of the most influential Insta-baddies of our century.
Stassie Karanikolaou displays her size 8 (US) Feet in high heels (Credit: FayesVision / WENN)
Well, it's probably normal that she is referred to as Stassiebaby more often than her real name. No surprise, with the surname Karanikolaou, everyone would prefer to be called by their Instagram name.
Real or fake?
We all know that social media is fake, and we assume the people are too. Stassie Karanikolaou is not an exception. But one thing about Stassiebaby that deserves respect is her honesty.
The influencer is 5 feet 7 inches tall (170cm) with a perfect body thanks to several plastic surgeries.
In 2017 she opened up about her breast surgery, and since then, she has been under the knife a few more times. Stassiebaby expressed her satisfaction with both Dr. Ghavami and Dr. Galanis on her Instagram.
Anastasia Karanikolaou has been open about her many plastic surgery procedures (Credit: FayesVision / WENN)
She's also not afraid to talk about her Lasik eye surgery and lip fillers. However, in 2020 with the body positivity movement trending, she decided to have them dissolved.
The Instagram star even vlogged her process of surgeries and is very open about them to her fans. She says it's nothing to be ashamed of. Everyone has issues that's why you shouldn't be insecure about them.
To the comments blaming her for the lack of self-confidence, she clapped back strong. Stassiebaby claims that if she were insecure, she wouldn't have shown it on her social media. But there she is, talking about her boob job openly.
It seems like she even inspired other celebrities to be honest about their experiences with cosmetic surgeries. Her best friend Kylie Jenner admitted to lip fillers in one episode of KUWTK after years of denying it.
Stassie Baby and Kylie Jenner
When Kylie Jenner cut Jordyn Woods out of her life, no one expected her to move on that fast.
Kylie Jenner's former BFF Jordyn Woods fell out of favor after she was caught kissing Khloe Kardashian's boyfriend Tristan Thompson (Credit: MEGA / WENN)
Only months after the publicized friendship breakup Kylie went and showed the world her new best friend. But no matter what it looks like, they both claim that it had nothing to do with Jordyn Woods.
Kylie and Stassie go way back. They first met at a Barnes & Noble fan event and immediately became friends. No surprise that after their 9 year-long bond the Jenners call her their sister from another mister.
We can even say that they have saved her from her own family drama. With her mom struggling with addiction and her dad always working, Stassie needed someone she could rely on.
"My mom struggles with addiction, so that was a big thing. We have a very distant relationship. I've seen her maybe a couple times in the past few years," she told Bustle in an interview, adding that her dad worked 16-hour days as a key grip while she was growing up.
Over the years, Stassiebaby and Kylie Jenner became an iconic duo, and they represent everything that best friends should have. Matching tattoos, outfits, bodies, and many more. They are like fire and ice, always bringing the show.
There had been many speculations about their friendship, and we have to admit the timing of Stassie's appearance on Kylie's Instagram was kind of suspicious.
But the duo was always successful at getting rid of all the rumors and their friendship looks stronger than ever. They even plan on moving together on a farm and getting married. They were pretty close to fulfilling this dream during their quarantine time together.
"We know too much about each other. We're stuck with each other forever," Karanikolaou said, joking that she and Jenner are "going to move to a farm together and get married."
Think what you want to think, but they seem happy.
Stassie Karanikolaou's romantic partners
Like all social media stars, Stassiebaby prefers to keep her dating life private. But the internet isn't a safe place, and there's no way she's keeping the handsome-looking faces to herself.
She has been seen with several celebrities, but it's hard to tell if they really dated. What we do know is that there was definitely something going on with these two guys.
Sammy Wilk
These two were friends for years, and everyone assumed they were together, but they rejected all rumors. However, the hot couple was finally confirmed on Kourtney Kardashian's Snapchat.
They had dated for one year. (2016-2017) After the break up they remained friends. This is surprising since Stassie claimed that Sam cheated multiple times.
Anastasia Karanikolaou, a.k.a. Stassiebaby, started dating Vine star turned musician Sam Wilkinson in 2016 and they have remained friends after breaking up in 2017 (Credit: FayesVision / WENN)
In fact, in 2019 the two of them went on a vacation together and later were seen together at Sammy's sister's wedding. So, exes and friends? Something's not right.
Noah Centineo
The "internet boyfriend" and Stassiebaby seemed to have eyes on each other for a long time, but they never talked openly about their relationship.
It all started on Instagram when the couple shared some flirty comments. It was impossible for fans to not notice, and the rumors spread quickly.
Maybe that's why they remained low and hid their relationship. The two were seen together getting comfortable with each other at a Halloween party in October 2020.
There was even some talk that the couple was married for about 300 minutes, but it was never confirmed. Since they kept their relationship out of the spotlight, there were questions if Stassie and Noah were still together.
When the influencer celebrated her birthday in July 2021 with all her friends, Noah was nowhere to be found. He didn't even say happy birthday on his Instagram, so we can only assume the couple is broken up now.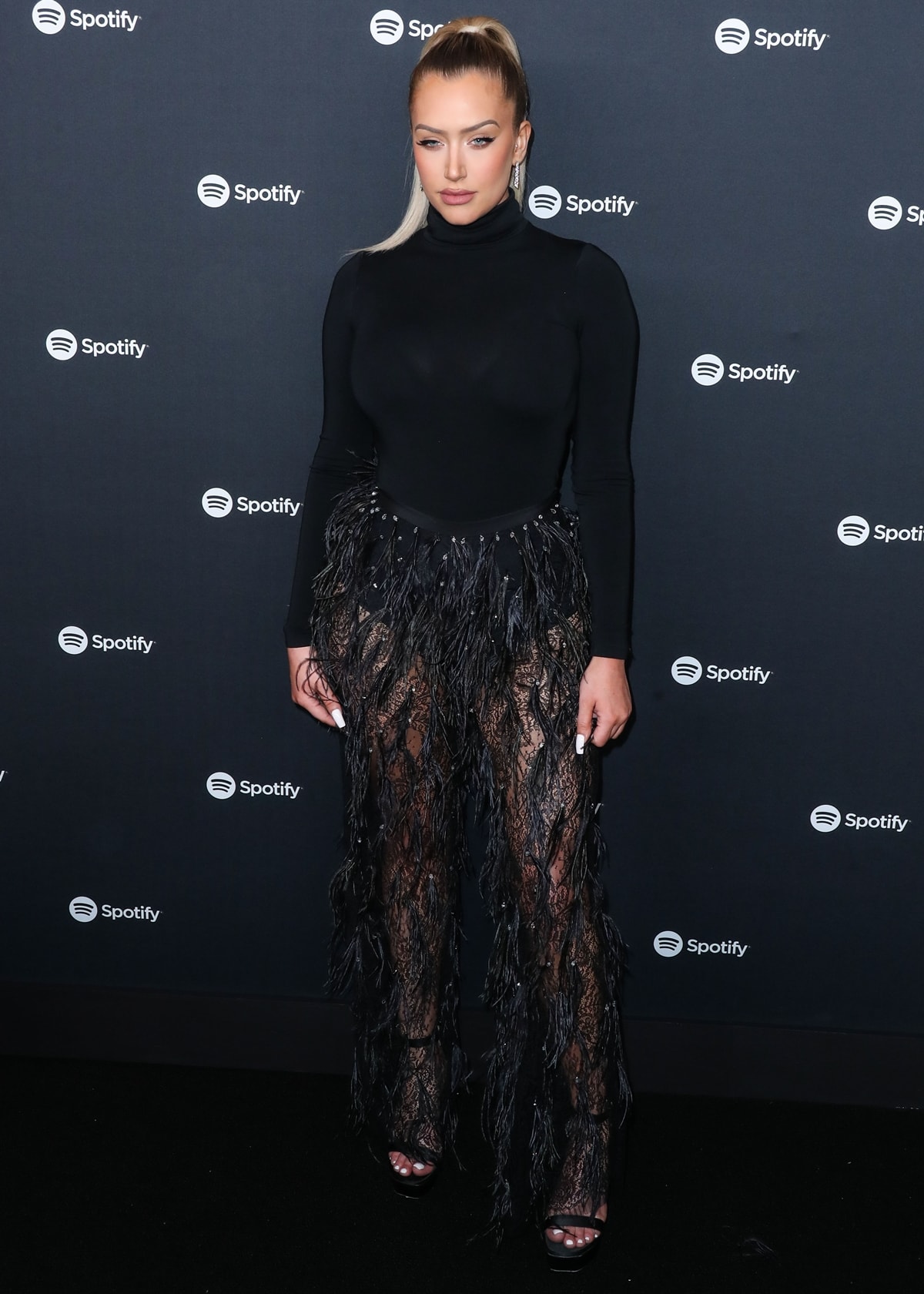 Anastasia Stassie Karanikolaou arrives at the Spotify Best New Artist 2020 Party held at The Lot Studios on January 23, 2020, in West Hollywood, Los Angeles (Credit: Avalon / WENN)
In August 2018, Kylie Jenner surprised everyone by looking very cute at the 2018 MTV Video Music Awards at Radio City Music Hall in New York City.
Kylie Jenner shows off her Harry Kotlar stud diamond earrings (Credit: WENN / Ian Wilson)
She was joined by Blake Lively, Nicki Minaj, Cardi B, Jennifer Lopez, Blac Chyna, and Amber Rose.
Kylie Jenner surprised everyone by looking very cute at the 2018 MTV Video Music Awards held at Radio City Music Hall in New York City on August 20, 2018 (Credit: WENN / Ian Wilson)
The then 21-year-old reality star and makeup mogul donned a white Tom Ford Fall 2018 RTW blazer dress that was both sexy and sophisticated.
The world's youngest self-made billionaire, Kylie Jenner, donned a white Tom Ford Fall 2018 RTW blazer dress (Credit: WENN / Ian Wilson)
Accessorizing with jewelry by Lorraine Schwartz and earrings by Harry Kotlar, Kylie added sparkle to her outfit with jeweled Olgana Paris 'Mon Bijoux' sandals.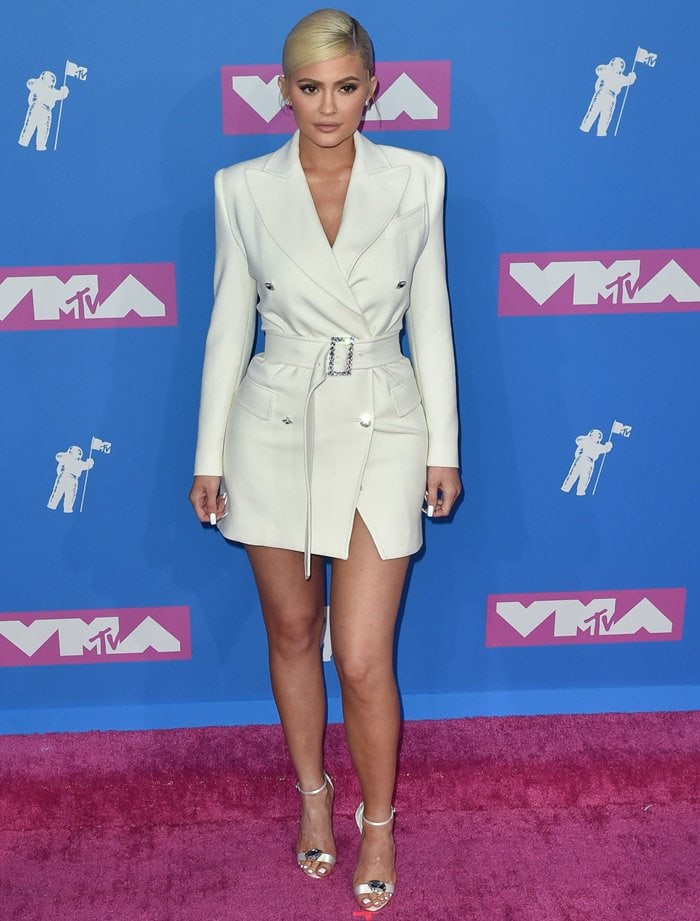 Kylie Jenner flaunts her sexy legs in Olgana Paris shoes (Credit: WENN / Ian Wilson)
While the couple walked the pink carpet separately, the Kylie Cosmetics founder was in attendance to support her boyfriend Travis Scott. They welcomed a baby girl, Stormi Webster, on February 1, 2018.
Kylie Jenner shows off her feet in Olgana Paris 'Mon Bijoux' sandals (Credit: WENN / Ian Wilson)