There are some questions you should never ask a woman. And number one in the gentleman's book is her age. Unless you have a solid reason, asking a woman her age is considered rude. It is also deemed inappropriate to ask her how much she weighs.
Women also tend to become sensitive about the length of their feet because people used to equate huge foot size with masculinity. Remember Cinderella? We've all watched and read the classic fairytale when we were little.
Not that we're blaming the Disney princess, but her small feet, which perfectly fit her size 4.5 glass slippers, have become a standard for beauty and femininity, while huge feet represent her ugly stepsisters.
This isn't really true, though. Having big feet isn't a flaw and it doesn't make you any less attractive. The human body is constantly evolving, and an increase in body size is usually caused by improved nutrition.
According to TIME, "At the beginning of the 20th century, the average woman wore a size 3.5 or size 4 shoe. This increased to a 5.5 in the forties and remained this way till the 60s. By the 1970s, the average female foot was a 7.5 and now, forty years later, the most common foot size for the American female is somewhere between 8 ½ and a 9."
"People are getting taller and heavier, as they have for generation after generation," podiatric historian William Rossi told the lifestyle blog, Divine Caroline. "And their feet are getting larger in proportion to their bodies," reported the magazine.
If you have huge feet, well, you're not alone. Many celebrities actually have feet that are way bigger than the average woman. Shoe retailers including Nordstrom and Zappos also carry women's shoes all the way up to a size 16.
If you're embarrassed about having big feet, you should check out the list of gorgeous stars with big feet below. These celebrities should help boost your confidence and make you feel better about yourself.
1. Kendall Jenner – Size 10 (US)
She may be one of today's hottest models, but Kendall Jenner is also one of the favorite topics of internet criticism. People have always criticized her long toes, with many describing them as "weird."
Kendall Jenner towers at 5′ 10″ and is taller than the average female model (Credit: WENN / Ivan Nikolov)
In a particular Instagram photo that she posted in 2018, Kendall was bashed for her feet. It's an artsy nude photo of herself in black-and-white, with her legs crossed and her hands covering her breasts. Although naked, her haters kept their focus on her feet.
 

 

View this post on Instagram

 
Despite all the criticism, Kendall has remained unfazed and she has never shied away from wearing sandals. Besides, considering she stands 5'10", having a 10-foot size shouldn't be surprising.
Kendall Jenner's big feet in PVC sandals (Credit: WENN)
2. Khloe Kardashian – Size 10 (US)
Another member of the Kardashian-Jenner family that's known to have big feet is Khloe.
Khloe Kardashian flaunts her legs at the 2019 E! People's Choice Awards at Barker Hangar on November 10, 2019 (Credit: WENN)
Like Kendall, she's also a size 10, but she stands less than an inch shorter than her model half-sister.
Khloe Kardashian's pedicured toenails and sexy big feet (Credit: WENN)
3. Heidi Klum – Size 10 (US)
The German model has some of the sexiest feet in the industry. She's 5'10" tall and wears a size 10.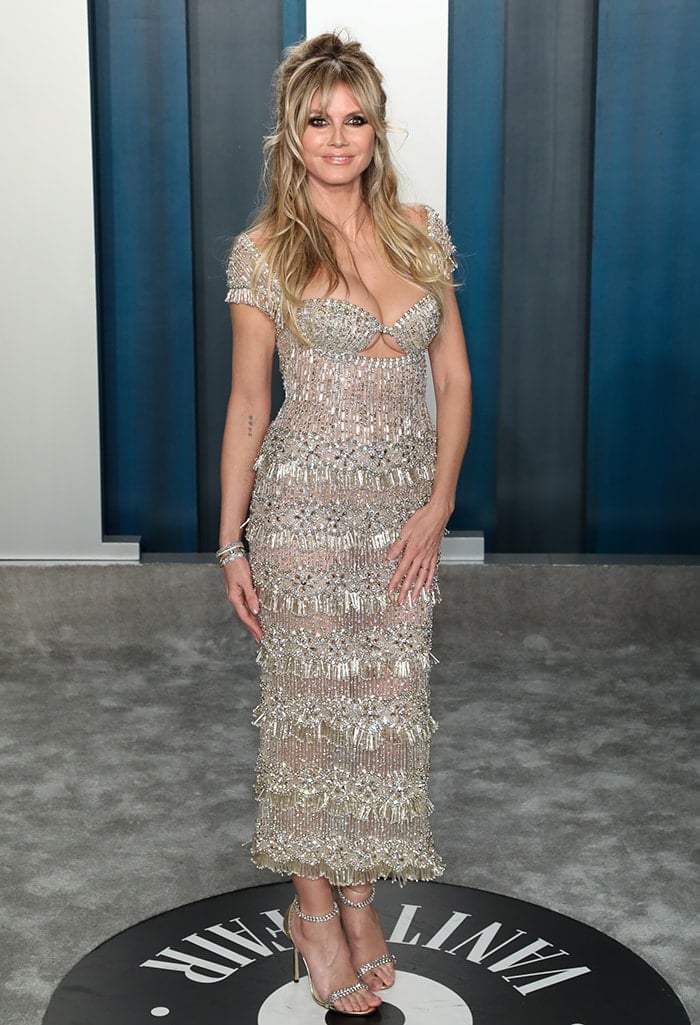 Heidi Klum's incredible height made her one of the world's highest-paid models (Credit: WENN / Sheri Determan)
In an interview with Fitness Magazine, she spilled her secrets to wearing stiletto heels and taking care of her feet. Heidi said she wears foot cushions to ease the pain when she needs to be on her feet for 10 to 14 hours a day.
Heidi Klum draws attention to her big feet in Jimmy Choo Shiloh sandals (Credit: WENN / Sheri Determan)
She also pampers her feet by getting a lot of manicures and pedicures. "I always think it's important to have beautiful hands and beautiful feet. You just never know what shoe they're going to give you and then you have to take your shoes off and they're like 'Oh my god!' You know, in my business, hands, and feet always have to look good."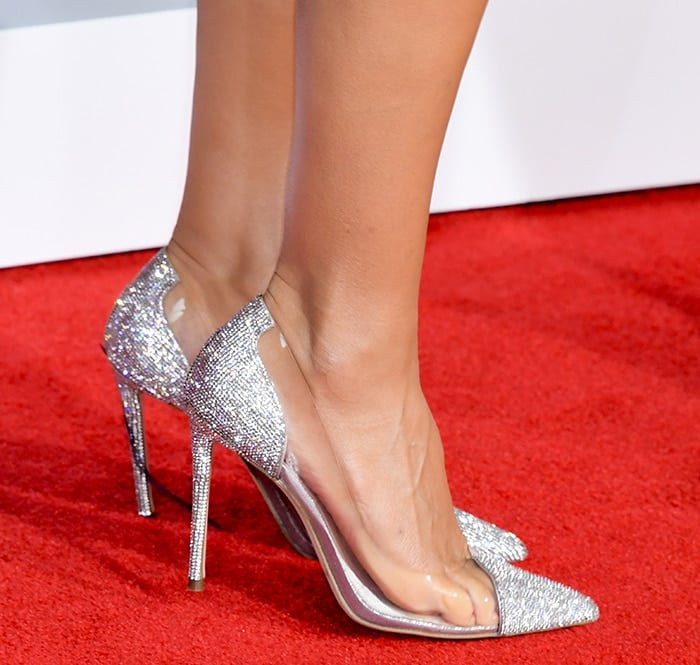 Heidi Klum squeezes her big feet into a pair of crystal-embellished PVC pumps (Credit: WENN)
4. Cindy Crawford – Size 10 (US)
She remains to be one of the most popular supermodels of all time. But unlike other models, Cindy Crawford is more famous for her athletic build.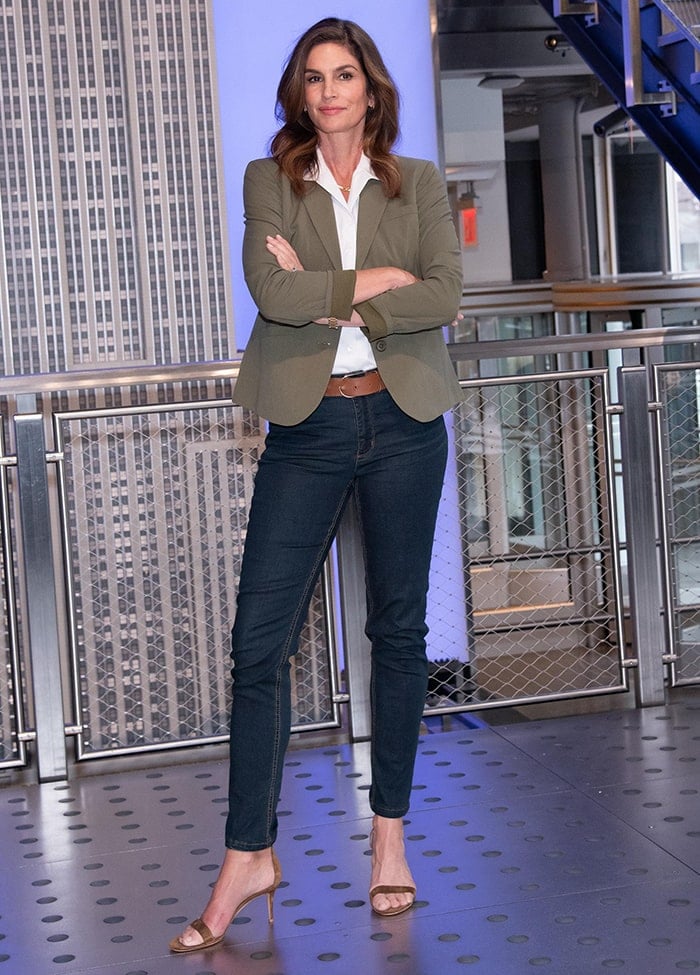 Cindy Crawford lights Empire State Building for International Women's Day on March 6, 2020 (Credit: WENN)
She stands 5'9" and wears a size 10. The American model is the same height as her model daughter, Kaia, whose shoe size is smaller at only 8.5.
Cindy Crawford's size 10 feet (Credit: WENN)
5. Mandy Moore – Size 10 (US)
She has been called Big Foot in the past and even Justin Timberlake once poked fun at the size of her feet.
Mandy Moore at the Los Angeles Premiere of Midway held at the Regency Village Theatre on November 5, 2019 (Credit: WENN)
At 5'9", Mandy wears a size 10. And sadly, she's not proud of it.
She told Jimmy Kimmel: "I found this bizarre, unofficial Mandy Moore book (while rummaging through old memorabilia). It's an actual book that was for sale for $12.95 that someone wrote without me knowing about it but it has lots of fun facts. Like, this page here is '10 Things We Love About Mandy,' and the very first fact is 'Mandy is proud of her big feet. She wears a size 10 shoe. They call her Big Foot but she doesn't care, she thinks they're cool feet.' (laughs) I do have a size-10 foot, but I'm not proud of it!"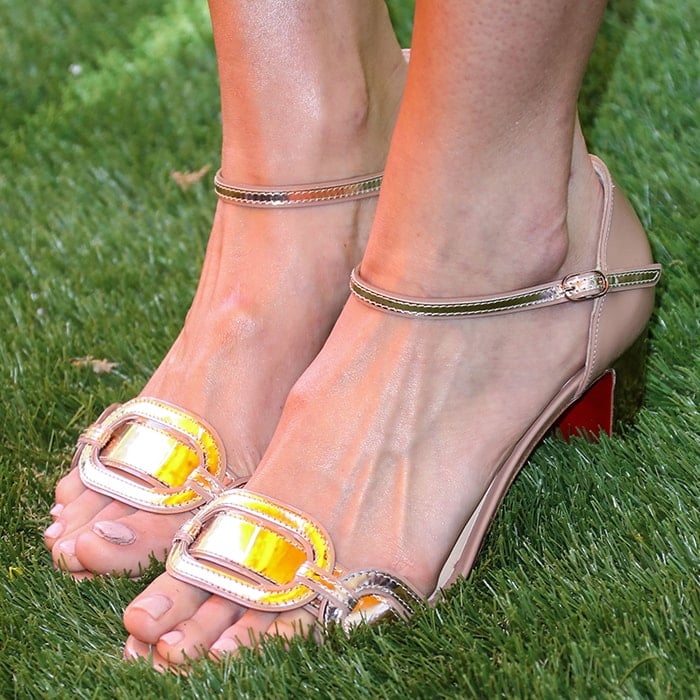 Mandy Moore's bony big feet in Christian Louboutin Valparaiso sandals (Credit: WENN)
6. Kate Beckinsale – Size 10 (US)
Her lead role in the Underworld film series made her into an action heroine. And perhaps having big feet helped her with some of her action scenes.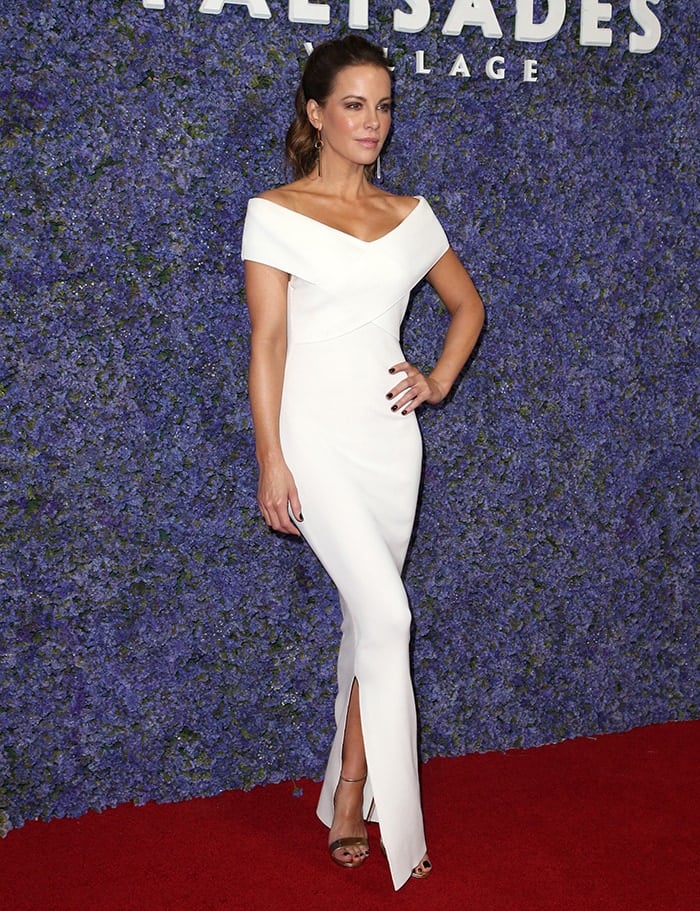 Kate Beckinsale at Caruso's Palisades Village Opening Gala on September 21, 2018 (Credit: WENN)
She stands 5'7" but Kate wears a whopping size 10. Although she has huge feet, they are popular among foot fetish enthusiasts. Her feet are curvy and her toes are long but nice.
Kate Beckinsale's showcases her big but sexy feet in a pair of black sandals (Credit: WENN)
7. Freida Pinto – Size 10 (US)
The Slumdog Millionaire star is only 5'5", but she wears size 10.5 shoes. Growing up, Freida once said that she struggled to find shoes that fit her since her country only catered for smaller feet.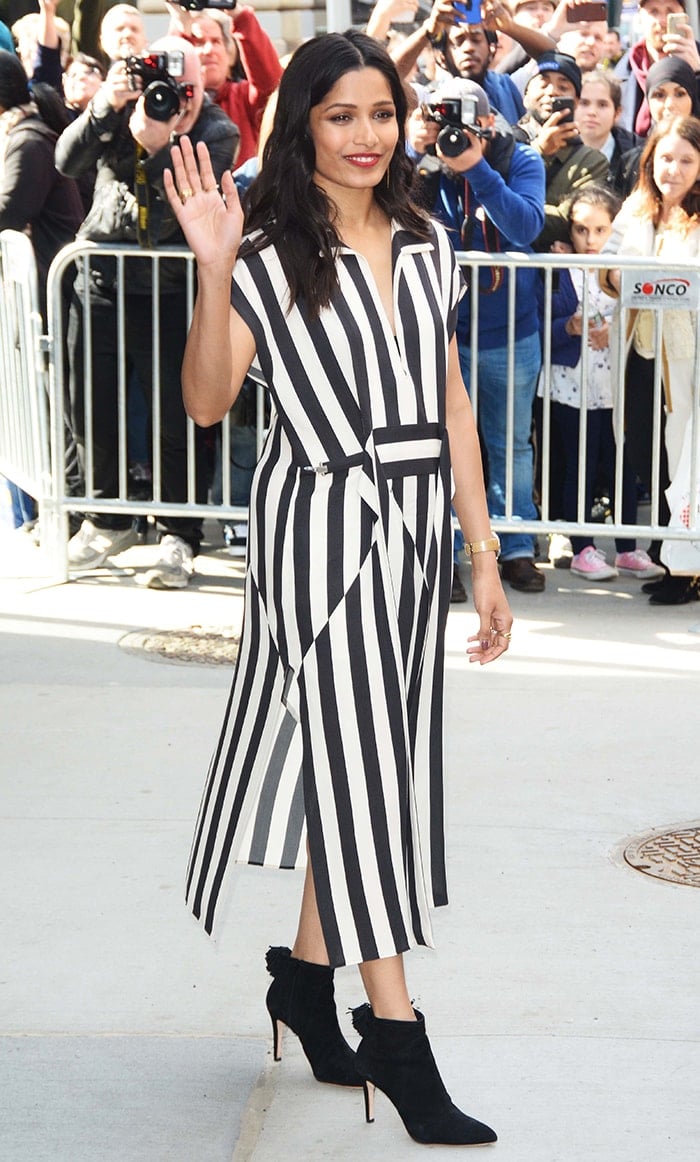 Freida Pinto wears a black and white vertical stripe dress to look taller in New York City on April 3, 2017 (Credit: WENN)
She told The Strategist magazine: "I have a size ten-and-a-half foot, but growing up in India it was very difficult to find my size when all the shoes were made for smaller feet. My feet weren't represented at all."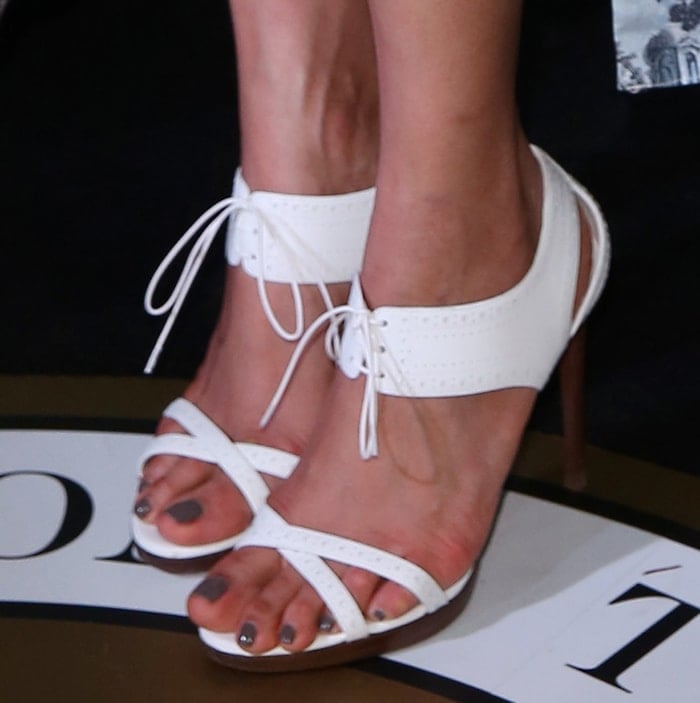 Freida Pinto's long feet in Burberry heels (Credit: WENN)
8. Brooke Shields – Size 10 (US)
She began her career in Hollywood at the age of 12, so she basically grew up in the limelight. Aside from her acting and beauty, her bold eyebrows also made her famous.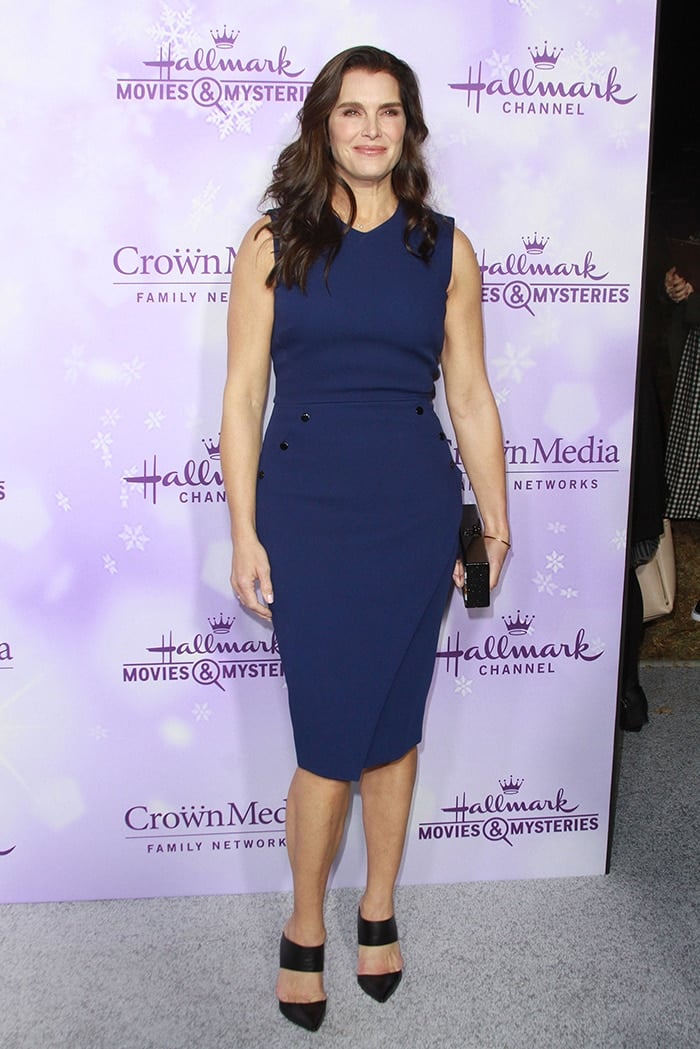 Brooke Shields at Hallmark Channel and Hallmark Movies & Mysteries Winter 2016 TCA Press Tour on January 8, 2016 (Credit: WENN)
One thing you might not know about the Blue Lagoon star is that she rocks a size 10 feet. She's six-feet tall, so having such huge feet isn't surprising.
Brooke Shields shows off her bunion and dry-looking big feet (Credit: WENN)
9. Bryce Dallas Howard – Size 10 (US)
The eldest daughter of actor and director Ron Howard gained wider recognition for starring as Claire Dearing in Jurassic World and its sequel, Jurassic World: Fallen Kingdom.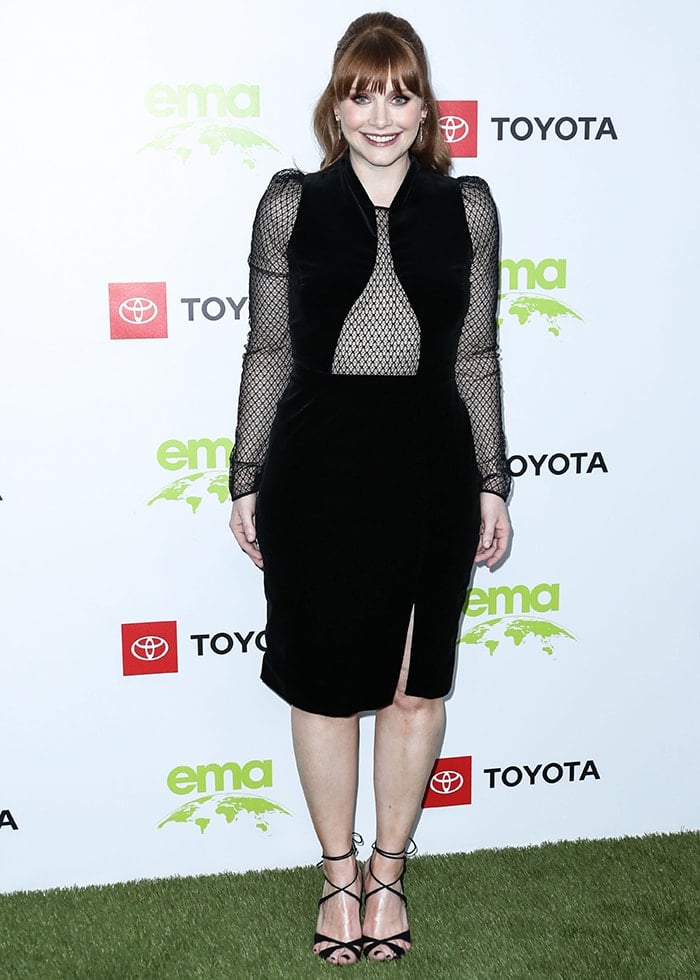 Bryce Dallas Howard at the 2nd Annual Environmental Media Association Honors Benefit Gala on September 28, 2019 (Credit: WENN)
Although she's only 5'7", she wears size 10 shoes. And the American actress/filmmaker seems to have no issues about her large feet. Remember when she ran in high heels in the 2014 adventure film?
In an interview with Radio Times, she said of the controversial scene: "It was important to me – it was hard for me to be Claire without those heels. It was like her armor, you know? It was her strength. So yeah, I ran through the jungle, for a few months, in high-heeled shoes!"
Bryce Dallas Howard squeezes her big feet into a pair of lace-up sandals (Credit: WENN)
10. Lucy Lawless – Size 10 (US)
She's famous for her role as a warrior princess in the '90s TV series, Xena: Warrior Princess.
Lucy Lawless at the premiere of Spartacus: War of the Damned at Regal Cinemas L.A. LIVE Stadium 14 in Los Angeles on January 22, 2013 (Credit: WENN)
With a height of 5'10", a muscular build, and, not to mention, big feet, Lucy was definitely the perfect choice for the role.
Lucy Lawless slips her big feet into a pair of metallic peep-toe slingback pumps (Credit: WENN)
11. Lauren Ambrose – Size 10 (US)
You probably know her as one of the lead stars in the TV drama, Six Feet Under. But what you probably didn't know is that this 5'6" actress wears a size 10.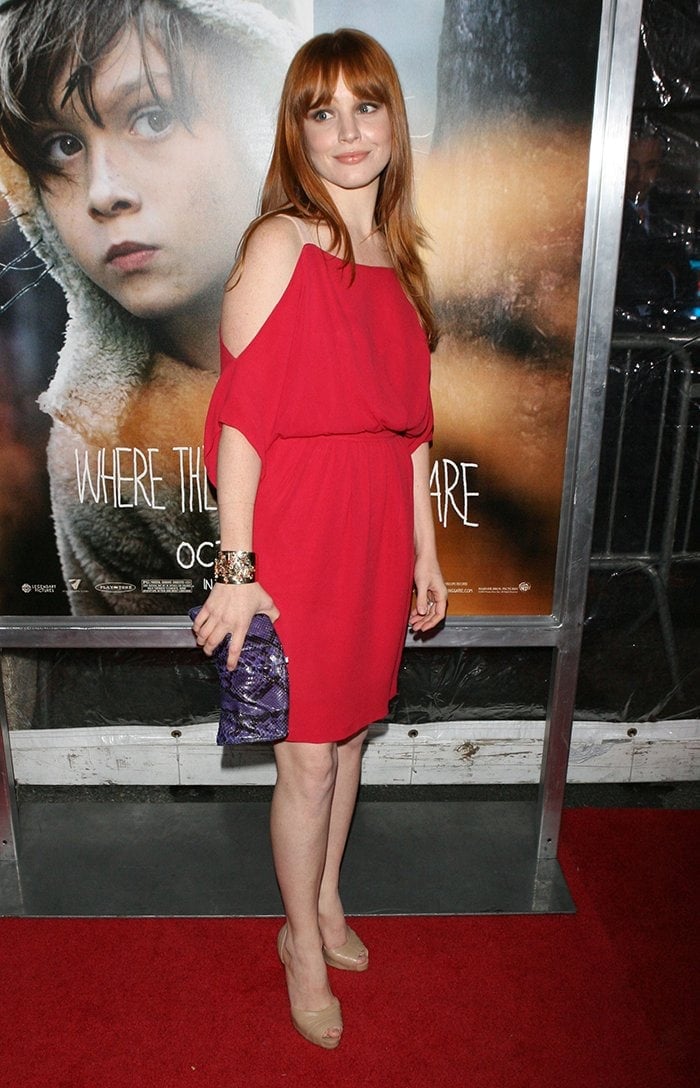 Lauren Ambrose at the New York premiere of Where the Wild Things Are on October 13, 2009 (Credit: WENN)
It's surprising given her petite height! She's still one of the most gorgeous actresses with big feet anyway.
Lauren Ambrose's big feet in gold slingback peep-toe pumps (Credit: WENN)
12. Jerry Hall – Size 10 (US)
The model/actress always manages to stand out, literally, wherever she goes. Aside from her signature big blonde hair and her striking fashion sense, she is six feet tall.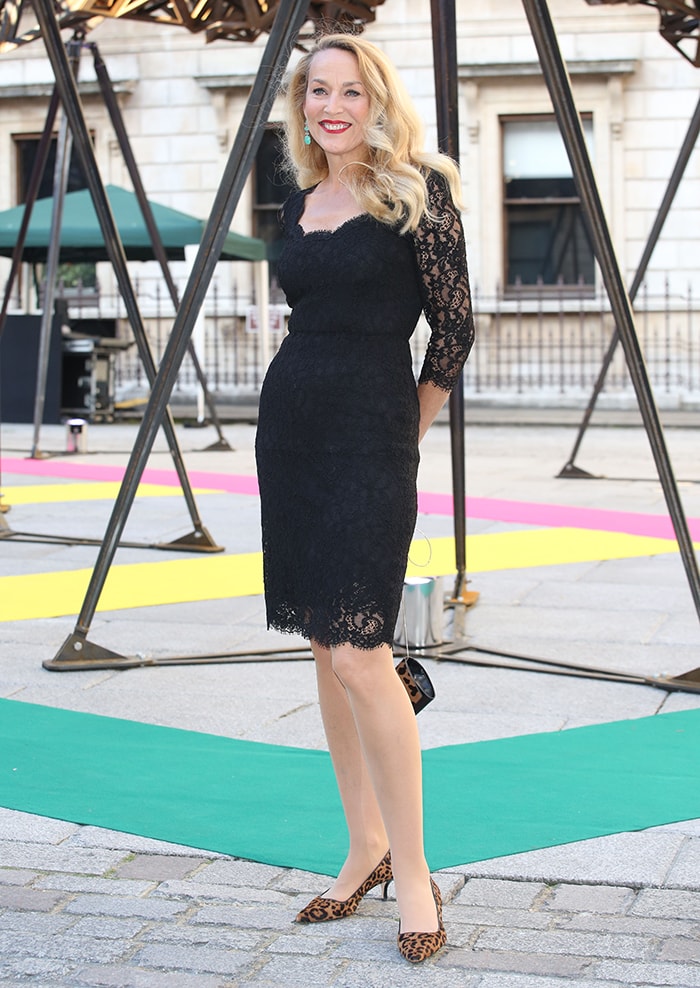 Jerry Hall at the Royal Academy Summer Preview Party on June 3, 2015 (Credit: WENN)
You'd probably think she wears a size 12 or 13 given her towering height. But surprisingly, Mick Jagger's ex-wife wears just a size 10.
They may be quite small for her height, but they're considerably huge compared to the average woman's feet.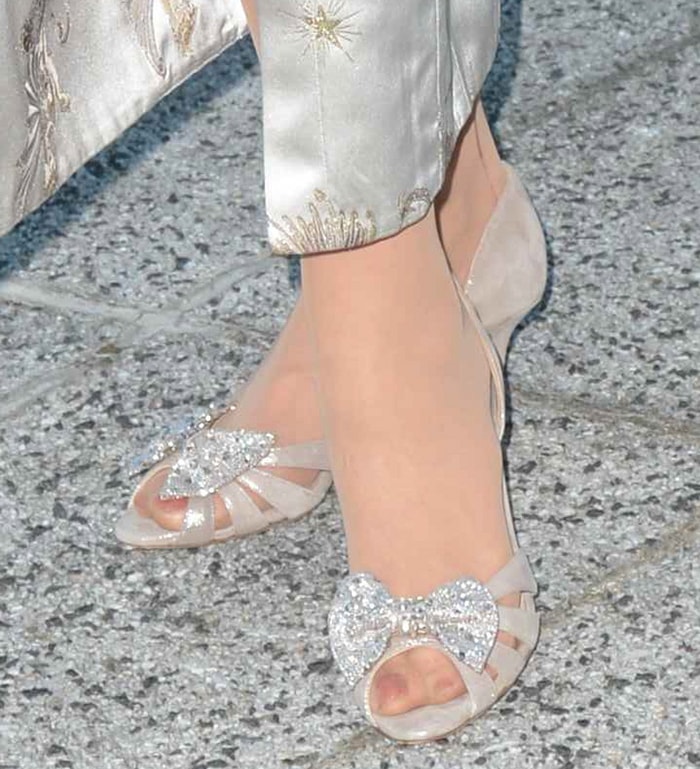 Jerry Hall wears stockings with bow-detailed peep-toe pumps (Credit: WENN)
13. Jennifer Lawrence – Size 10.5 (US)
Many love Jennifer Lawrence for her charismatic and easy-going personality. In addition, the 5'7" actress has learned to love her flaws and embrace her body as it is that she's no longer afraid of getting picked on by her haters.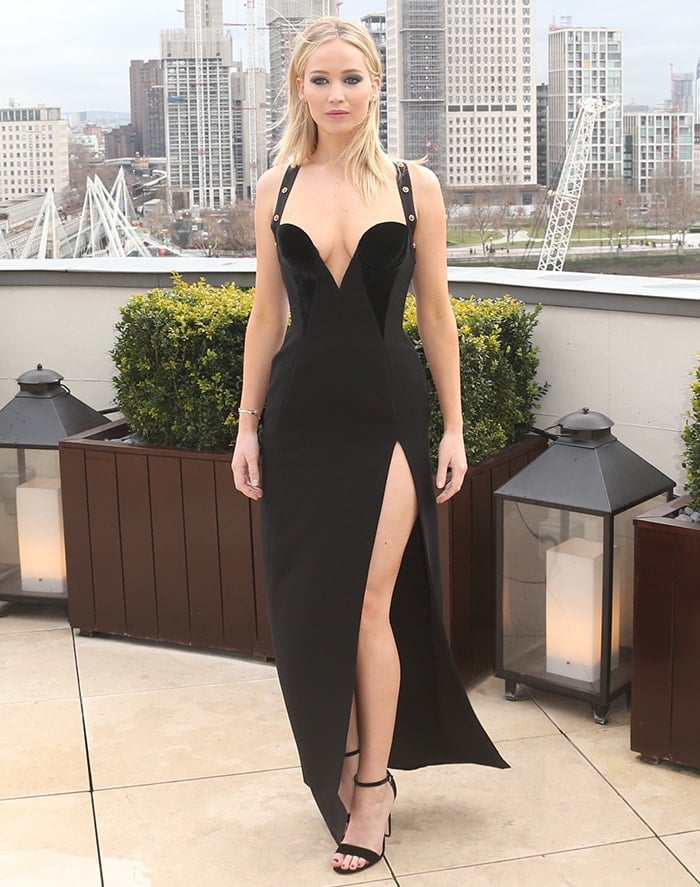 Jennifer Lawrence at the Red Sparrow London photocall on February 20, 2018 (Credit: WENN)
She probably wouldn't even mind being called bigfoot or monster feet for wearing a size 10.5.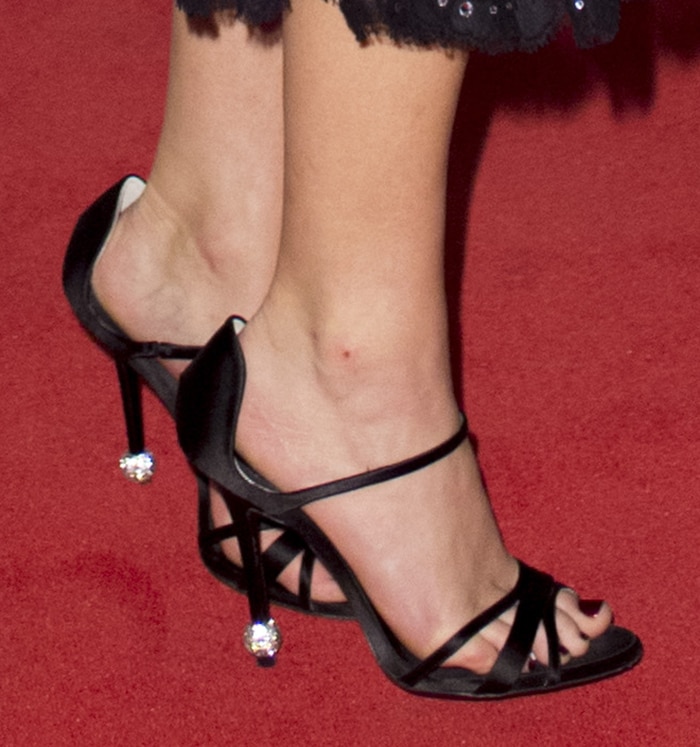 Jennifer Lawrence's big feet in Roger Vivier size 10.5 sandals (Credit: WENN)
14. Serena Williams – Size 10.5 (US)
Perhaps having big feet is an advantage for athletes like Serena. The professional tennis player stands 5'9" and wears a 10.5 shoe size.
Serena Williams at WTA Pre-Wimbledon Party held at The Roof Gardens in London on June 25, 2015 (Credit: WENN)
Imagine running around the court and going after the ball with such huge feet. They probably give her the balance and support that she needs while playing.
Serena Williams slips her big feet into a pair of nude sandals (Credit: WENN)
15. Audrey Hepburn – Size 10.5 (US)
Even film and fashion icon Audrey Hepburn had a larger than average shoe size. She was the epitome of class and grace, so it's a surprise that she wore a size 10.5.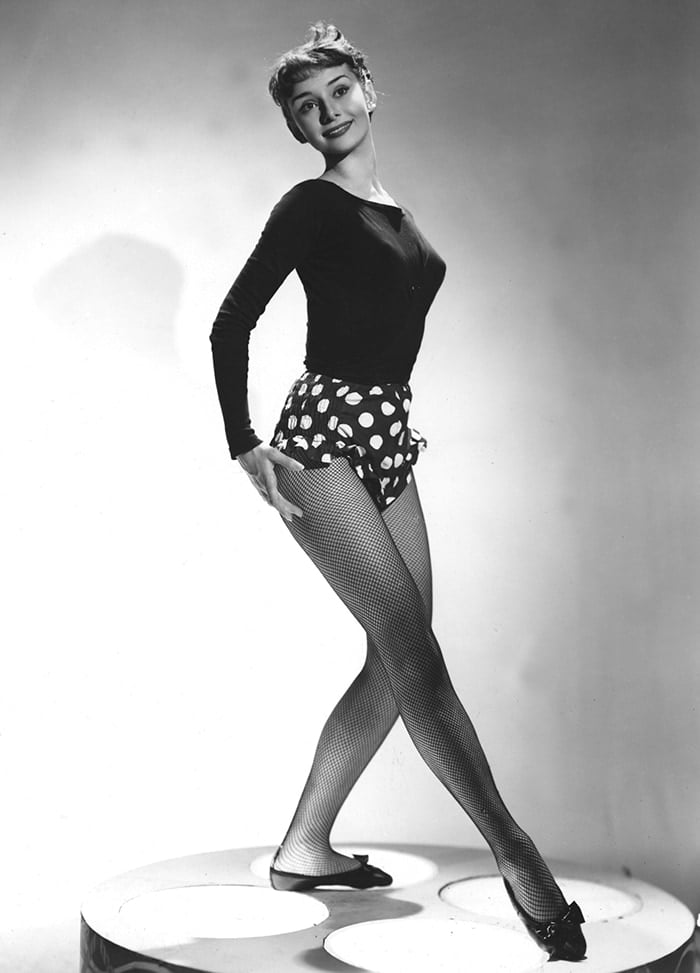 Audrey Hepburn's long legs and huge feet (Credit: WENN)
Despite being a woman of unmatched beauty, Audrey actually didn't have much confidence in her looks. She once said: "I'd like to be not so flat-chested. I'd like not to have such angular shoulders, such big feet, and such a big nose."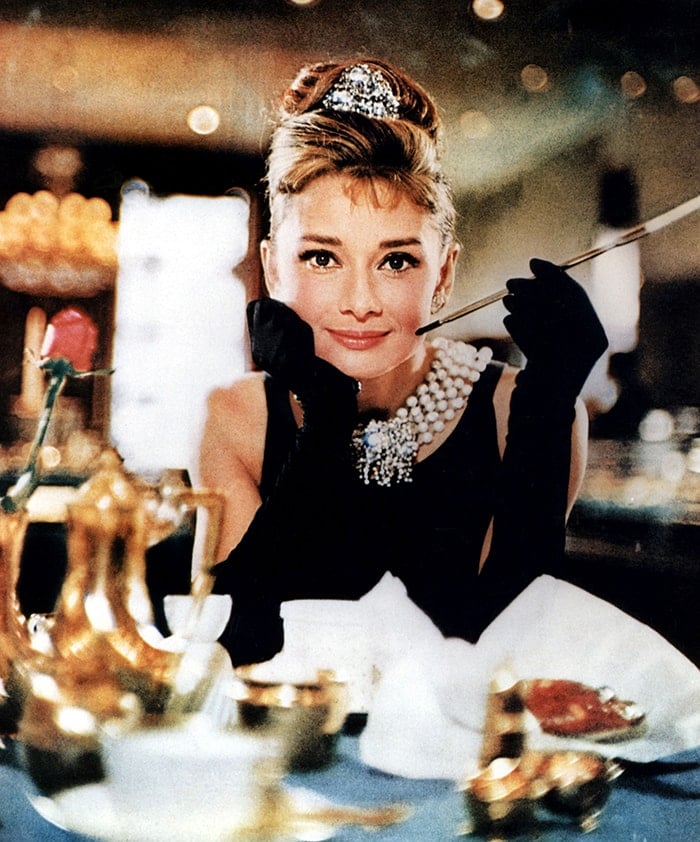 A still photo from Audrey Hepburn's Breakfast at Tiffany's movie (Credit: WENN)
16. Kate Winslet – Size 11 (US)
She stands 5'7" but her foot size is a whopping 11. Kate has been criticized many times for having huge feet that don't match her body.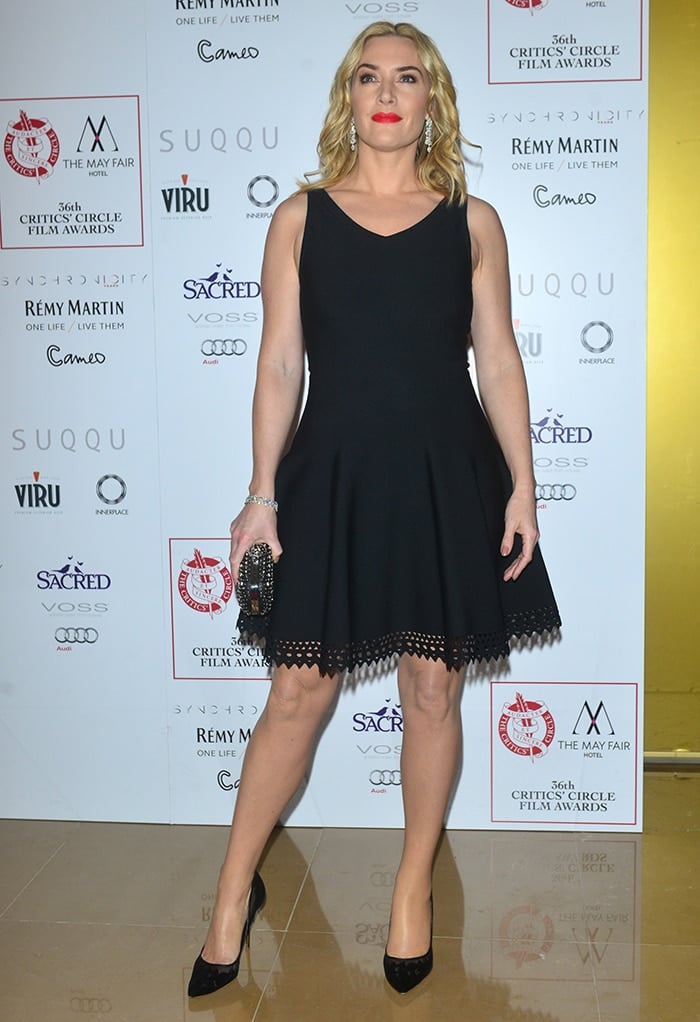 Kate Winslet at the 36th London Critics' Circle Film Awards held at the Mayfair Hotel on January 17, 2016 (Credit: WENN)
Even her Titanic co-star Leonardo DiCaprio thinks her feet are hilarious. She once said in an interview: "I'd put up my foot up and he'd fall about laughing because my feet are exactly the same size as his and he's 6'1". He'd refer to them as my canoes."
But no, she doesn't hold the biggest feet record in her family. She said that her mom actually wears a size 13.
Kate Winslet's big feet and pedicured toenails (Credit: WENN)
17. Maria Sharapova – Size 11 (US)
The professional tennis player is another living proof that having big feet is beneficial for athletes. Maria is a former world number one and a five-time grand slam champion. Her shoe size? 11.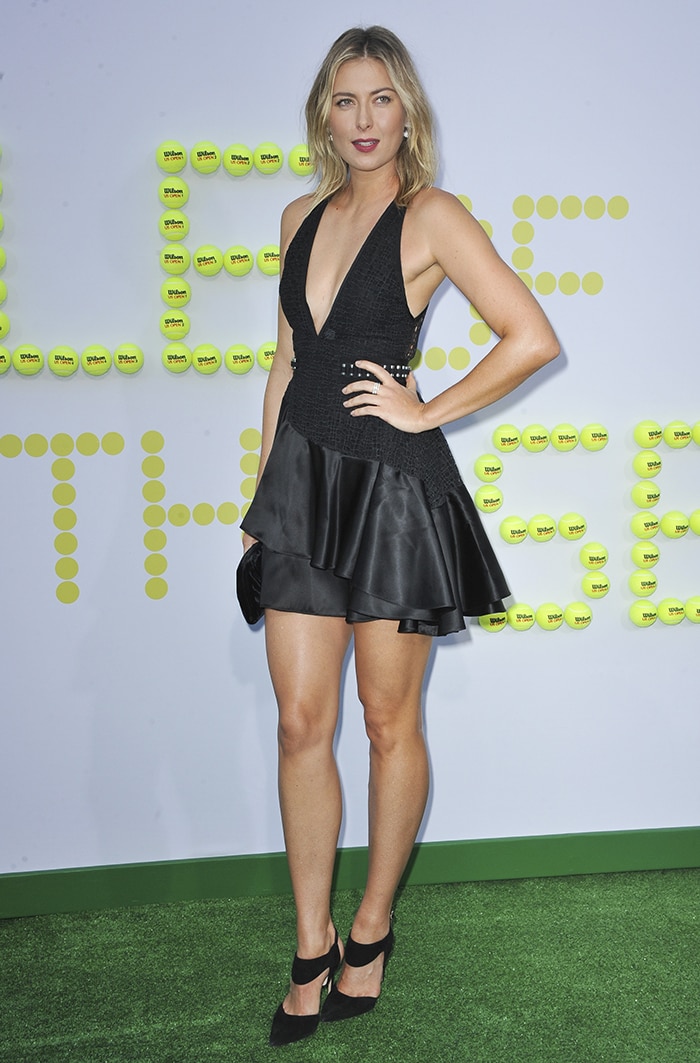 Maria Sharapova at Fox Searchlight's Los Angeles premiere of Battle of the Sexes on September 16, 2017 (Credit: WENN)
She stands 6'2", so her height balances out the size of her feet.
Maria Sharapova's size 11 feet in nude heels (Credit: WENN)
18. Cate Blanchett – Size 11 (US)
She's a red-carpet pro, with over two decades' experience in the industry. But while Cate is used to walking the red carpet, there are moments when she struggles to walk in heels.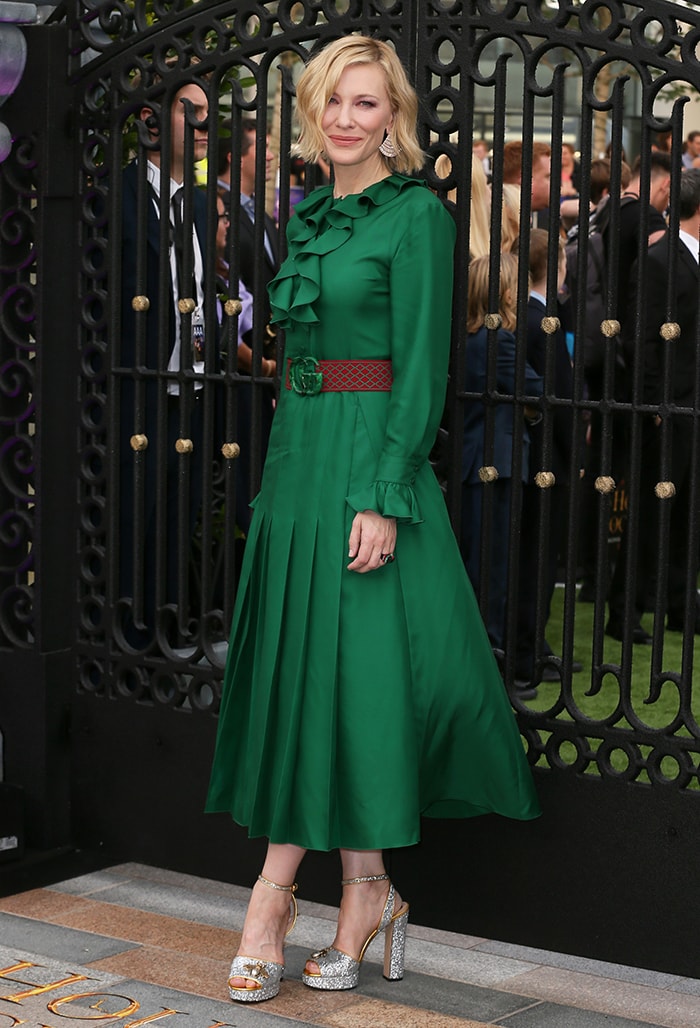 Cate Blanchett at the UK Premiere of The House With A Clock In Its Walls on September 5, 2018 (Credit: WENN)
Remember when she took off her Givenchy shoes at the Cinderella premiere in 2015? Her size 11 feet could probably no longer stand the pain.
Yes, this 5'9" actress has enormous feet, too, but given her tall height, it's no longer a surprise.
Cate Blanchett's pretty big feet in Christian Louboutin heels (Credit: WENN)
19. Katie Holmes –Size 11 (US)
Aside from being Tom Cruise's ex-wife, Katie is perhaps best known for her role in the hit TV series Dawson's Creek. Unfortunately, the actress is also known for having strange-looking feet, and she's aware of it, too!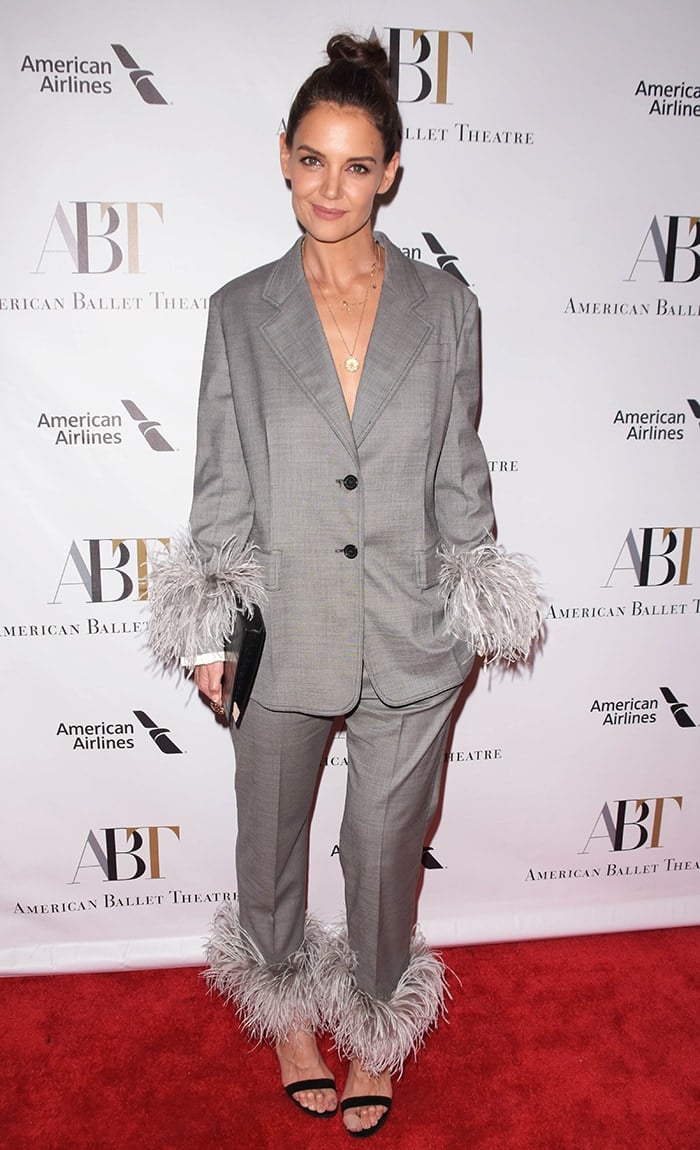 Katie Holmes at the 2018 American Ballet Fall Gala in New York City on October 17, 2018 (Credit: WENN)
She stands 5'9" and wears a size 11. A source told Globe Magazine in 2019, Katie "desperately wants to do something about her crooked toes and unsightly bunions and she's consulted with her surgeon."
Katie Holmes reportedly considered surgery for her crooked toes (Credit: WENN)
"Designers push Katie to wear pretty shoes on the red carpet, but her toes are long and knobby and getting a pedicure doesn't help," the source added.
Katie Holmes' bony feet look squashed in her pointy pumps (Credit: WENN)
20. Meg Ryan – Size 11 (US)
She shot to fame in the 1989 romantic-comedy When Harry Met Sally and became the queen of rom-com in the 1990s.
Surprisingly, Meg Ryan isn't that short. Although she gives off a cutesy petite vibe, she actually stands 5'8" and has a huge foot size to boot.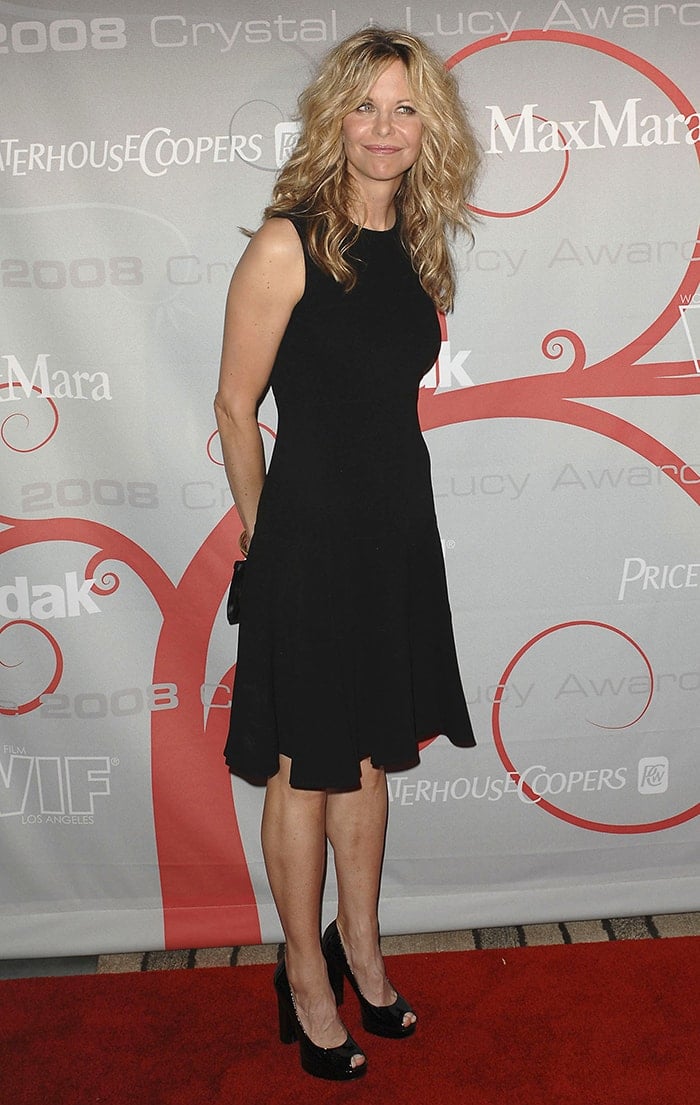 Meg Ryan at the Women in Film's 2008 Crystal Lucy Awards A Black and White Gala in Beverly Hills, California on June 17, 2008 (Credit: WENN)
She wears a size 11, and she once joked that her large feet were her secret to her great acting.
Meg Ryan wears silver platform heels for her size 11 feet (Credit: WENN)
21. Gwyneth Paltrow – Size 11 (US)
The Shakespeare In Love star has always been comfortable about her body. Gwyneth stands 5'9" and wears a size 11.
Gwyneth Paltrow at the launch party of her collaboration with Frederique Constant on June 21, 2018 (Credit: WENN)
Despite her big feet, she's known for her love of high heels. She just loves showing off her sexy toes in designer heels.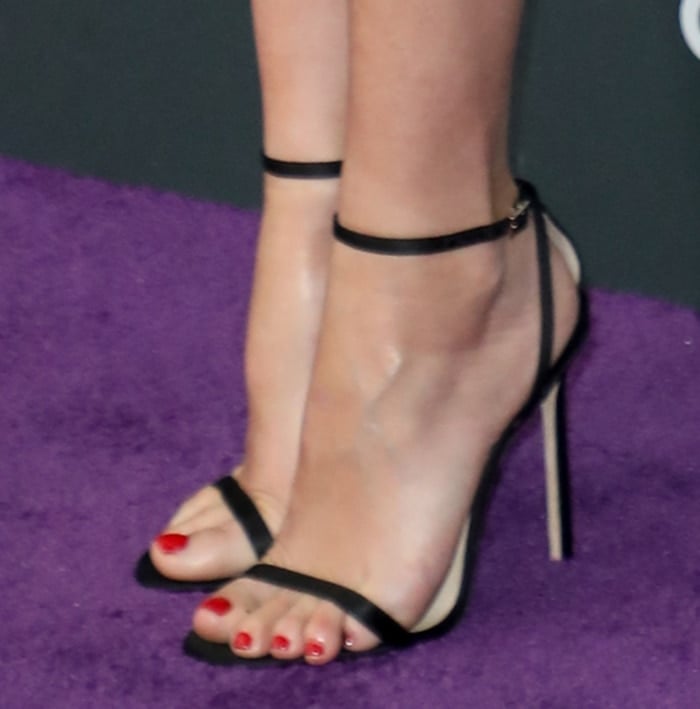 Gwyneth Paltrow's big feet in classic black heels (Credit: WENN)
22. Uma Thurman – Size 11 (US)
Her big feet became infamous after Quentin Tarantino, who's known to have a foot fetish, gave them valuable screen time in the 2003 movie, Kill Bill: Volume 1.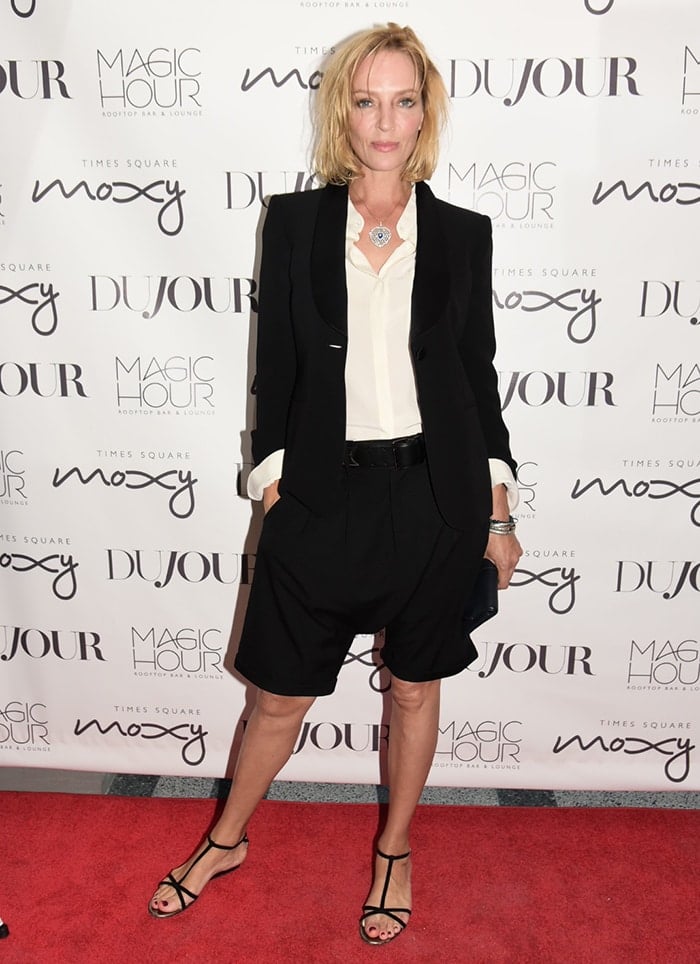 Uma Thurman at her cover party for DuJour magazine in New York City on September 25, 2017 (Credit: WENN)
She stands 5'11", so having size 11 feet is a given. Although Uma has a well-proportioned body, she once said that she felt insecure about how she looks. "I was always physically insecure – big feet, too tall, not coordinated, or together."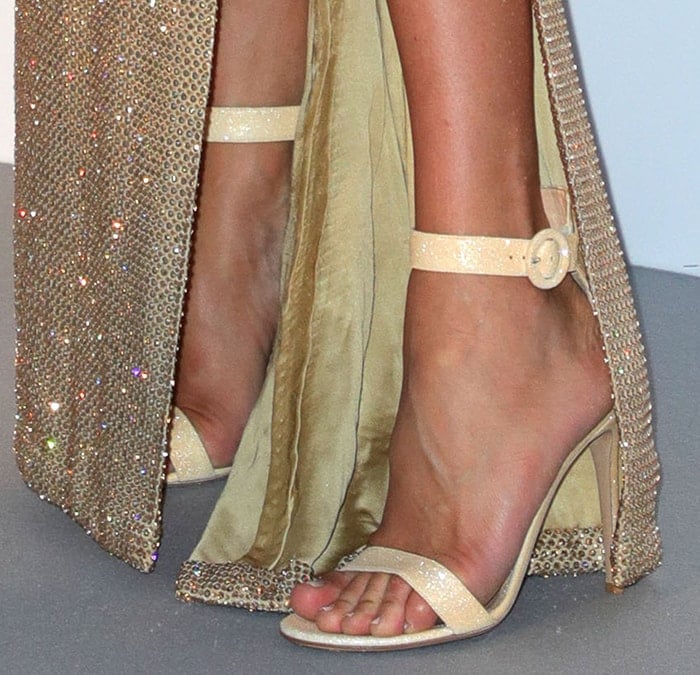 Uma Thurman feels insecure about her tall height and big feet (Credit: WENN)
23. Paris Hilton – Size 11 (US)
She's a hotel heiress, a socialite, and she definitely loves getting attention. However, Paris wouldn't be pleased if all eyes were fixated on her feet.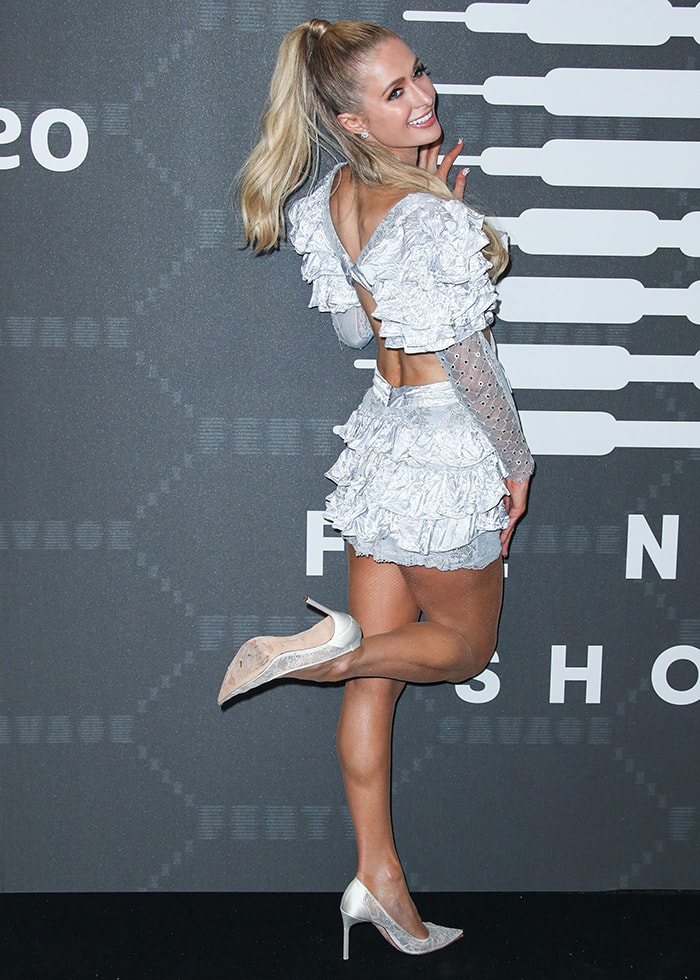 Paris Hilton at the Savage x Fenty show on September 10, 2019 (Credit: WENN)
In her memoir, she confessed that the one thing she hated the most about her body was her size 11 feet. "I see all these super-cute shoes in the stores. And when they're brought out in my size, they look like clown shoes on me!"
Paris Hilton's bony long feet with bunion (Credit: WENN)
And because she struggles to find shoes in her size, the 5'8" businesswoman started her own footwear company that caters to women with huge feet.
Paris Hilton started her own footwear company catering to women with big feet (Credit: WENN)
24. Nicole Kidman – Size 11 (US)
She's one of the tallest actresses in the industry, and she regularly towers over her husband, Keith Urban, on the red carpet.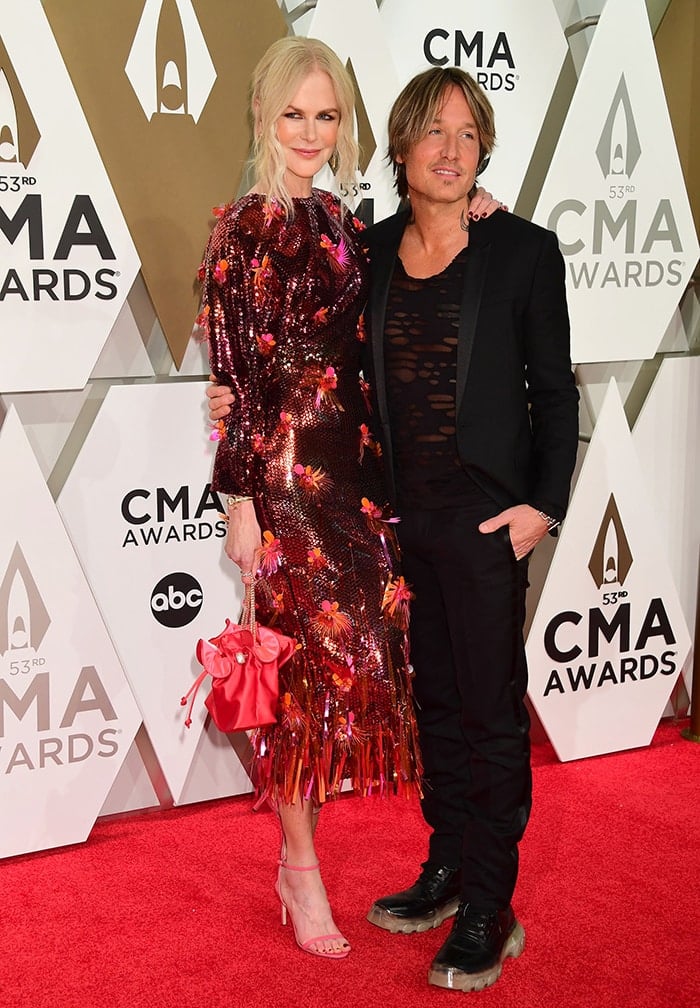 Nicole Kidman towers over her husband Keith Urban at the 53rd Annual CMA Awards on November 13, 2019 (Credit: WENN)
Nicole stands 5'11" (sans the heels), while her husband is 5'10". Even her shoe size is an inch larger than Keith's. She's a size 11, while he's a size 10.
Nicole Kidman showcases her nice pretty long feet in Alexandre Birman sandals (Credit: WENN)
25. Jessica Biel – Size 11 (US)
She's only 5'7", so we're surprised to learn that Esquire magazine's 2005 Sexiest Woman Alive wears size 11 shoes. They are definitely too big for Jessica's height, right?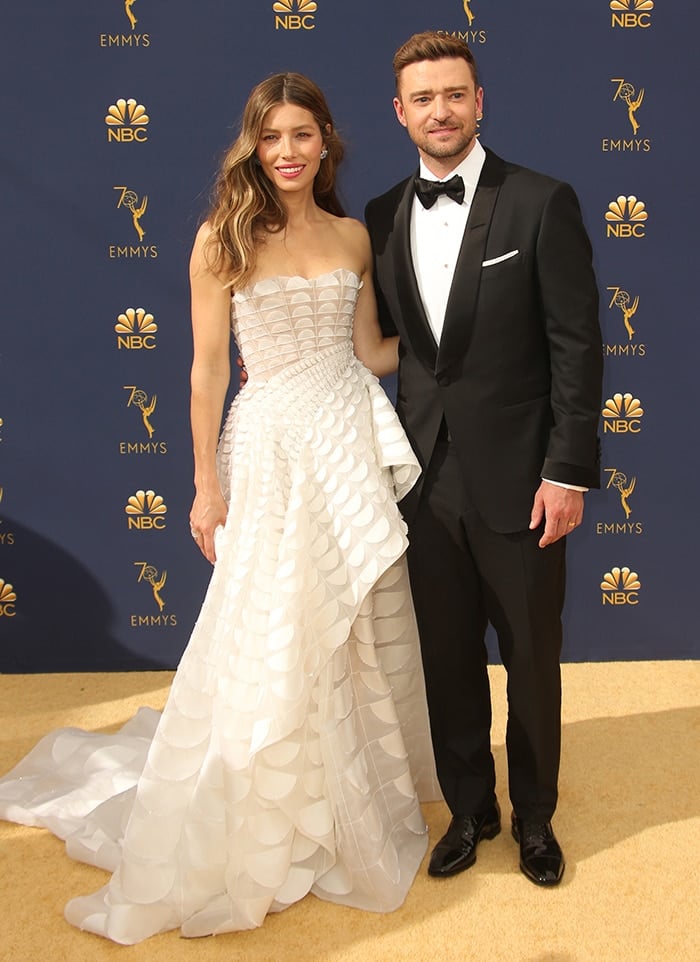 Jessica Biel and husband Justin Timberlake at the 70th Primetime Emmy Awards on September 17, 2018 (Credit: WENN)
Interestingly enough, her husband, Justin Timberlake, stands 6'1" and wears the same shoe size as her.
Jessica Biel's nicely pedicured big feet in Manolo Blahnik sandals (Credit: WENN)
26. Oprah Winfrey – Size 11 (US)
Back in 2010, while cleaning out her closet for charity with O, The Oprah Magazine creative director Adam Glassman, the Queen of all Media discovered why her shoes were uncomfortable.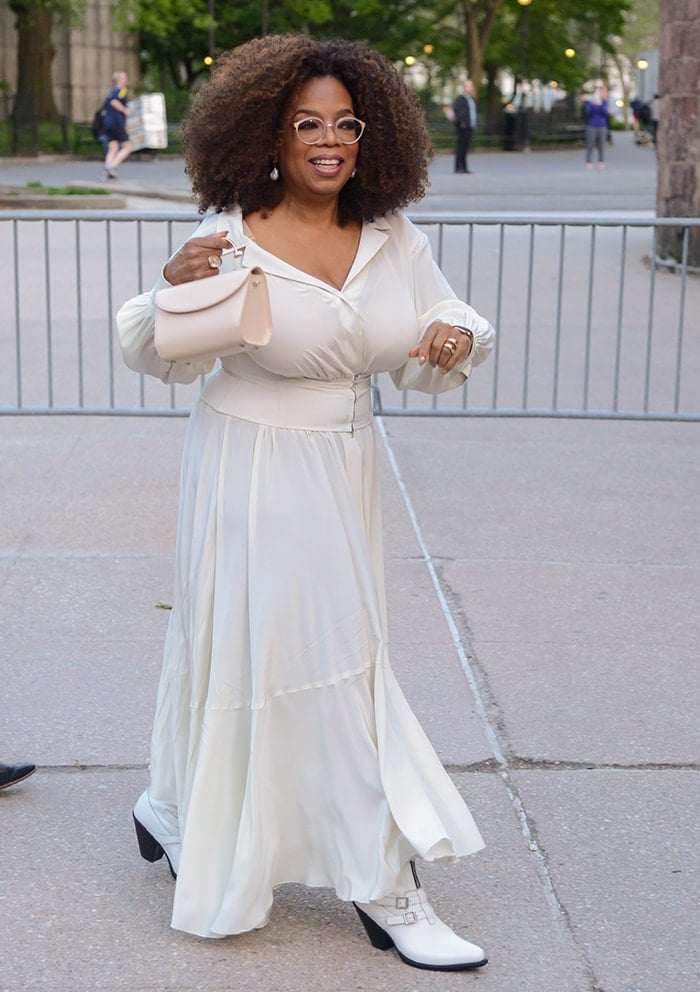 Oprah Winfrey at the Statue Of Liberty Museum opening celebration on May 16, 2019 (Credit: WENN)
She realized she was buying the wrong size of shoes. She admitted to wearing a size 10, which was one size smaller than her shoe size of 11.
Oprah Winfrey's size 11 shoes (Credit: WENN)
As a result, she auctioned off all her size 10 shoes and restocked her wardrobe with her actual shoe size.
Oprah Winfrey is 5'7″ and wears size 11 shoes (Credit: WENN)
27. Whoopi Goldberg – Size 11 (US)
EGOT (Emmy, Grammy, Oscar, and Tony) winner Whoopi Goldberg is only 5'5".
Whoopi Goldberg at Keep Memory Alive event on April 13, 2013 (Credit: WENN)
For someone shorter than the average, having size 11 feet is quite strange. But since she is Whoopi Goldberg, she probably doesn't care.
Whoopi Goldberg wears size 11 shoes despite her short 5'5″ height (Credit: WENN)
28. Jenna Elfman – Size 11 (US)
She may be known for her leading role in the ABC sitcom Dharma & Greg, but Jenna actually began her professional career as a dancer.
Jenna Elfman at The Walking Dead Premiere and Party on September 24, 2019 (Credit: WENN)
Having size 11 feet didn't stop her from performing well on stage. In fact, she toured as a Legs Girl with rock band ZZ Top on their 1994 tour.
Jenna Elfman's pedicured big feet (Credit: WENN)
29. Famke Janssen – Size 11 (US)
She's known for playing mutant Jean Grey in the X-Men film series and for her role in the Netflix original series, Hemlock Grove.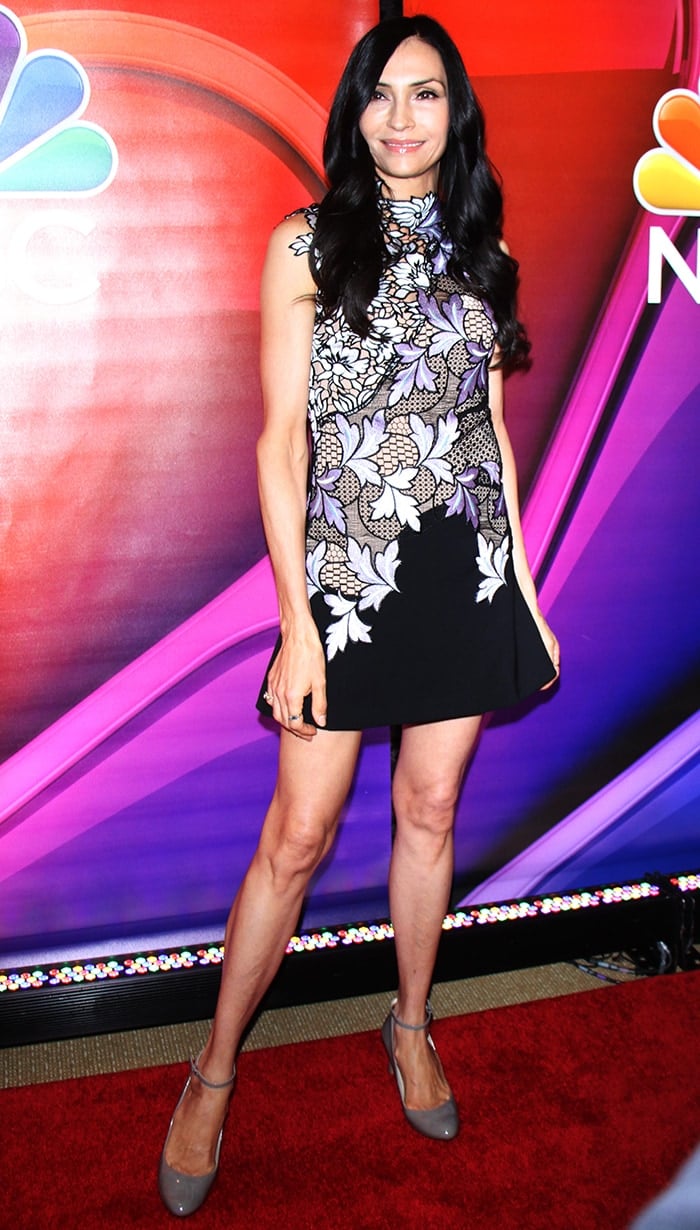 Famke Janssen at the 9th Annual Tribeca Film Festival premiere of The Chameleon on April 23, 2010 (Credit: WENN)
Aside from her rather odd fictional character roles, she is also known for having strangely large feet. They were even a hot topic on Twitter in 2013 after fans noticed her huge feet on Hemlock Grove.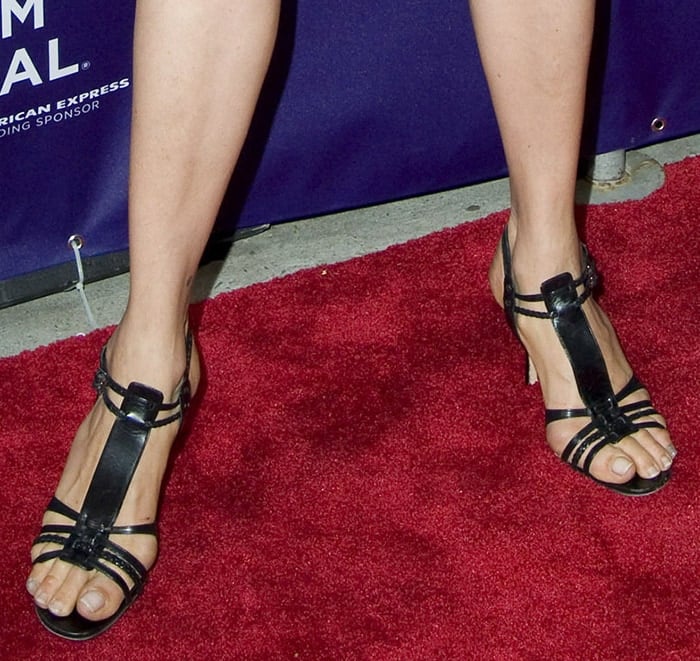 Famke Janssen's size 11 big feet (Credit: WENN)
But given she's 6' flat, her size 11 feet suit her height perfectly.
Famke Janssen's big feet match her tall height (Credit: WENN)
30. Tyra Banks – Size 11.5 (US)
She started her career as a model and has gone on to inspire and teach aspiring models how it's done on the reality TV series, America's Next Top Model.
Tyra Banks at the 2018 American Music Awards on October 9, 2018 (Credit: WENN)
Over the years, Tyra has transformed from a skinny young model to a 5'10" curvy multi-hyphenate.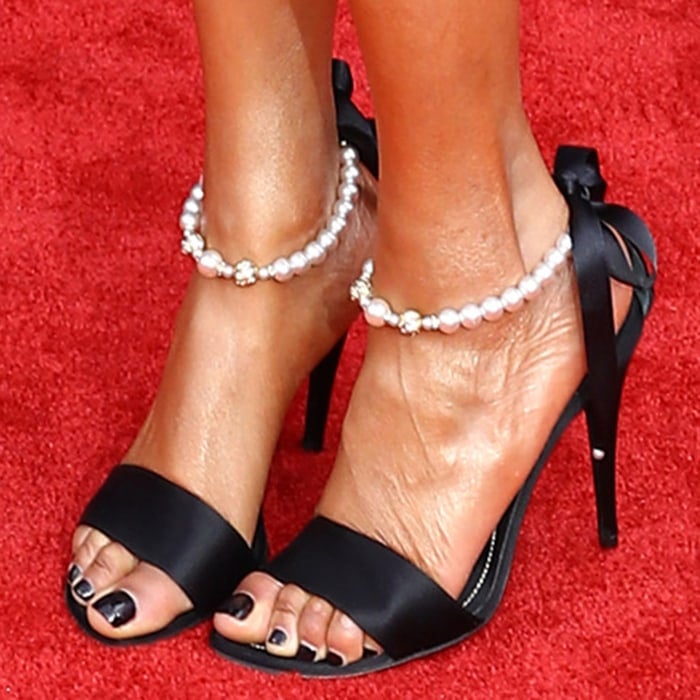 Tyra Banks wears size 11.5 sandals (Credit: WENN)
Apparently, her feet have grown larger, too. She has size 11.5 feet but she reportedly wears size 12 shoes as they provide more comfort.
Tyra Banks slips her big feet into a pair of studded caged sandals (Credit: WENN)
31. Geena Davis – Size 11.5 (US)
Before becoming an award-winning actress, Geena Davis earned a living as a model. One could easily tell she modeled during her younger years based on her statuesque frame.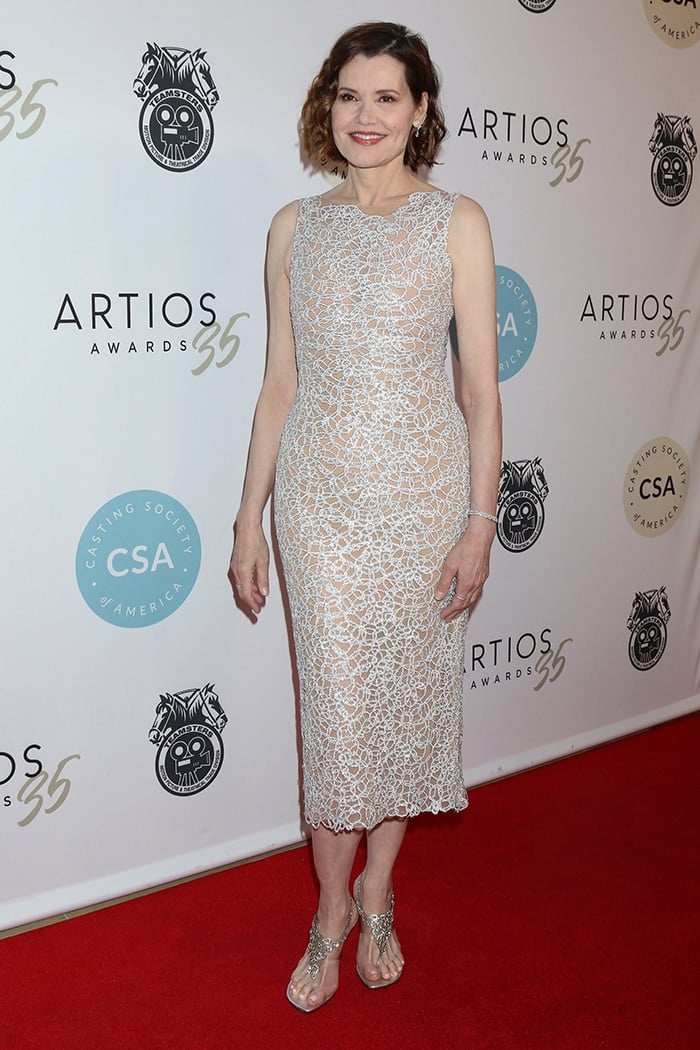 Geena Davis at the 35th Artios Awards at the Beverly Hilton Hotel on January 30, 2020 (Credit: WENN)
She stands six-foot flat, and just like other models, she also has larger-than-average feet, which are a size 11.5.
Geena Davis' size 11.5 big feet in crystal-embellished caged sandals (Credit: WENN)
32. Elle Macpherson – Size 12 (US)
She is known for her record five cover appearances for the Sports Illustrated Swimsuit Issue beginning in the 1980s. And for that and her slender physique, Time nicknamed her "The Body" in 1989.
Elle Macpherson at the launch of her alkalizing health and beauty supplement, The Super Elixir, on May 22, 2014 (Credit: WENN)
With her beauty and height of six feet, Elle never fails to grab attention. But one thing you probably have not noticed about the Aussie model is her feet.
Elle Macpherson's long toes slightly hang from her sandals (Credit: WENN)
She boasts a size 12, which among the largest on this list. For someone that tall, having such huge feet makes perfect sense.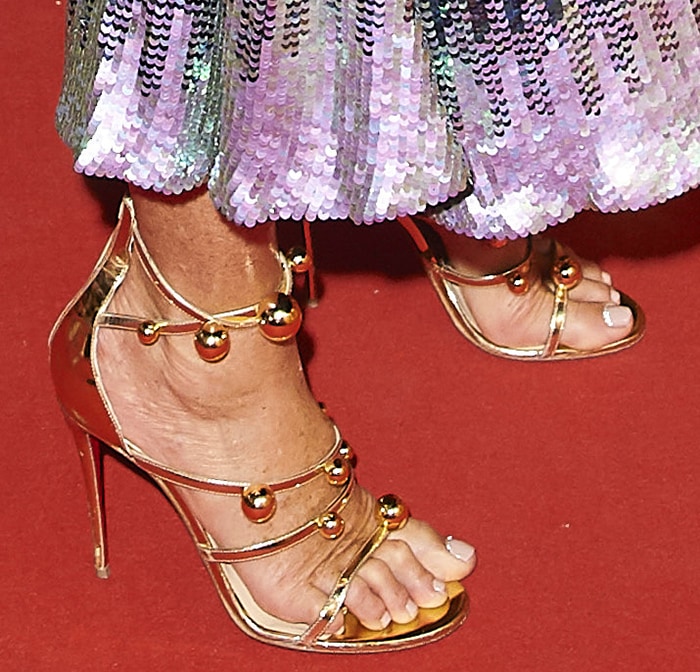 Elle Macpherson wears size 12 sandals (Credit: WENN)
33. Missy Franklin – Size 13 (US)
Five-time Olympic gold medalist Missy Franklin tops the list of celebrity women with big feet. She stands 6'2" and has an enormous 13-foot size.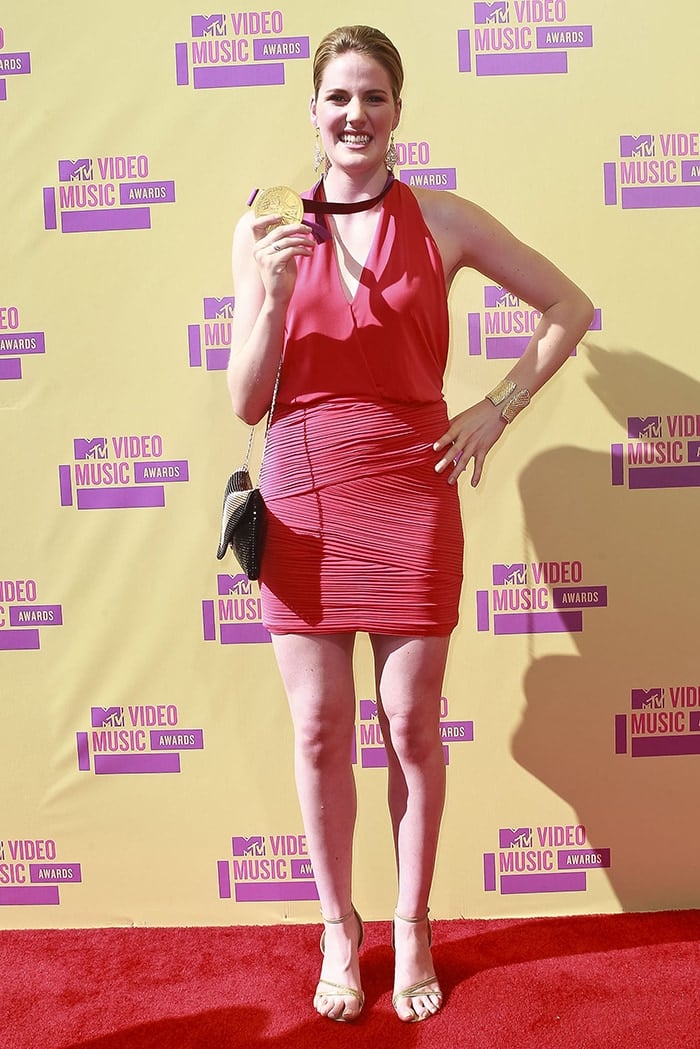 Missy Franklin at the 2012 MTV Video Music Awards held at the Staples Center on September 6, 2012 (Credit: WENN)
She is a swimmer and a member of the US national swim team, and she thinks her huge feet, which her father calls "built-in flippers," is an asset.
Missy Franklin holds the biggest foot size of 13 (Credit: WENN)