Most people are curious to check in on how the Blunt-Hathaway bond is doing. Well, here is the update.
How Anna Hathaway and Emily Blunt Became Friends
The two popular actresses became friends while filming The Devil Wears Prada, an award-winning romantic comedy that was released in 2006.
Anne Hathaway as Andrea "Andy" Sachs and Emily Blunt as Emily Charlton in the 2006 American comedy-drama film The Devil Wears Prada (Credit: 20th Century Fox)
Anne Hathaway portrayed Andrea "Andy" Sachs, a junior personal assistant the editor-in-chief of Runway magazine (Meryl Streep as Miranda Priestly), while Emily Blunt played her the editor-in-chief's co-assistant Emily Charlton.
Editor-in-chief of Runway magazine Miranda Priestly's (Meryl Streep) meticulous and fashion-obsessed senior assistant was played by Emily Blunt.
Anne Hathaway played Andrea Sachs, a young journalist who had recently relocated to New York to pursue her dream career in journalism.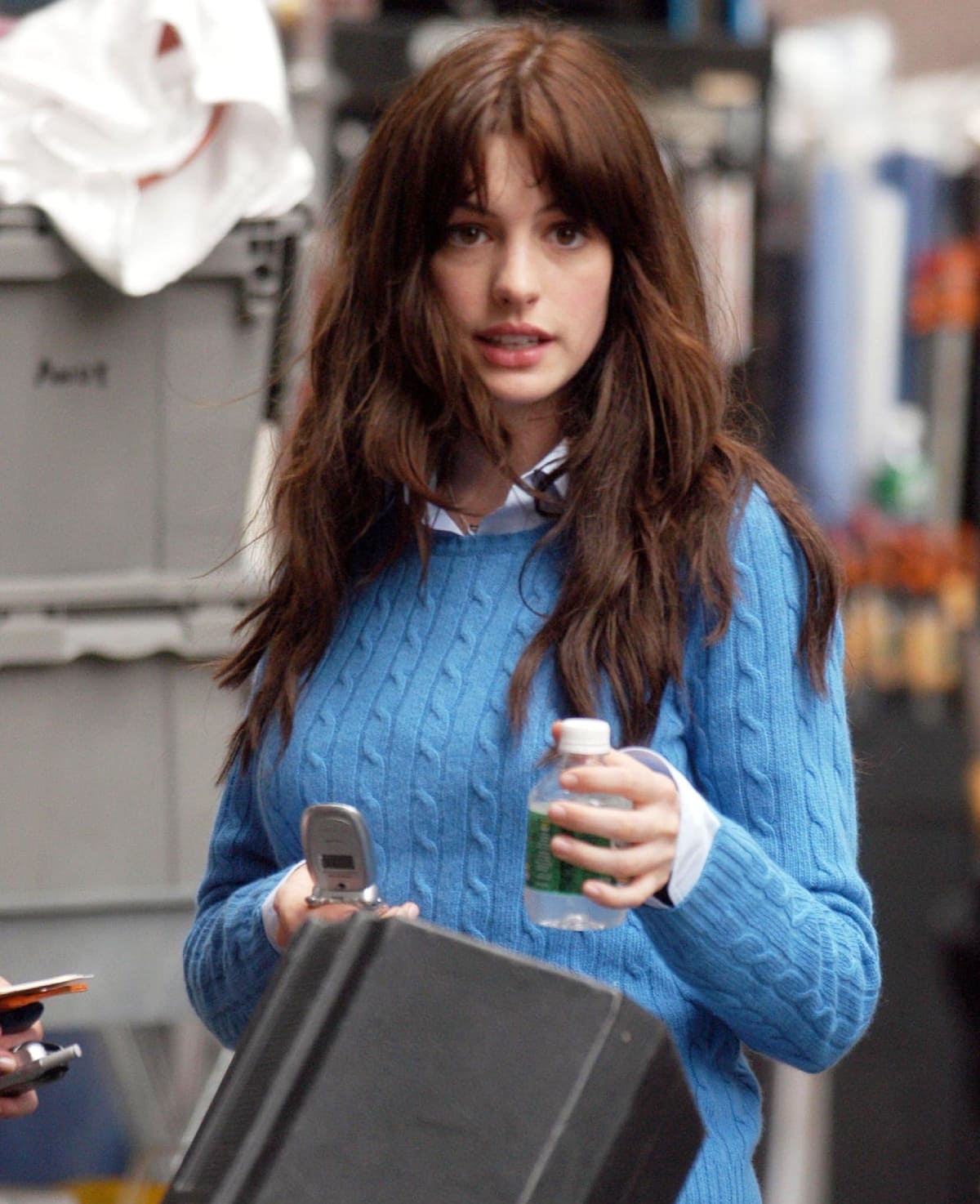 Anne Hathaway on the film set of The Devil Wears Prada in New York City on September 17, 2005 (Credit: Vallenilla / WENN)
The only drawback is that she did not expect to be hired as a junior assistant at the same fashion house as Blunt.
Miranda, played by Meryl Streep, had made an unusual decision to hire someone who had no knowledge of fashion rather than stick with what she was used to. In the film, the relationship blossomed, and it continued in real life.
Sharing the Spotlight Once Again
They were both on the cover of Vanity Fair Magazine's Hollywood issue in 2008. And the fact that Hathaway praised Blunt so highly in this issue reflected the fact that their friendship was just as lovely as they were on the cover.
Emily Blunt, Amy Adams, Jessica Biel, and Anne Hathaway on the cover of Vanity Fair's March 2008 The Hollywood Issue (Credit: Vanity Fair)
The Office star John Krasinski, Blunt's husband, confirms that he is a fan of the film. In fact, he joked that he dated Blunt because he couldn't get Annie. Nonetheless, he struck gold because they have been happily married since 2010.
Career Progression of the Duo
Since The Devil Wears Prada, this duo has continued to shine in the industry, starring in major films and more to come.
Anna Hathaway has appeared in several Disney films, including The Princess Diaries and Ella Enchanted.
Emily Blunt rocks a BVLGARI High Jewelry Monete necklace in a tangerine Christopher John Rogers Resort 2022 suit and matching Titi Adesa pumps ahead of her hosting duties at the 2021 CFDA Fashion Awards held at The Grill Room on November 10, 2021, in New York City (Credit: MEGA / WENN)
While Emily Blunt has starred in Disney films such as Mary Poppins Returns and Disney's Jungle Cruise, she is best known for her role in Mary Poppins Returns.
The Duo Keeps Winning
Besides this, both actresses have won a slew of awards during their acting careers. For the film Les Miserables, Anna Hathaway won an Academy Award and a Golden Globe for best actress in a supporting role.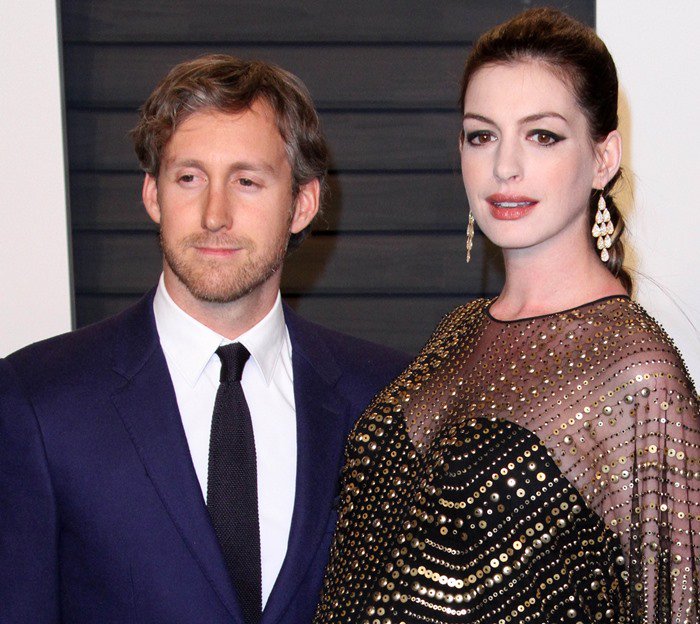 Anne Hathaway a black Monse off-the-shoulder merino wool turtleneck mini dress and her husband Adam Shulman arrive at a special screening of The Eyes of Tammy Faye on December 2, 2021, at Soho House in New York City (Credit: MEGA / WENN)
She also won the Bafta Award for best actress in a supporting role, as well as several other awards for that film. She has also received awards for the film Rachel Getting Married, as well as numerous nominations for her work.
The film A Quiet Place earned Emily Blunt the Screen Actors Guide Award for Outstanding Performance. She also won a Golden Globe for Best Supporting Actress in a Motion Picture for her role in Gideon's Daughter.
And that is not all; she also has awards from the movies Into The Woods and Your Sister's Sister.
Is the Bond Still Strong?
We believe it is. Both of these women are exceptional in their professions, as well as in their friendship. They have never had any stifles to date, so their friendship is as strong as it has always been.
We're sure their bond is even stronger now that they're both mothers, now that they've all started families. Each of them has two children.
The pictures they post on social media during award shows show that they have a happy relationship. Their friendship began with a shared spotlight light and grew into something beautiful and loving.
So don't be fooled if you think Anna Hathaway and Emily Blunt are friends! The connection is still strong.
There's no doubt that Emily Blunt is quite the talented actress in her own right. In the past years, she's completed some pretty impressive films — including the 2014 American science fiction action film Edge of Tomorrow in which she starred alongside Tom Cruise.
Emily Blunt wears her hair down at the opening night party for the off-Broadway play "Dry Powder" held on March 23, 2016, at the Public Theater in New York (Credit: Joseph Marzullo / WENN)
In March 2016, she was pregnant with her second child, but Emily had not slowed down. She took a moment to take a backseat and act as a cheerleader to her doting husband John Krasinski.
The actress was spotted at the opening night party of her husband's off-Broadway play "Dry Powder" in New York.
Emily wore a gray knit dress by Designers Remix, which she layered underneath a full coat.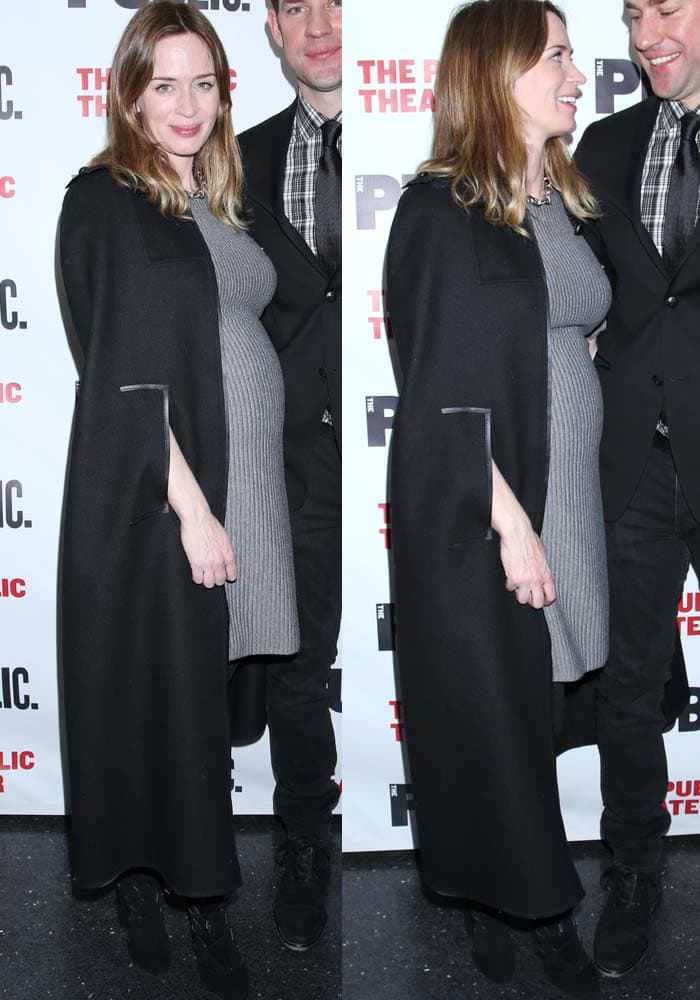 Emily Blunt wears a gray knit dress from Designers Remix to the "Dry Powder" premiere (Credit: Joseph Marzullo / WENN)
The actress styled her maternity wear with some jewelry by American jewelry designer Jennifer Fisher, black tights, and Aquazzura
"Holli" pumps in black suede.
The soon-to-be-mom-of-two kept her makeup natural and fresh, matching it with loosely blow-dried hair.
Emily Blunt wears tights underneath her Aquazzura pumps (Credit: Joseph Marzullo / WENN)
Emily and her husband couldn't suppress their cuteness. John took a moment to bend forward and whisper something in her ear, making her smile.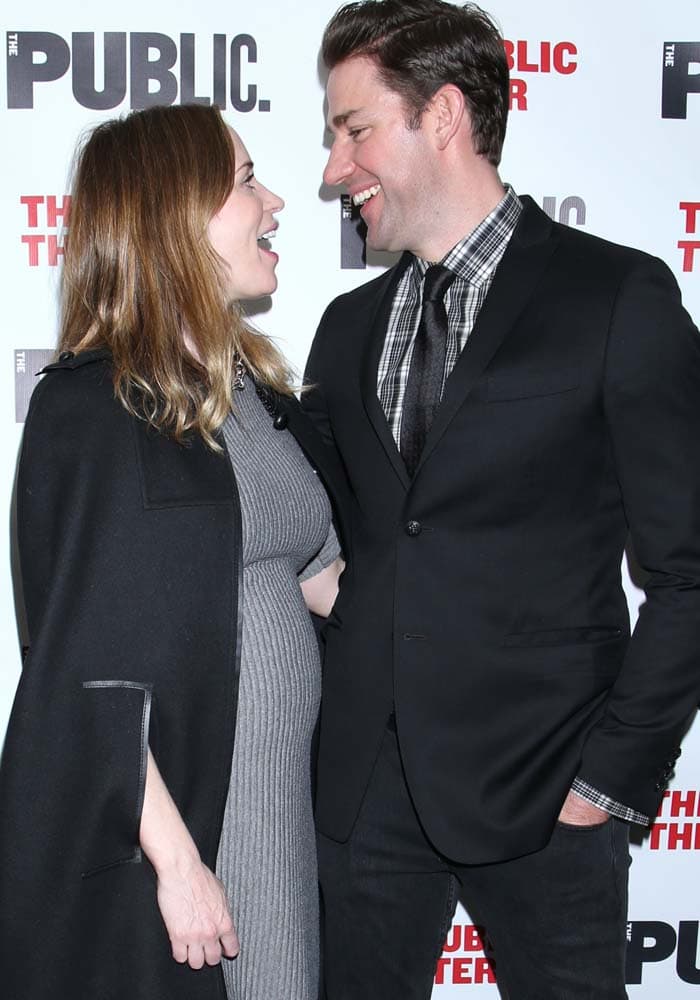 Emily Blunt and husband John Krasinski share a laugh on the red carpet (Credit: Joseph Marzullo / WENN)
A few weeks back, John uploaded a photo of himself in front of The Public Theatre, right before the first preview of "Dry Powder" ahead of its official opening night.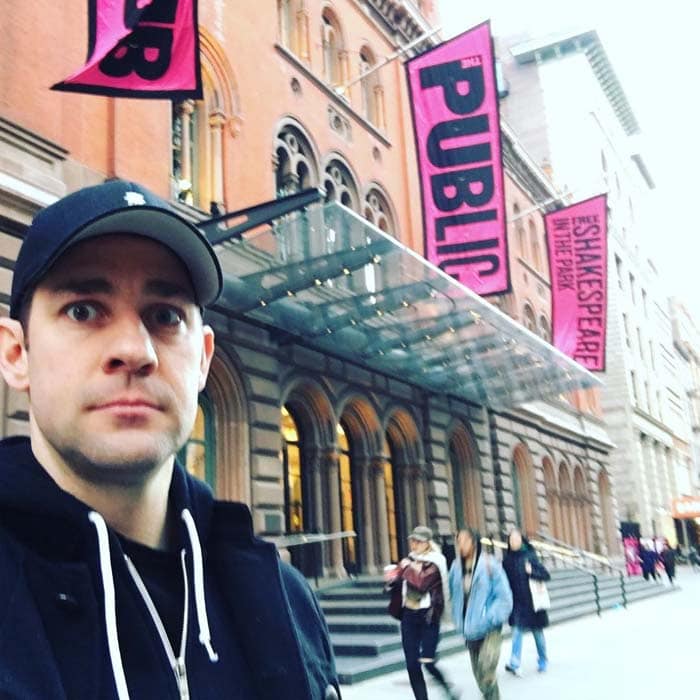 Via John Krasinski's social media captioned: "My first public theatre performance ever is tonight! I'm not nervous…. Do I look nervous?? #DryPowder #ThePublicTheatre" (Credit: John Krasinski's Instagram)
Grab Emily's go-to pregnancy heels from the popular women's footwear brand at Farfetch, Mytheresa, Net-A-Porter and Intermix Online.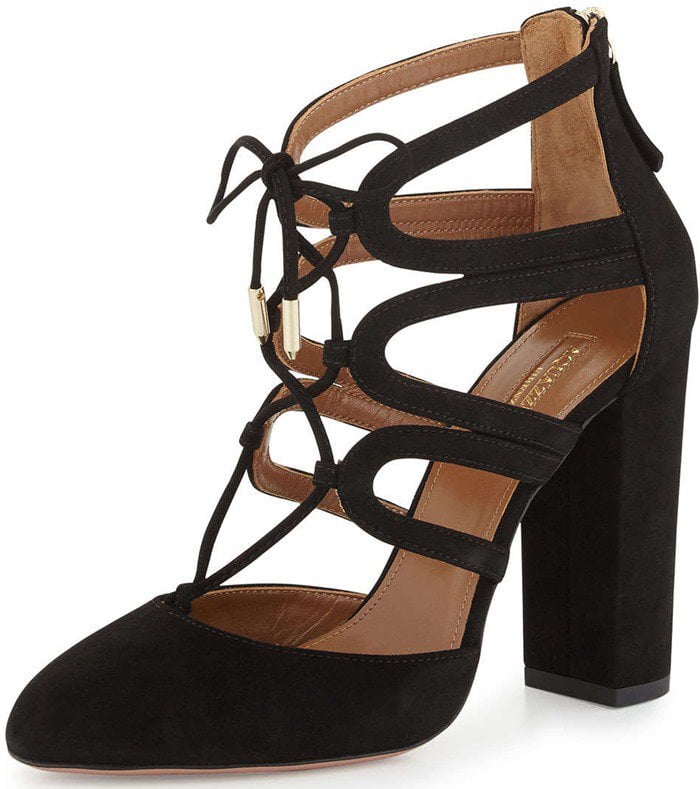 Black Suede Aquazzura 'Holli' Curvy Caged Pumps, $668.27
White Leather Aquazzura 'Holli' Pumps, $835
Brown Aquazzura 'Holli' Cutout Suede Pumps, $738.86 – $795