Kate Beckinsale, the seemingly ageless English actress and model, best known for her roles in Pearl Harbor, Serendipity, and Emma, was show-stopping at The Fashion Awards 2021 in London, England.
Two months earlier, she appeared on The Howard Stern Show and revealed that she scored 152 on an IQ test when she was younger!
Kate Beckinsale in a Sabina Bilenko Couture dress at The Fashion Awards 2021 at Royal Albert Hall on November 29, 2021, in London, England (Credit: MEGA / WENN)
The 48-year-old wealthy actress wore a Sabina Bilenko Couture gown that fit her like a glove. Her figure-hugging dress made from black velvet also featured an angular sweetheart neckline, a short-sleeved silver embellished bodice, and a fishtail skirt.
Beckinsale completed her head-turning look with jewelry by Boucheron, a matching silver and black Cloud pearl bow clutch, and open-toe silver sparkly Misty heels, both by Jimmy Choo. She wore a perfectly loose but structured black bow in her high-ponytail updo.
Kate Beckinsale styled her Sabina Bilenko Couture gown with a crystal-embellished clutch bag and Boucheron jewelry (Credit: MEGA / WENN)
Sabina Bilenko was founded by Uzbekistan twins Sabina and Diana Bilenko. Now living in Britain, their couture house is described as artistic, entrepreneurial, and one that gives back to society.
Sabina Bilenko said, "I believe it takes both strength and kindness to be elegant." Her sister, Diana Bilenko, adds, "Fashion is about personality and confidence, not brands and trends."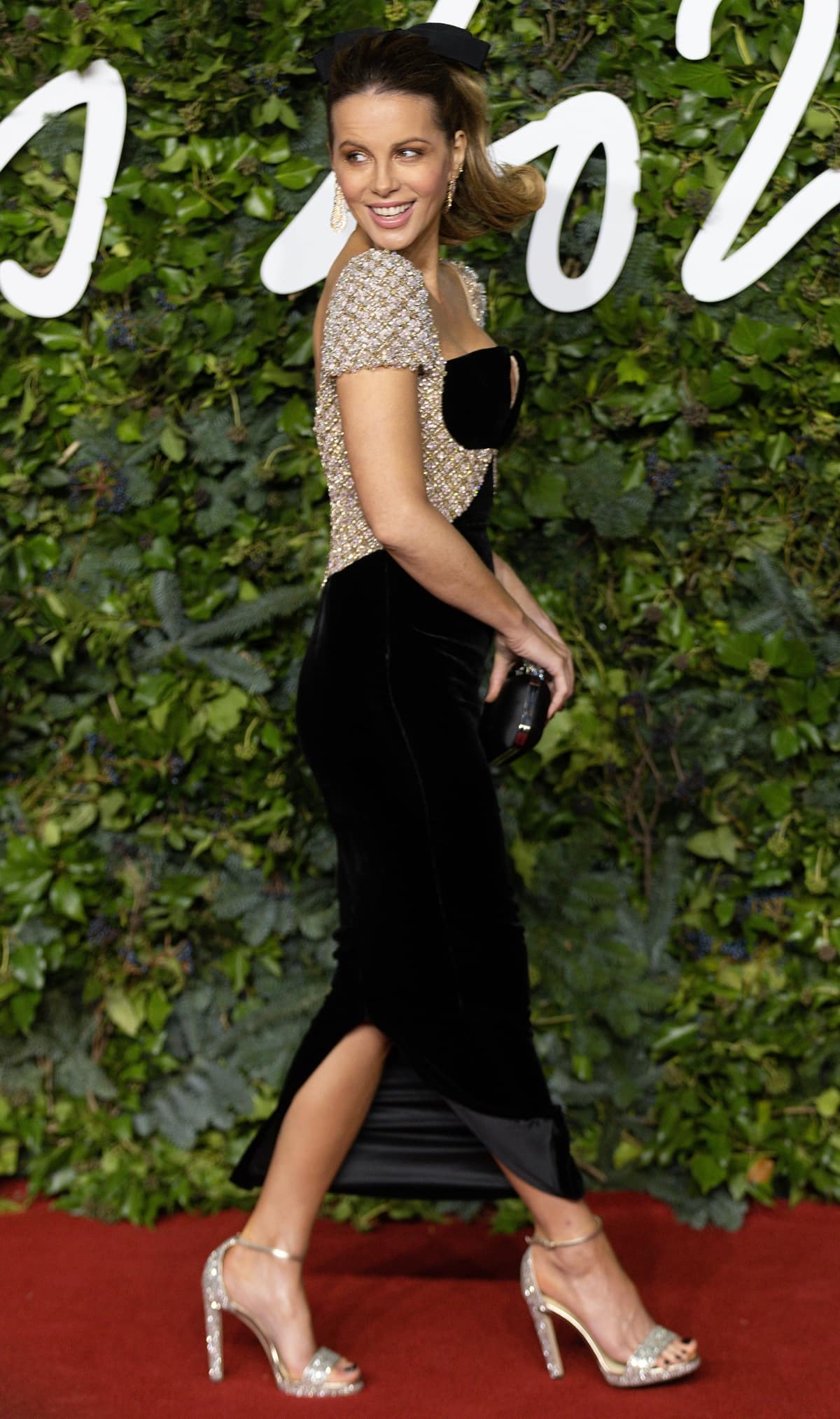 Kate Beckinsale wears glittering Jimmy Choo Misty 120 suede heeled sandals (Credit: Avalon / WENN)
Kate Beckinsale is a perfect representation of this brand and its goals and we can't wait to see how the fashion house and actress partner together next.
Appearing on The Howard Stern Show in October 2021, Kate said her high IQ score of 152 has actually been a handicap. In comparison, Elon Musk's IQ is generally estimated to be 155.
"Every single doctor, every single person I've ever come across has said, 'You'd be so much happier if you were 30 percent less smart.' And I'm sure that's true," Kate revealed.
"It's no good to me, though. I mean, it's really not helpful in my career. I just think it's might have been a handicap actually."
Her "highly gifted" score of 152 places her in the top 1% of the population. The actress, who studied French and Russian literature while attending Oxford University's New College, is also fluent in German.
"I was asked multiple times in a recent interview if [I] knew my IQ," she wrote on Instagram following her Howard Stern appearance.
Kate Beckinsale claims her high IQ score of 152 has been a handicap (Credit: WENN / MEGA)
"I didn't answer the question the first few times, but I did tell the truth that my mum had had me tested when I was young, and that it was high. I didn't remember the number, and after being pressed several times to call my mother and ask her, I did. Here's the dilemma: Tell the truth? Refuse to answer the question? Lie? Pretend it was lower? I told the truth and some journalists have been triggered by this."
"Are we really jumping on women for answering a question truthfully about their intelligence or education? Are we really still requiring women to dumb themselves down in order not to offend?"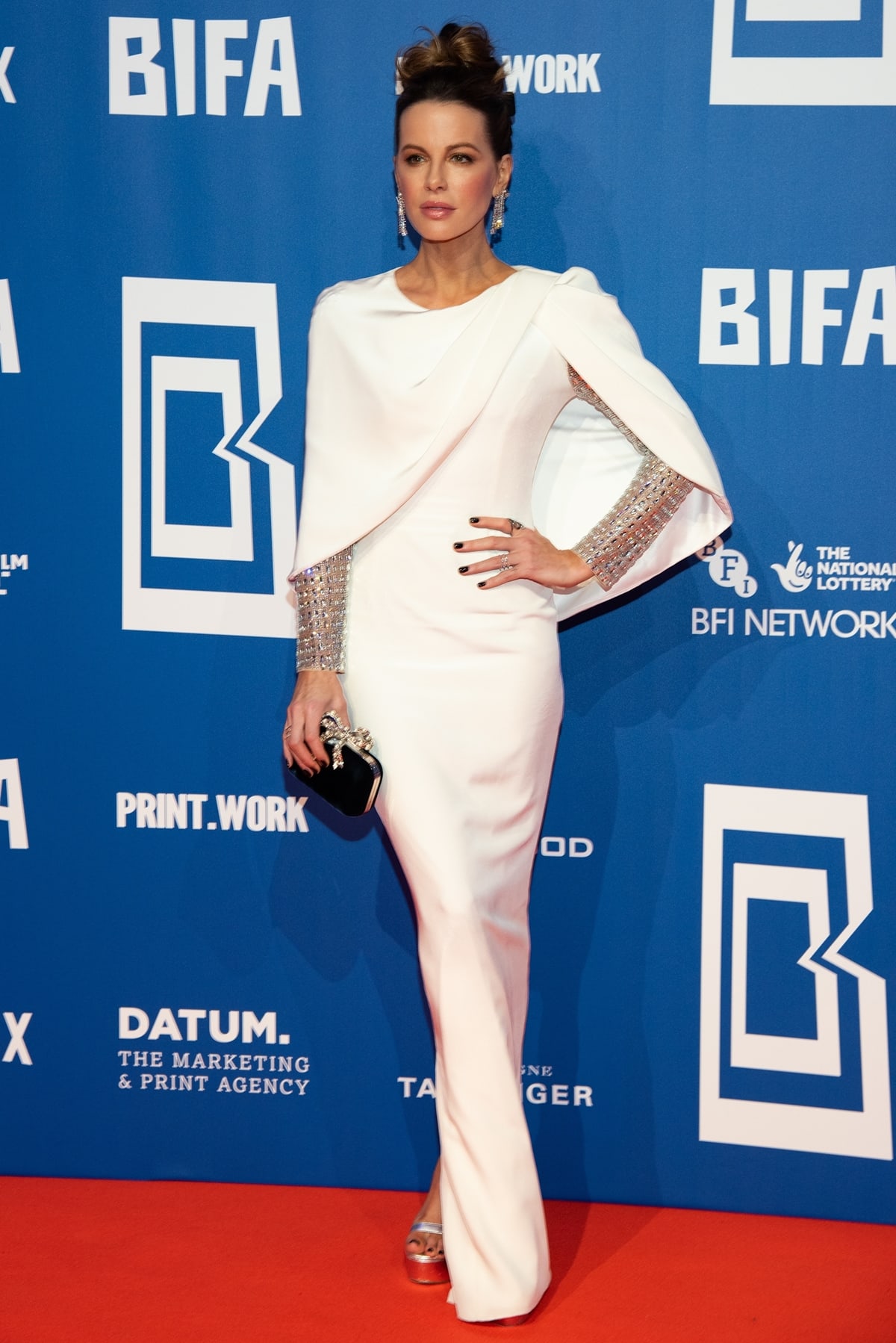 Kate Beckinsale in a Jenny Packham dress with A Perdifiato and Lark & Berry jewelry at the 2021 British Independent Film Awards held at Old Billingsgate on December 5, 2021, in London, England (Credit: MEGA / WENN)
"I went to an all-girls school where I never had to worry about raising my hand making me possibly unfeminine-and I went to a university in which intellectual debate was not only encouraged, but the entire point of attending," Kate added.
"I am very aware of how lucky I am to have had those experiences. When I said it has been a handicap in Hollywood it's PRECISELY because being female AND having an opinion often has to be quite carefully packaged so as not to be offensive or, as in this case, deliberately twisted into signifying one's perceived superiority or arrogance."
"It's abundantly clear that this is still the case, and these journalists who spun this into me 'bragging' is a part of the exact reason I say it was and is a handicap."
"I have been the subject of a few articles trying to shame me for it. This is EXACTLY what I mean by a handicap. I don't often respond to this sort of bulls*** but it's really important to me that NO percentage of women let alone 60% should feel they need to lie or dumb down under ANY circumstances so as not to be a target."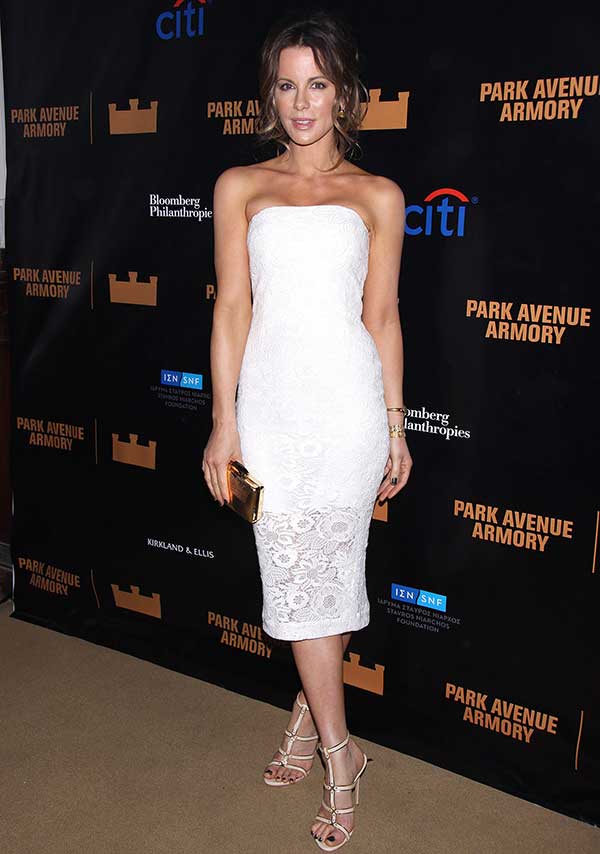 Kate Beckinsale flaunts her legs in a fitted white strapless dress (Credit: Joseph Marzullo / WENN)
In June 2014, Kate Beckinsale stood out in white at the opening night celebration of the new production of Shakespeare's 'Macbeth' held at the Park Avenue Armory in New York City.
The then 40-year-old actress was a stunner in a fitted white strapless dress from Monique Lhuillier's Spring 2014 collection.
It features lace embroidery, which is similar to that used for wedding dresses, and it perfectly falls just below her knees. Kate's hairstyle looked hot in a messy updo with loose curls, framing her beautifully made-up face in a natural palette.
Her gold accessories, including a pair of earrings, a selection of bracelets, and a Kotur box clutch, added elegance to her white-hot look.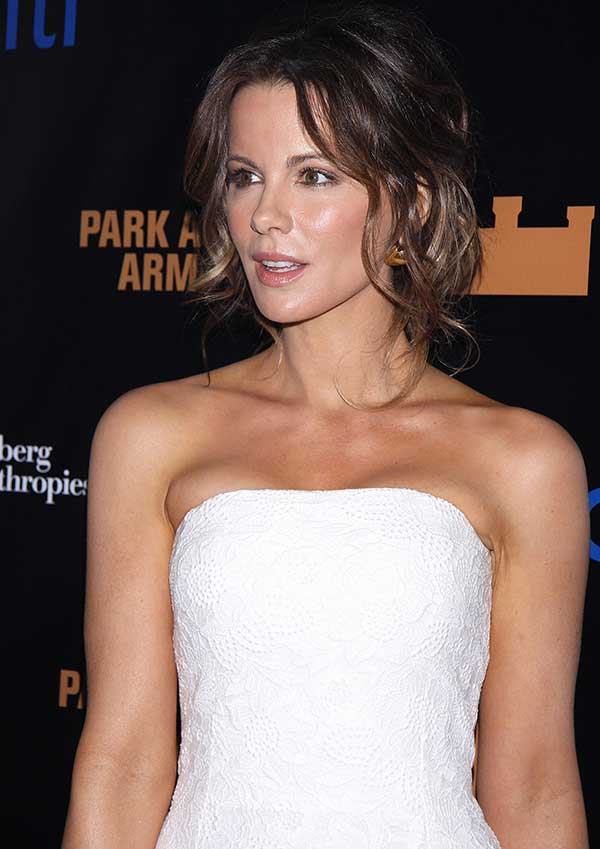 Kate Beckinsale at the 'Macbeth' opening night party at the Park Avenue Armory in New York City on June 5, 2014 (Credit: Joseph Marzullo / WENN)
For her feet, Kate Beckinsale opted for strappy gladiator stilettos by Casadei.
They feature sleek straps in leather with sleek gold metallic trims, gold-tone studs on the intersecting straps, buckled ankle straps, and 4.5-inch heels.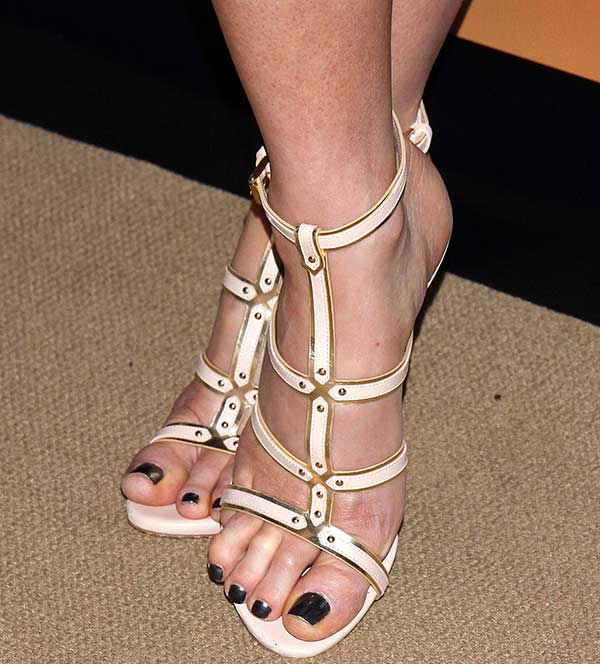 Kate Beckinsale shows off her feet in Casadei sandals (Credit: Joseph Marzullo / WENN)
Do you want Kate's Casadei heels? You can order them at Casadei for $890 or at Farfetch for a discounted price of $623.
Casadei Gladiator Stiletto Sandals, $890