In her career spanning over three decades, Salma Hayek appeared in over 70 movies and television series, with Desperado, From Dusk till Dawn, Frida, and Tale of Tales as her most notable films.
Just recently, the 55-year-old actress achieved a new career milestone as she was honored with the 2,709th star on The Hollywood Walk of Fame.
Salma Hayek receives the 2,709th star on the Hollywood Walk of Fame on November 19, 2021 (Credit: Mega / WENN)
She was accompanied by her 59-year-old businessman husband Francois-Henri Pinault and their 14-year-old daughter Valentina Paloma at the induction ceremony held outside the TCL Chinese Theatre.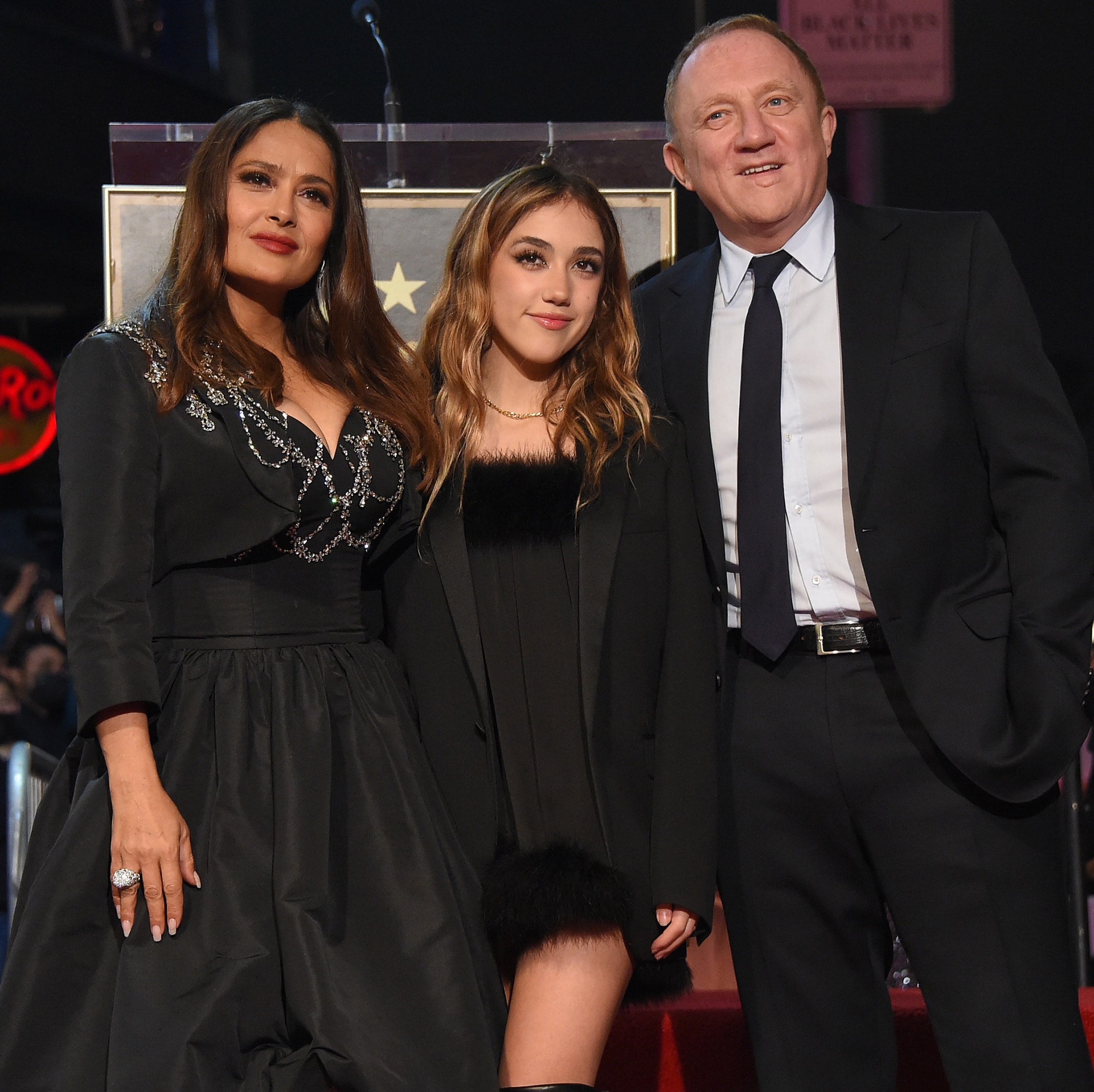 Salma Hayek's daughter Valentina and husband Francois-Henri Pinault show their support for the actress (Credit: Mega / WENN)
Adam Sandler, her onscreen husband in the comedy Grown Ups, and Eternals director Chloe Zhao paid tribute to the actress, while Los Angeles Mayor Eric Garcetti handed her a plaque after unveiling her star.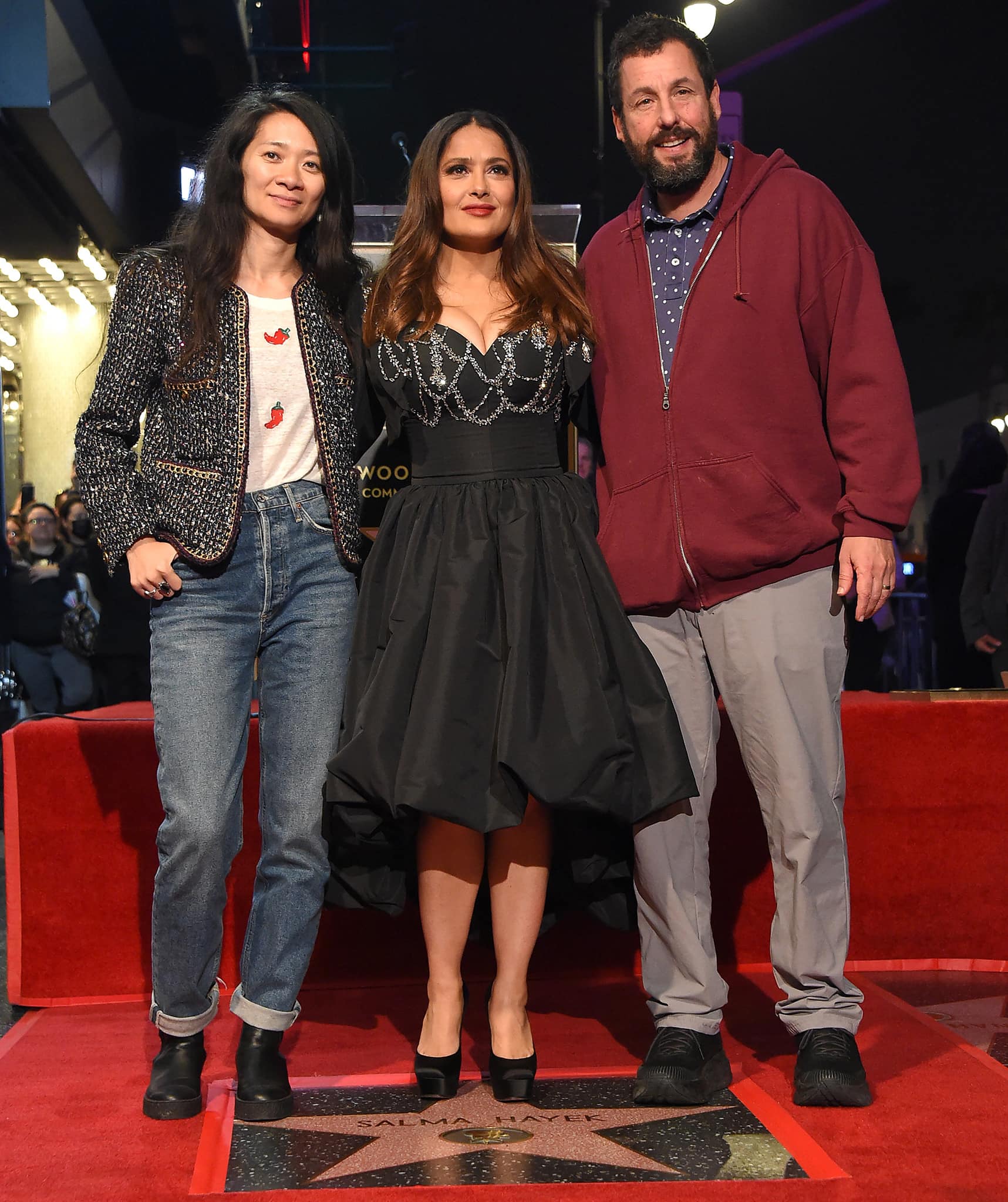 Eternals director Chloe Zhao and Salma Hayek's Grown Ups co-star Adam Sandler pay tribute to the actress (Credit: Mega / WENN)
For the occasion, the Oscar nominee wore her signature look, which highlighted her cleavage. She opted for a custom Alexander McQueen high-low black gown that features a crystal-embellished corset-style bodice with a plunging v-neckline and a voluminous parachute skirt.
Adding sophistication to the look, Salma layered the midi number with a cropped jacket that has quarter sleeves and crystal embroideries similar to the embellishments on her dress.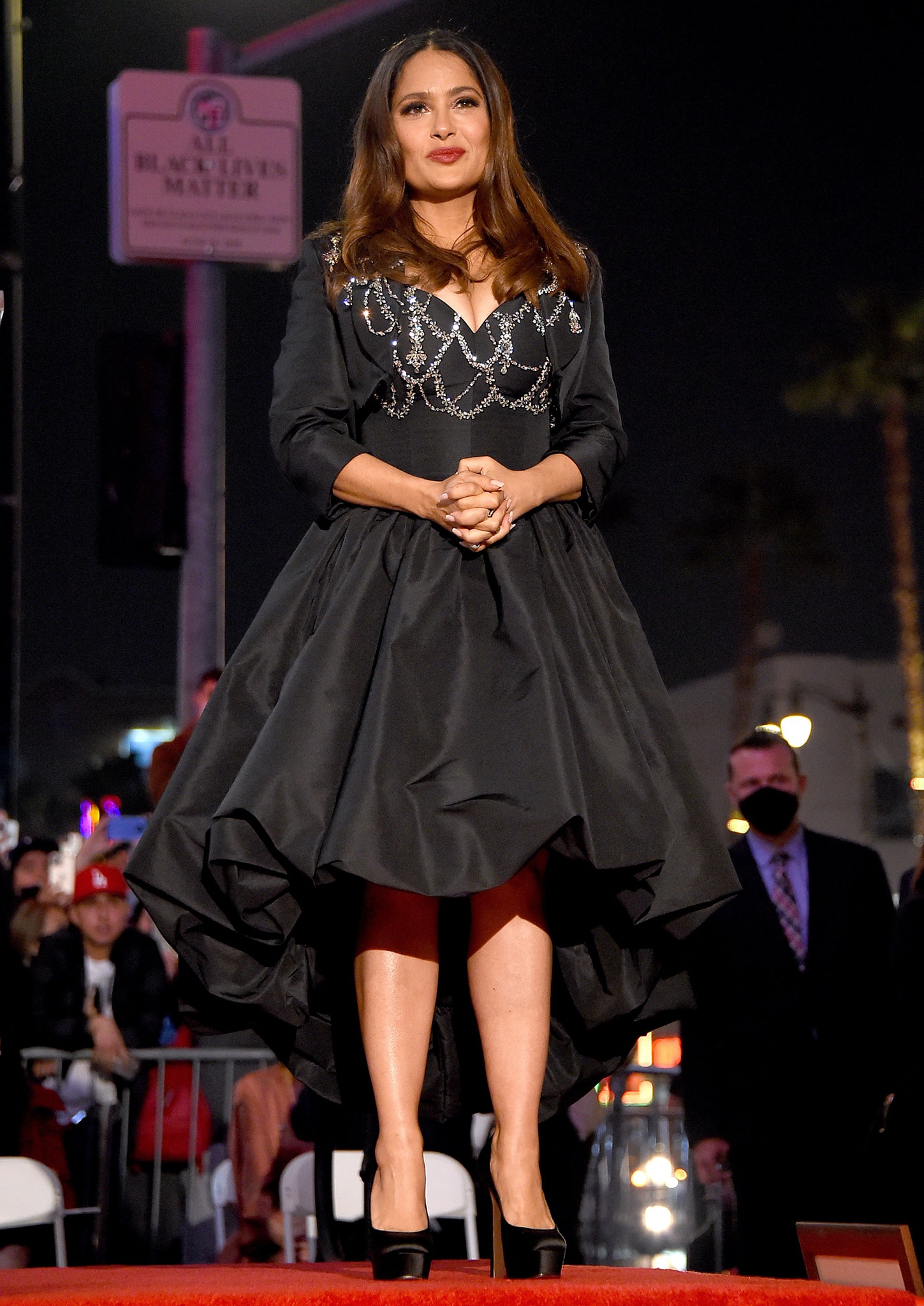 Salma Hayek wears a custom Alexander McQueen black dress featuring crystal embellishments and a parachute skirt (Credit: Mega / WENN)
Allowing her feminine and elegant frock to do the talking, the Mexican-born actress accessorized with minimal jewelry, including a few statement rings.
She then wore her blown-out tresses in bouncy waves resting over her shoulders and completed her beauty look with smokey eyeshadow and cherry lipstick.
Salma Hayek styles her tresses in bouncy waves and wears cherry red lip color and smokey eyeshadow (Credit: Mega / WENN)
Elevating her 5'2" height, Salma slipped her feet into a pair of black satin platform pumps with square toes and sky-high heels.
Also opting for an all-black look, her daughter, Valentina, chose an LBD with a feathered neckline and hem. She layered the chic outfit with a black blazer, finished with thigh-high leather boots.
The CEO of Kering, meanwhile, looked formal in his classic black suit with a white shirt underneath and a black tie.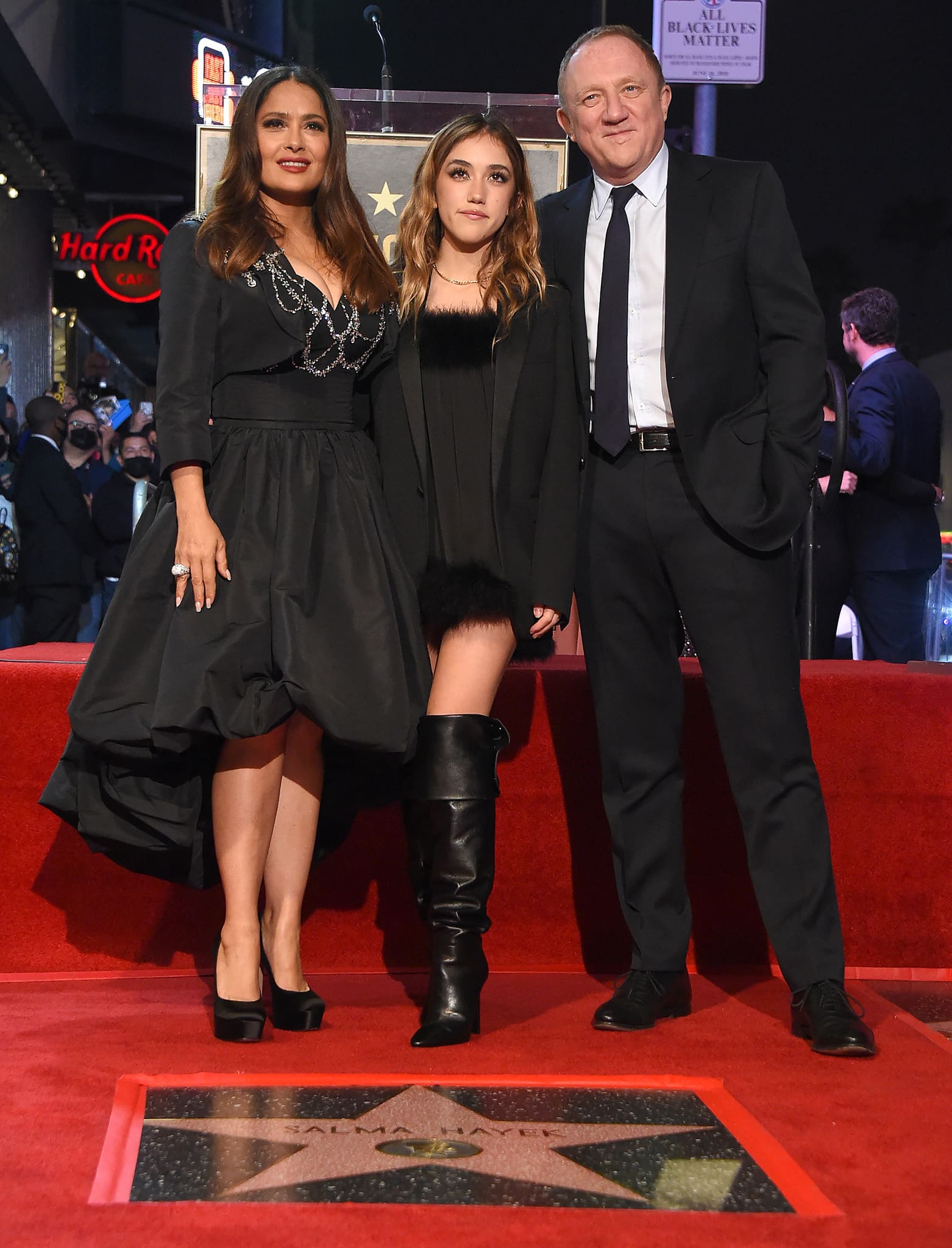 Valentina Paloma dons a little black dress, blazer, and thigh-high boots while Francois-Henri Pinault shows up in a classic black suit (Credit: Mega / WENN)
Salma Hayek Recalls Scary Incident in the 1990s
During her speech, Salma Hayek talked about some of the struggles she faced when she was just starting her career in Hollywood in the early '90s.
She recalled a time when a random stranger catcalled her and pulled a knife on her and her friends on Hollywood Boulevard.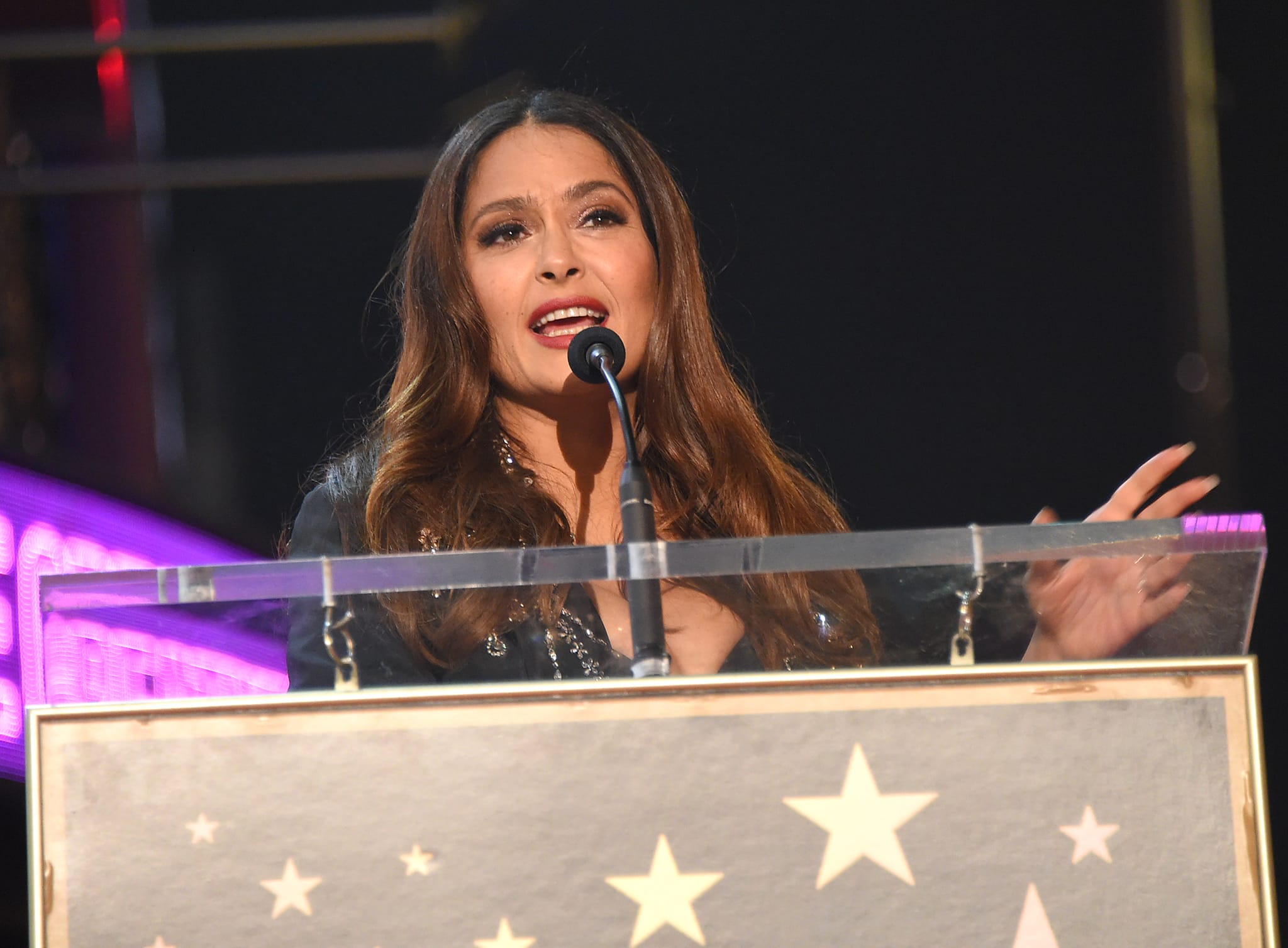 Salma Hayek opens up about her struggles in the early '90s and how she almost got stabbed by a stranger (Credit: Mega / WENN)
She said a "poor man who was on the floor and was very messed up" catcalled her and tried to attack her after she ignored him. The man "took offense, got up, took a knife out, and started coming after me trying to stab me."
"I was asking someone to call the police, nobody came. Eventually, we went in a store because we were so tired, and it was so scary. We jumped over the counter, I grabbed a stick, and I had to keep him from getting us with a stick."
Salma Hayek in a gold pleated Gucci dress and a Boucheron necklace at the UK Premiere of "House Of Gucci" at Odeon Luxe Leicester Square on November 9, 2021, in London, England (Credit: Avalon / WENN)
Eventually, two men from the Hells Angels walked in and stopped the man.
"Every time I thought about Hollywood Boulevard, this is what I remember. And the truth is that when I went home that night, I thought, 'What am I doing here? Nobody wants me. I almost got killed today,'" Salma said.
Salma Hayek flaunts her cleavage in a Gucci dress at the "House Of Gucci" New York Premiere at Jazz at Lincoln Center on November 16, 2021, in New York City (Credit: MEGA / WENN)
The actress also faced racism in public and professional settings. She recalled one time when a studio told her, "Why don't you go back to the (Mexican) telenovelas? You'll never find a job here."
"If you ask yourself what gave me the courage to stay, I say it was you," she said to her fans. "Because although they didn't know me, here in Hollywood, the studios, all the Latins that are in the United States knew who I was. They understood that I came here with dreams like they did."
Salma Hayek Pinault in a Saint Laurent dress with her husband François-Henri Pinault at the 10th Annual LACMA ART+FILM GALA Presented By GucciLos Angeles County Museum of Art on November 6, 2021, in Los Angeles, California (Credit: MEGA / WENN)