Blake Shelton, age 45, is an American country music singer from Ada, Oklahoma. His current net worth is approximately $100 million, which he made both as a musician and as a coach on NBC's The Voice.
He is the most successful coach in the show's history, with eight of his selected singers winning the $100,000 cash prize, along with a Universal Music Group record deal at the end of each season.
Blake Shelton has been married three times but does not have biological children of his own (Credit: Avalon / WENN)
It was during his time on The Voice that Shelton met his now-wife, and fellow American musician, Gwen Stefani, best known as the former frontwoman of the band No Doubt.
Blake Shelton's Earlier Relationships
Shelton dated (beginning in 2006) and then married fellow country-music star, Miranda Lambert in 2011. After four years of marriage, the two divorced in July of 2015.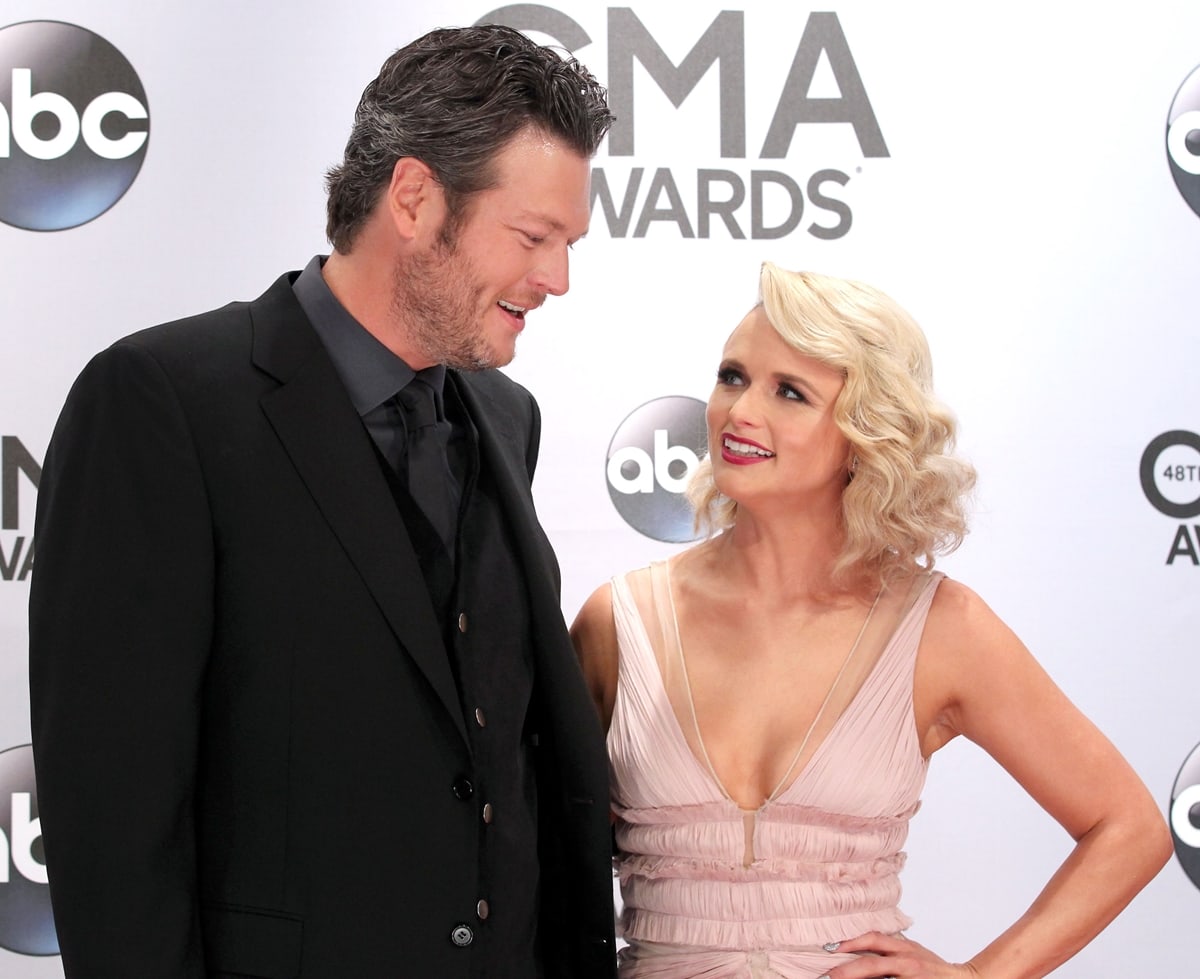 Blake Shelton and Miranda Lambert married on May 14, 2011, and announced their divorce in July 2015 (Credit: Judy Eddy / WENN)
Rumors have circulated about infidelity, the toll that long-distance had on the pair, and Shelton not wanting children, but it seems that Shelton may have just not wanted children with Lambert.
Shelton also married Kaynette Williams, his high school sweetheart, back in 2003 for just three years before they divorced. He met Lambert at the end of his relationship with his then-wife.
Blake Shelton was married to his high school sweetheart Kaynette Williams (also known as Kaynette Gern) from November 17, 2003, until their split in 2006 (Credit: WENN / Nikki Nelson)
With neither marriage resulting in children, it was not clear if Blake ever wanted children.
Blake Shelton and Gwen Stefani's Love Story
Around the same time that Shelton and Lambert called it quits, so too did Stefani, with her now ex-husband, Gavin Rossdale.
The pair had been married for 13 years before their divorce filing in August of 2015. The couple shares three sons: Kingston, Zuma, and Apollo.
Gwen Stefani's ex-husband Gavin Rossdale goes shirtless as he plays tennis in Los Angeles on September 18, 2020 (Credit: Avalon / WENN)
In an appearance on The Tonight Show Starring Jimmy Fallon in October of 2015, the two newly single musicians performed a duet of Drake's "Hotline Bling."
This performance by Shelton and Stefani left many wondering if these two were more than just colleagues on The Voice. By November of 2015, the couple confirmed they were officially an item.
Shelton shared how the relationship blossomed, "It went from checking in on each other once a week through email … to 'Hey here's my phone number if you ever want to text.' Next thing I know, I wake up and she's all I care about and I'm wondering if she feels the same about me." Shelton credits Stefani with saving his life after his divorce from Lambert.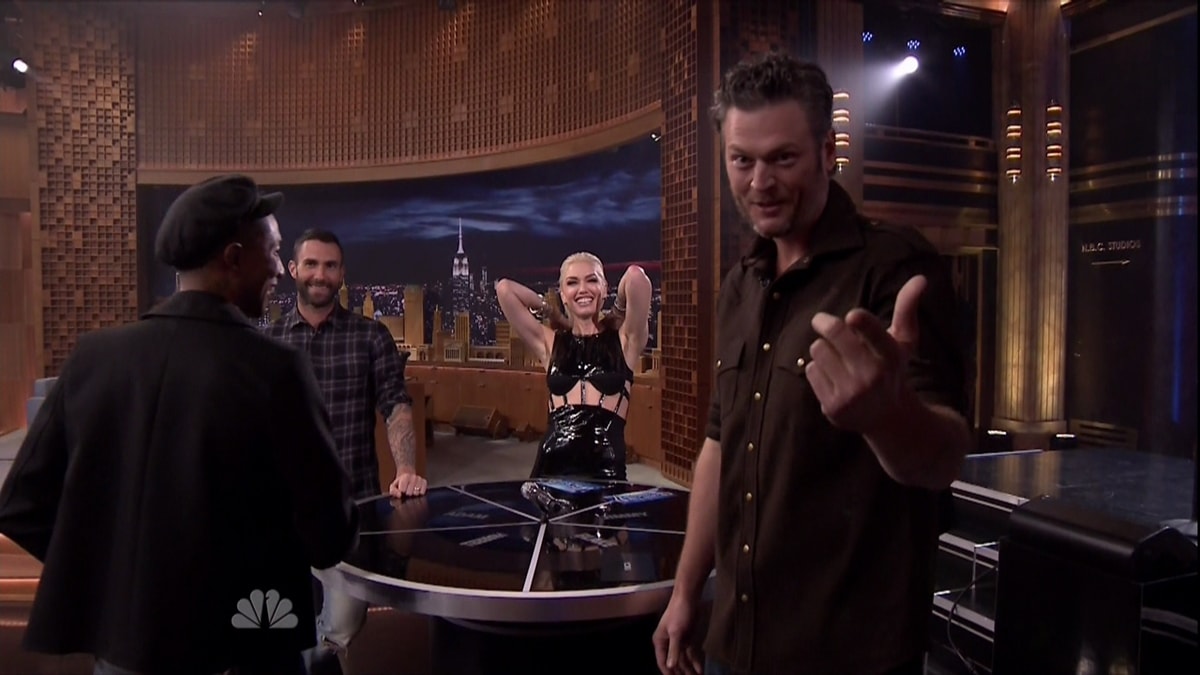 Blake Shelton and Gwen Stefani during the October 27, 2015 episode of The Tonight Show with Jimmy Fallon (Credit: NBC / WENN)
After many years together, the pair recently got married on Shelton's Oklahoma ranch on July 3, 2021. Shelton even asked for her three son's permission to marry their mother.
More Children in Their Future?
Shelton has naturally taken on the role of stepdad to Gwen's three boys and says he can't imagine life without them.
Shelton has a stepdad himself and shared, "I love my stepfather, and I looked up to him, and he's like a father to me, so I have a good inspiration in my life for how to do this and the kind of stepdad I want to be."
What is next for this couple? They may be planning to have a baby girl soon. Stefani is 52 years old, so the baby may need to be carried by a surrogate.
"Blake considers himself a father to her children but would really love a biological child of his own. It's no secret that Gwen wants a daughter; she's spoken very publicly about it and having a baby is something that she and Blake have discussed," a source told Hollywood Life.
It may finally be the right time for Shelton to have a child of his own and no longer be just a "Bonus Dad" to Gwen's three boys. Only time will tell.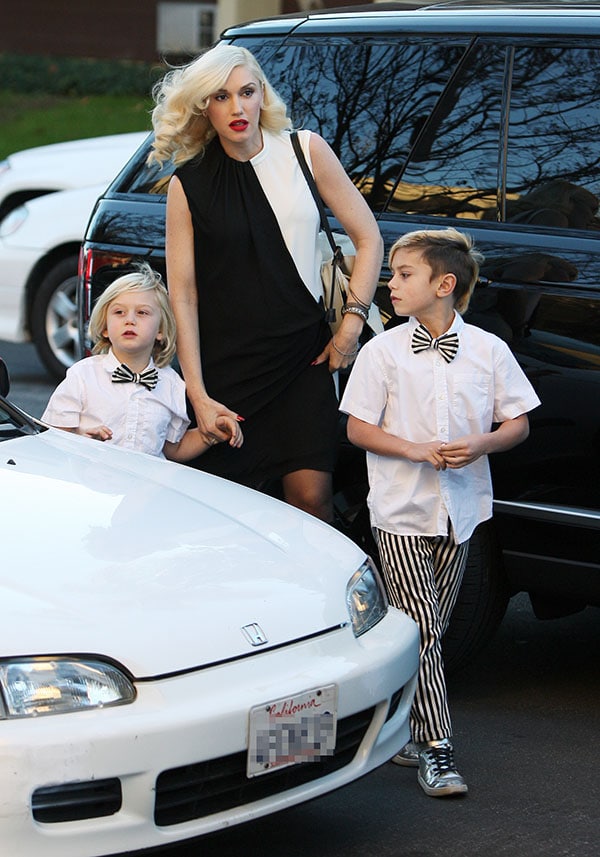 Gwen Stefani wears her hair down as she takes her sons to a church in Los Angeles on December 25, 2013 (Credit: WENN)
Gwen Stefani is one of our favorite celebrity moms. Not only is the rock star a cool and stylish mother, but she is also very hands-on with her three kids, Kingston Rossdale, Zuma Nesta Rock Rossdale, and Apollo Bowie Flynn Rossdale.
The American singer, songwriter, fashion designer, and actress brings them to school and takes them out during their free time. What's cooler is that she does all this and still manages to dress up in style. Even when she was pregnant, superwoman Gwen remained chic.
In December 2013, the "What You Waiting For?" singer brought Kingston and Zuma to church on Christmas Day in a chic black-and-white ensemble that matched her sons.
Kingston and Zuma wore white button-down shirts with short sleeves, black-and-white striped bow ties, striped trousers, and silver sneakers.
Gwen Stefani escorts her sons to Christmas Day church service (Credit: WENN)
Gwen Stefani, on the other hand, donned a loose black-and-white dress that hid her baby bump. She carried a black-and-white purse and donned a pair of black knee-high boots.
She added a hint of sophistication to her look with a pop of cherry red lipstick.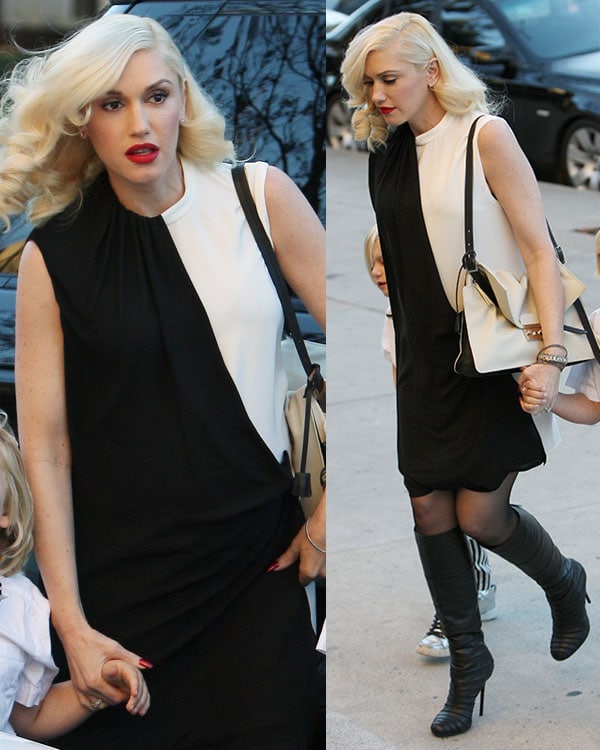 Gwen Stefani wears a black-and-white dress as she takes her sons to church (Credit: WENN)
Her boots are from her own clothing line, L.A.M.B.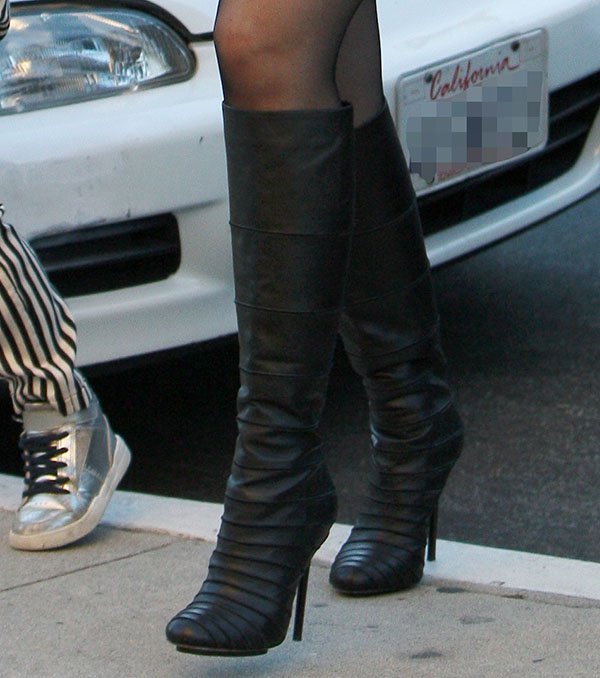 Gwen Stefani wears a pair of boots from her L.A.M.B. clothing line (Credit: WENN)
They are called "Barrett" and feature pleat-like panels all the way from the toes up to the 17-inch shafts.
Gwen Stefani wears a pair of black leather-and-suede "Barrett" boots (Credit: WENN)
Their leather-and-suede-tiered design is what makes them unique.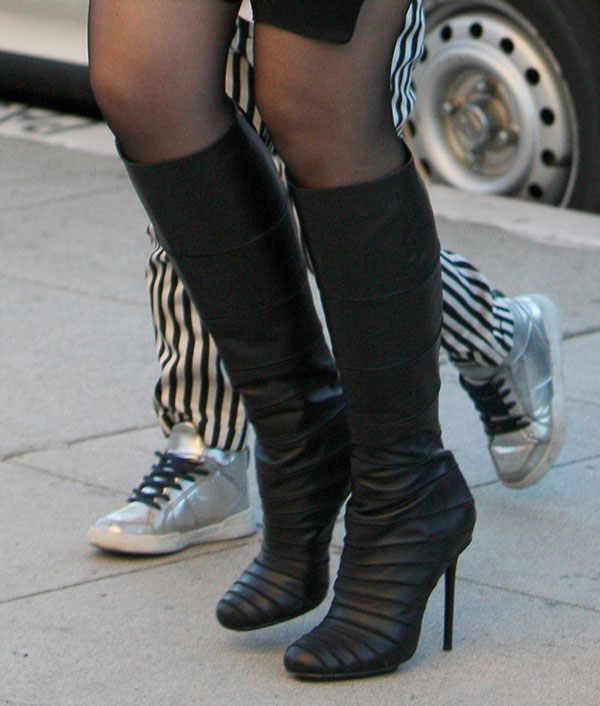 Gwen Stefani's feet in tall black L.A.M.B. boots (Credit: WENN)
These boots also have zippers with leather pulls at the back, leather interior lining, half-inch platforms, and 4.5-inch heels.
Gwen Stefani wears a pair of L.A.M.B. boots to a Christmas church service with her sons (Credit: WENN)
Previously available in taupe and black, her stunning knee-high boots are unfortunately no longer available online.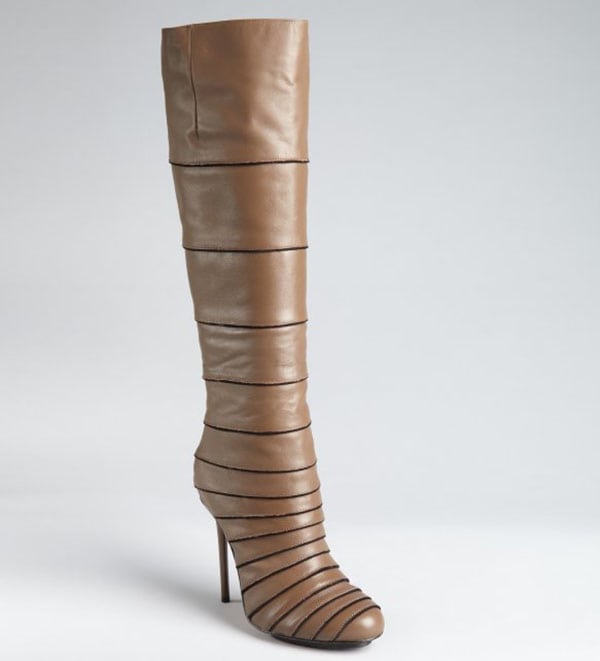 L.A.M.B. 'Barrett' Boots in Taupe, $525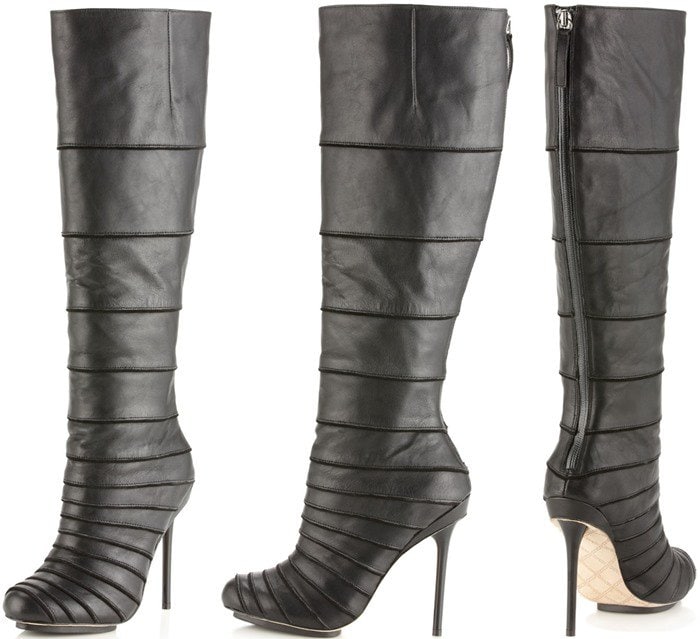 L.A.M.B. Barrett Knee-High Boots, $525